Do you collect anything?  Everyone should.  Makes it so much easier for family and friends to find gifts.  This is the voice of experience speaking.
I collect elephants.  I have large elephants, tiny elephants, outdoor elephants, planter elephants, elephant pictures, elephant clothing, elephant jewelry, elephant pillows, and even two paintings done by elephants.  And, did I mention large – this  one (also a gift from DH) is a large leather one.
It all started innocently enough many years ago after I'd mentioned that I was awed by the large unusual looking animals.  My husband became an excellent 'elephant hunter' – and over the years found many unusual ones for me.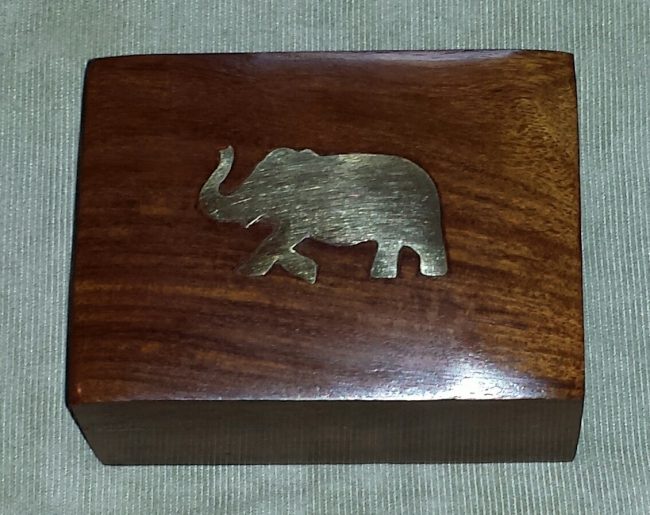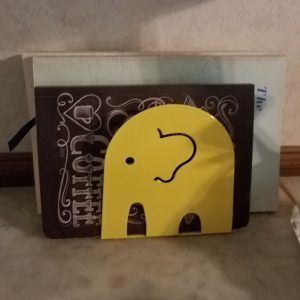 Grandkids have contributed heavily to this collection, especially one particular grandson who I could count on to always have elephants in any gift.  He has practically decorated my elephant Christmas tree single handed.  What, you mean not everyone has an elephant Christmas tree?
I have so many unusual ones, there's no way to post pictures of them… I lave tiny elephants, big elephants, elephant clothes, elephant bags, elephant jewelry… if you can think of it I probably have it.  Heck, I even have an elephant thumb drive.  BTW, did you know you can wash elephant thumb drives in your pants pockets and  they still work?  Just an aside I thought you might like to know.
I have a plethora of elephant 'pictures/paintings/whatever' that go on the wall.  One son and his wife brought this one home from Australia – think they got it at a street market – picture doesn't do it justice.
Then there are two paintings that were actually done by elephants (different zoo/different animals) – both great: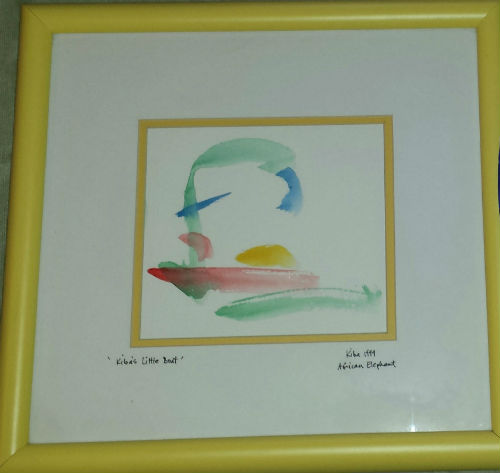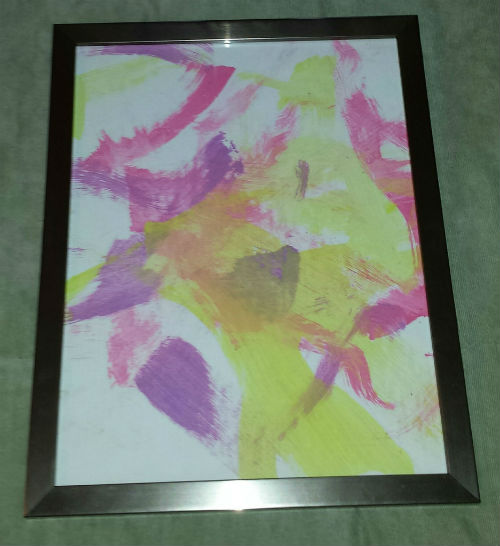 And not to be forgotten, the original drawing done by my now grand-daughter-in-law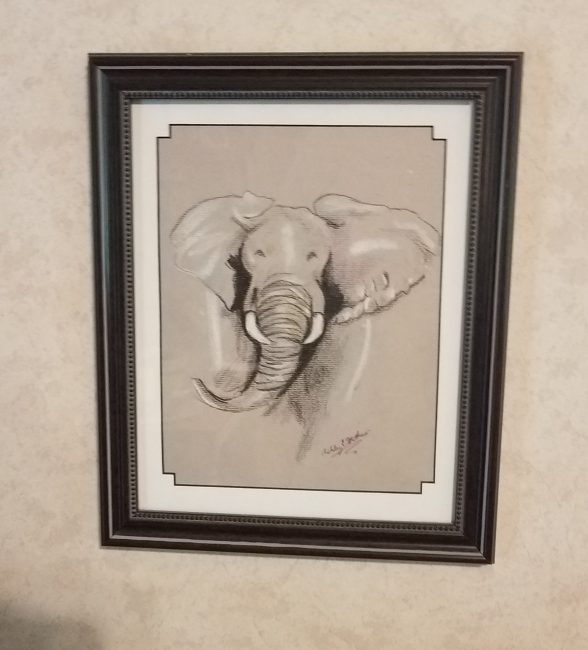 And this, as they say, is not a drop in the bucket… I could keep posting pictures of my elephants all day long and still not finish.  I appreciate each and every one as I know the giver was thinking of me and that makes me feel good.  Thank you one and all!!
So, my house is decorated in "early elephant"  and I thoroughly enjoy them all!  And I think I've decided elephants might need another post of their very own.  Another day 🙂
Grace & Peace, Iris