Welcome to the latest edition of Where Bloggers Live. It's kind of like HGTV's "Celebrities at Home," but…Bloggers! Who doesn't like to peek behind the scenes and see inside people's homes and lives? Over the next few months, a group of seven bloggers will be sharing their workspaces, their homes, towns and more!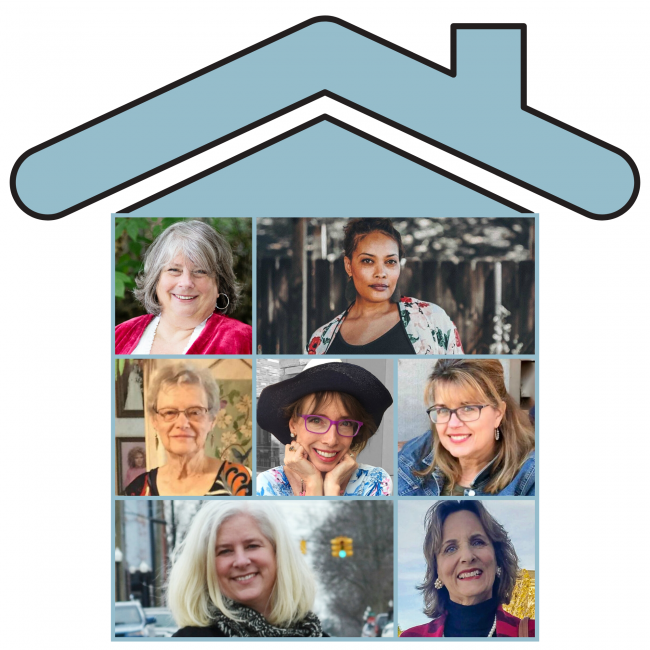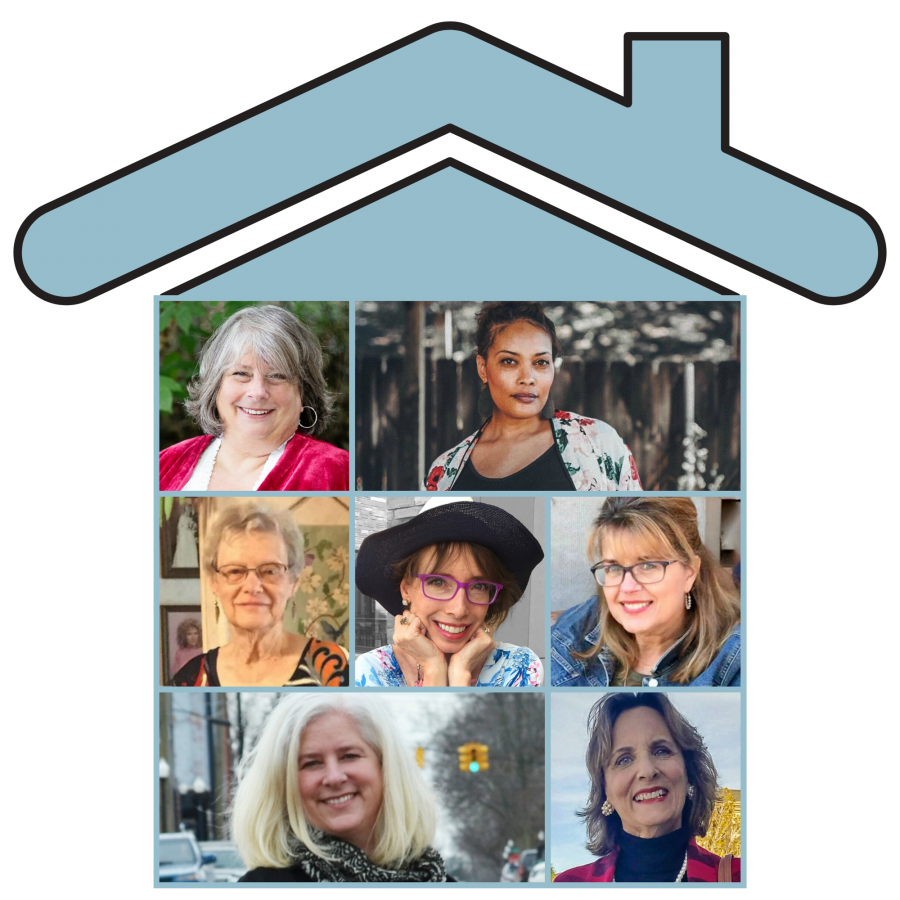 This month (for most of us) is our blogging workspace – sort of a behind the scenes of where and how we put our blogs together.
I have to admit though that my blog doesn't take top priority in my "work world", but does share it's space.  I do so much more in my work space than just my blog – especially in the world we have found ourselves for the last month or so.
So, this is the neat version of where the 'magic' happens.  You'll notice Koda doesn't understand why I'm not sitting down.  And if he's not there…  Boots likes to grab his space.
Another favorite spot for one the the two 'cat co-workers' is on the arm of my love seat – right next to me where I'm trying to work.  It would be most helpful if they would find other places so I could use the space they're in to lay paperwork, etc.  And while they're not very accommodating co-workers in that respect, they surely are helpful for my stress and snuggle levels 🐶🐱😺😍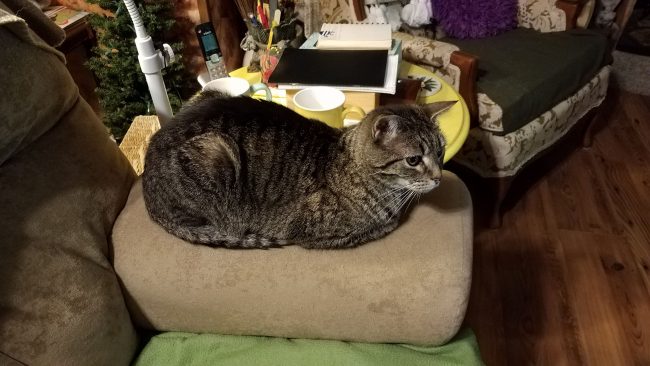 Once upon a time I had an office with a desktop computer – well I still have the office, but rarely use it for actual work since I went to a laptop (which I much prefer).  So, while I'm not crazy about my current laptop, it is my choice of computer.  When I'm in the middle of designing/creating it sometimes looks more like this…. the blanket is to keep me warm😢   So, basically my coffee table is also my desk.  I will tell you though that it goes back to 'neat' after I'm finished for the day.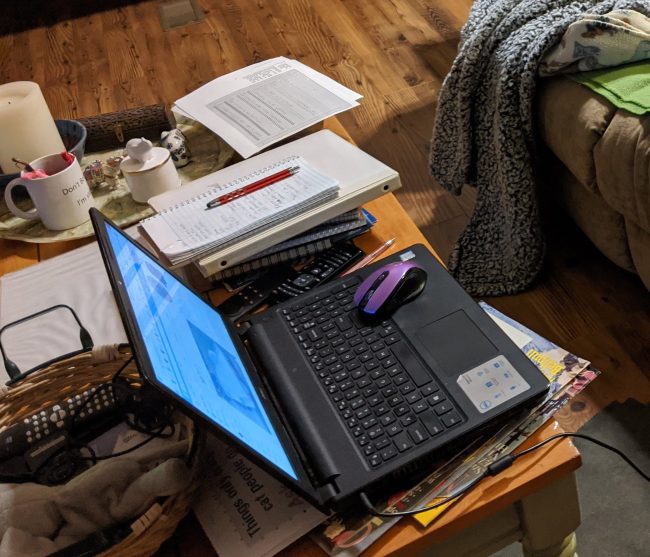 My camera for both my blog and my cross stitch design photos is simply my phone.   I have a new Google phone that does take excellent photos.
Both my blog and my design inspiration comes from – well, almost everywhere – since the title of my blog is 'Ramblings', that's pretty much what I do.  This cross stitch chart was inspired by Koda.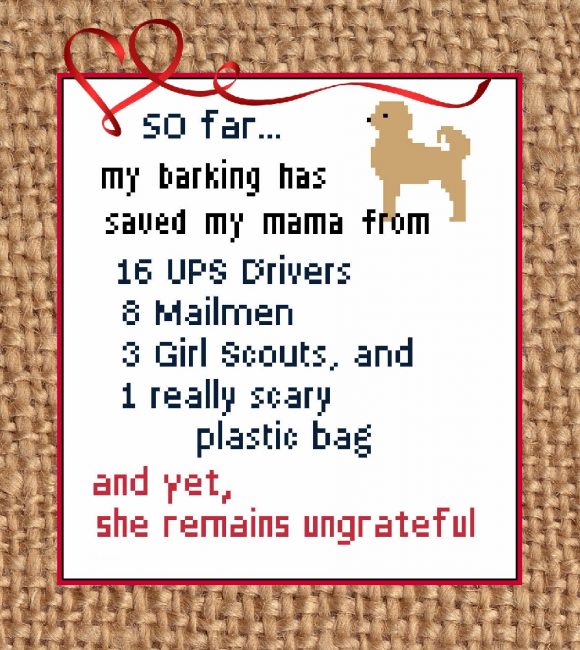 And, there's the ever present coffee ideas..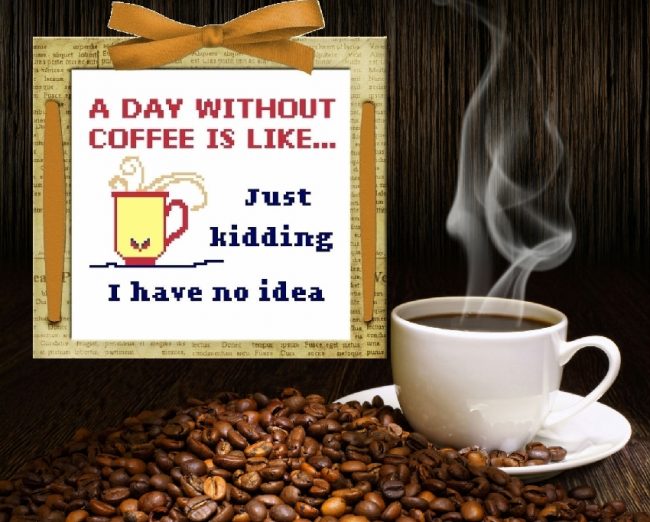 Be sure to visit the other Blogs to see what they're all about.
Bettye at Fashion Schlub
Daenel at Living Outside the Stacks
Iris at Iris Originals Ramblings
Jodie at Jodie's Touch of Style
Em at Dust and Doghair
Julia at When the Girls Rule
Leslie Roberts Clingan