Welcome to the latest edition of Where Bloggers Live. It's kind of like HGTV's "Celebrities at Home," but…Bloggers! The group of seven of us have shared our work spaces, outdoor areas and more.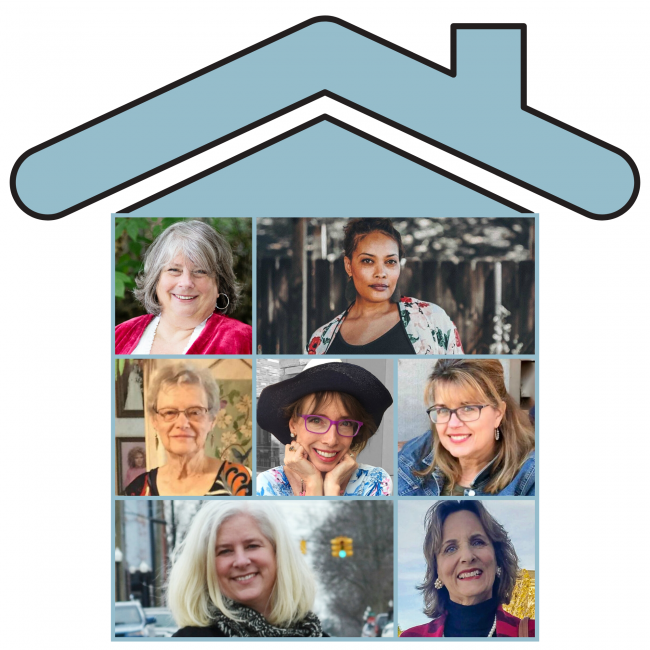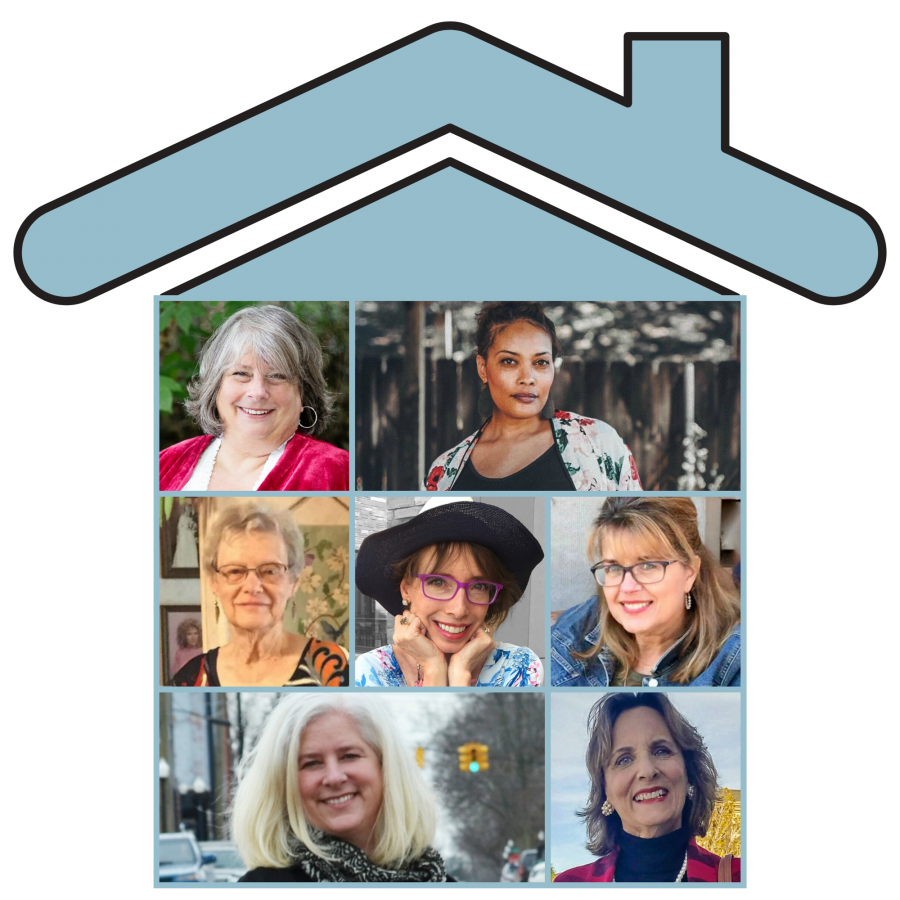 Oh my, we're writing about our kitchens this month.  Don't get me wrong, while I hate to cook, and don't do much of it any more, I do have a kitchen.  And, I have numerous "appliances" (large and small) that one would use if one cooked.
My kitchen is small and as kitchens go, I like mine.  It's definitely not newly renovated with a lot of white (though I do have one white appliance).  My beloved smooth top cook top died a few years ago and sadly I replaced it with a gas one.  Hate it – but I did it for one reason.  If the power goes off I can still make coffee!!!!  (Yes, my priorities are in the right place!  ☕😊)  And, all of my DIL's love it!
Also, my kitchen is bright with COLOR – and walls that showcase still more cross stitch, mementos, etc.  You'll see, I'm just a bright color girl.  The walls are painted "apple green" and the accents are red!  The cabinets are the original oak – which "I" love!  The little pass thru window looks onto the dining area and from the door you can see the buffet which more or less separates the dining area from the living area, so it's not as closed off as many of the older kitchens are – but enough so that not everything "shows".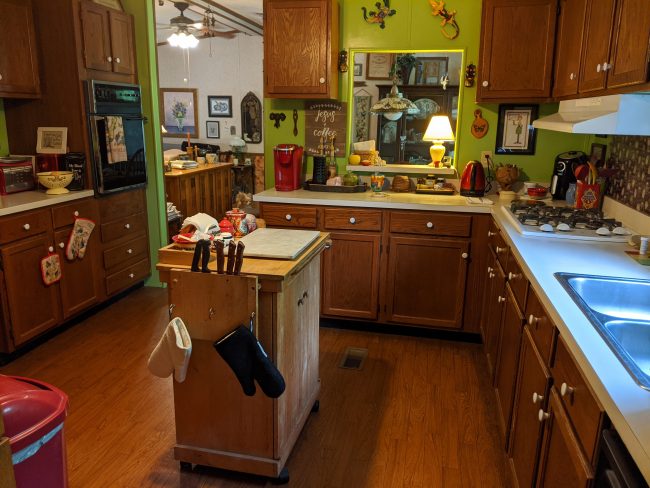 When I was much younger I thought nothing about painting a wall or a piece of furniture – not so much anymore.  But, when I was doing chemo (a number of years ago) I decided I would paint my kitchen.  It had rather bland wallpaper and I was tired of it.  Friends offered to help, but I guess I had to prove to myself that I "could" do it – and so I did.  Not as fast as I might have in my previous healthy life – BUT, I proved I could do it.
Then the red accents just sort of happened and really transformed it into a really cheery place.  I needed a new kitchen trash can and went shopping for one.  Saw a red one that caught my attention – and red accents for my kitchen were born.  Kids have added a number of small appliances in red – my microwave, toaster, etc.  And of course, if I'm buying anything now – it's RED.
So, it's small, but it's cherry.  My island is on wheels so can be moved around as I need it to be.  I brought it with me many years ago from my last house because I liked it!  When family visits it can get pretty crowded pretty quick, but when it's just me it's plenty of room – and besides I barely cook anyway.  I did my share of cooking when my kids were growing up and when Chuck was alive.  But the older I get the worse I get.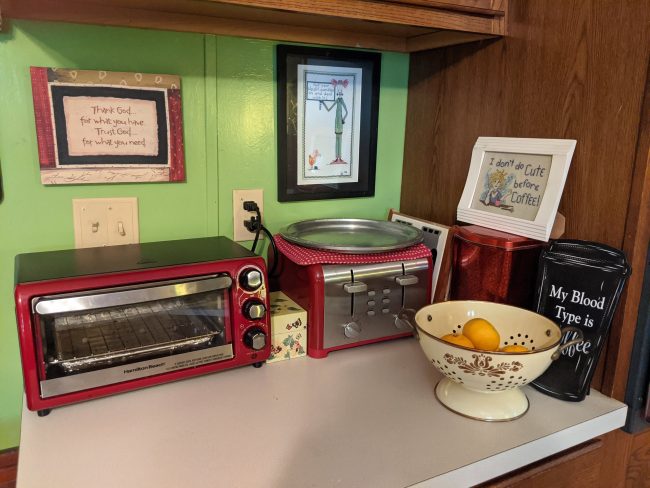 I suppose my array of small red appliances are some of my favorite things – especially my "coffee station" – and that too has seen additions from my kids.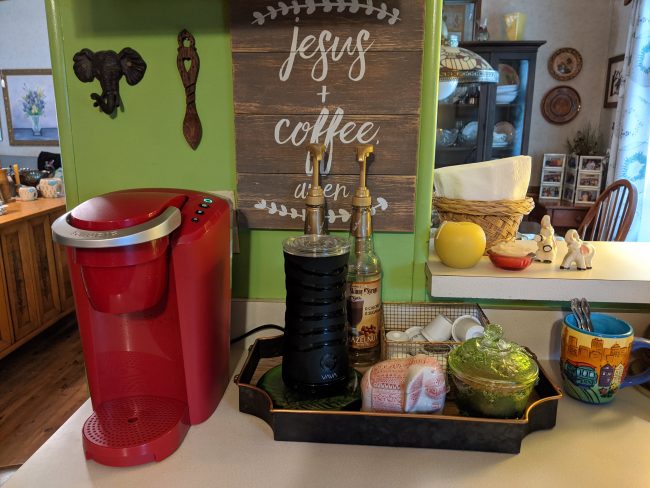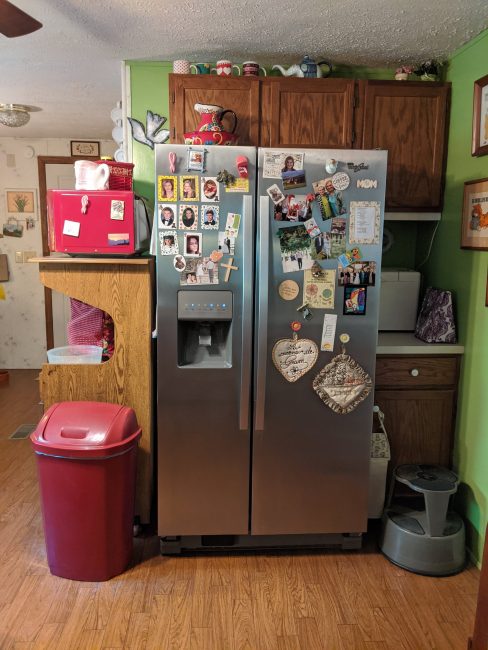 And the infamous trash can sits right below to the red microwave 😉 – which sits on a handy little cart that I also brought with me from my last house.
Be sure to check out the other six bloggers – it's always interesting to see into other's lives.
Bettye at Fashion Schlub
Daenel at Living Outside the Stacks
Iris at Iris Originals Ramblings
Jodie at Jodie's Touch of Style
Em at Dust and Doghair
Julia at When the Girls Rule
Leslie Roberts Clingan