….is it almost Thursday already???  The day I choose to post to my blog.  Usually I have something all written up and scheduled, but it just occurred to me – I have nothing.
But I do have so much.  I can complain and moan and groan, but I am truly blessed.
I have a home that I love.  It's kinda getting old like me and it certainly wouldn't win any awards on a 'home show'.  But…. it's mine/it's 'decorated' (if you can call it that) in MY taste and I'm comfortable here.  (Well mostly.  I do need a new cushion for where I sit or a new sofa or something 😉)
I have four wonderful kids (not kids anymore, but they always will be to me) – 3 sons and a daughter.  They all live far away, but keep in touch regularly.
They have wonderful families and I have eight (count them – 8) wonderful grandkids – some married, some engaged – all in all a great bunch!
A great church that I've sorely missed during the last few months because of COVID.
Great friends who've checked on me/brought me groceries/mowed my lawn/and generally cared.
I have three great furkids 🐾🐾🐾who keep me company ALL the time.  Koda, Boots & Emma Grace (who all just happen to be pretty close as I type this).  And yes, they do follow me to the bathroom  😁   🐺🐱🐈🐾   SO, I had to create a cross stitch chart about them. 😎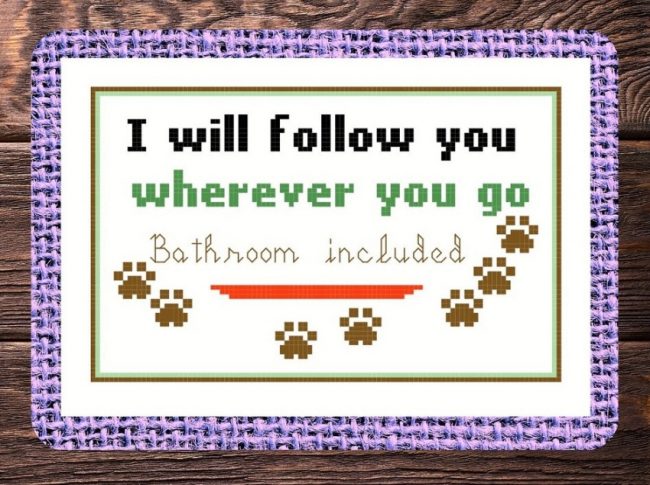 Obviously, there's SO MUCH more that I have to be thankful for!  The leaves are turning (my favorite time of the year), and falling.  I love to see leaves in my yard.
Not the brilliant colors elsewhere – but I'm so blessed with what I do have.  I have places to walk and lovely things to see right under my nose.  Thank you Lord!