I have this hydrangea in my back yard – and while I'm not much of a gardener – it's special to me because it was my grandmother's. When we retired and moved back here most of her flowers were gone (stolen mostly) but there was the hydrangea in a really grown up area. Probably still there because it couldn't be seen from the road.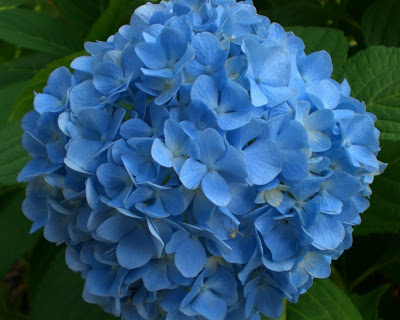 Chuck dug up part of it and we planted it in our back yard and it's been a happy camper – except for last year when it was so incredibly dry. Didn't have nearly as many blooms as in the past so I just took a photo of one of the blooms. It does better with water – and I'm not good about watering things.
I'm sure this plant is at least as old as I am – and probably older. The color has always been this gorgeous blue – but I understand you can change the color of hydrangeas by changing the
ph

 of the soil – way over my head!