… is the October edition of "Where Bloggers Live" group.  This might prove to be an interesting – or maybe boring – post.  Certainly my life is boring these days.   So we'll see how it goes from here.
In case you haven't visited us before "Where Bloggers Live" is a group of ladies from around the country who post about their homes (inside and out), towns, and generally their lives.  Be sure to check their links below to read interesting things about them.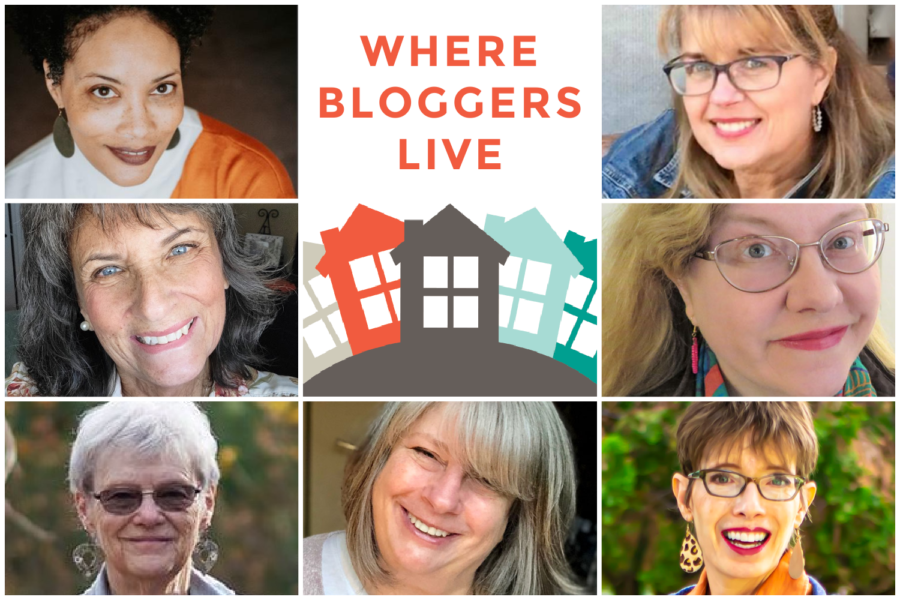 Well for those that might read my blog – I'm officially 'retired' from getting up and leaving my house to work for someone else.  My health didn't seem to appreciate that move on my part, or maybe it was just the timing.  Anyway….
My work these days consist of creating cross stitch charts/patterns, stitching and uploading them to various online sights:  Iris Originals, my Etsy shop, and ICG Crafts (the wholesale site that I use).  If you're not familiar with counted cross stitch, you are stitching on a piece of fabric with holes arranged in regular rows and columns allowing you to stitch nice neat crosses.  There is nothing on the fabric.  Your chart/pattern is on paper and your counting.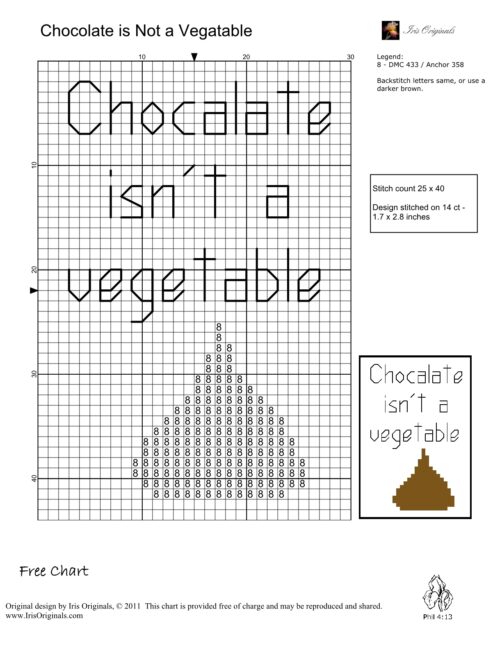 Chocolate is a little free chart, many are much more complicated but this kinda gives you an idea.  There's a legend that tells what color floss to use.
And here's one of my coffee charts finished.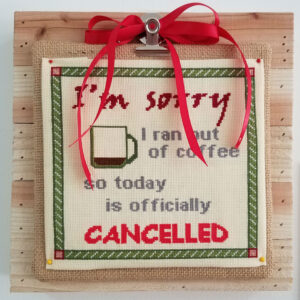 Okay, now you know more than you ever wanted so, back to my work day.  Much of it is sitting at my computer.  I usually do that on a comfty love seat, with at least one 'helper' beside me – there are plenty of other places in the living room for him to lay – but it has to be right next to me. 😉
Now the fun part of all this is the stitching.  I must admit I haven't stitched every one of the charts I've created.  I find I only have so many hours in the day.  My goal is to complete and upload at least 3 charts each month so I get creative with some of the photo editing software.  That doesn't sound like much, but sometimes I'm hard to satisfy (imagine that!).
I am proud of one of my recent accomplishments.  I got all my floss and fabric organized (no small job).  Of course if you look closely you'll see that there are elephants to guard everything and the basket next to the tv is Emma Grace's favorite place to sleep.  (It's not big enough, but don't tell her that.)  She loves the morning sunshine that comes in thru the double windows.
I really like this little 'organizer' that I found on Amazon (imagine that).  Of course it came in a gazillion pieces – but #1 son who lives next door put it together in no time.  It fits perfectly and is clear (plastic), so doesn't make the room look more crowded than it already is.  Fabric is stashed in the little chest next to it.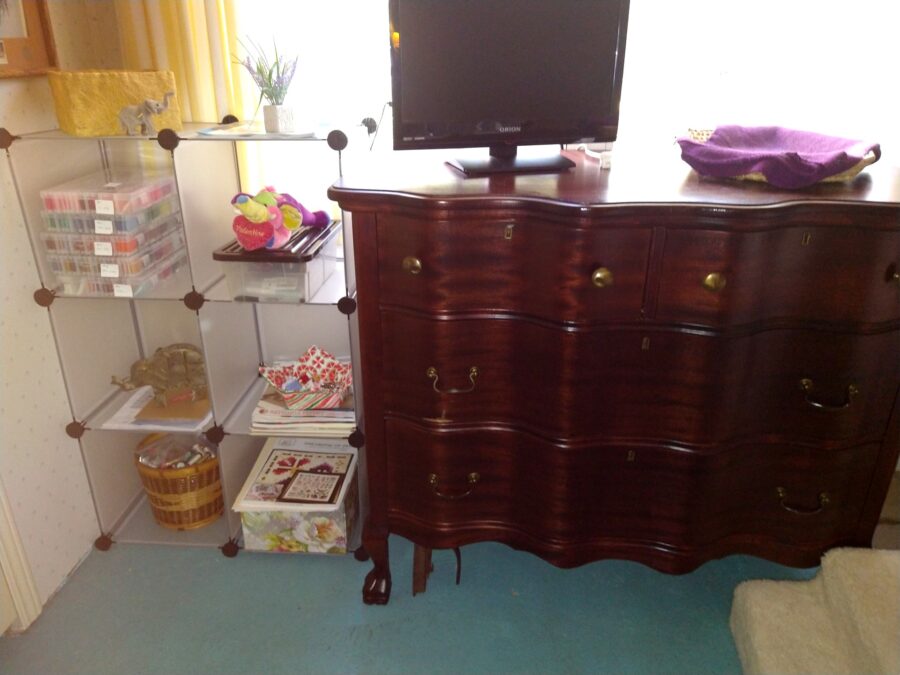 You might notice a couple of my charts are in the right column of my blog – the blog was originally created to showcase my cross stitch.  Kinda lost sight of that, but it what it is.
Be sure to check out my blogging buddies for their take on this month's "Where Bloggers Live".
Bettye at Fashion Schlub
Daenel at Living Outside the Stacks
Em at Dust and Doghair
Iris at Iris Originals Ramblings
Jodie at Jodie's Touch of Style
Leslie at Once Upon a Time and Happily Ever After
Sally at Within a World of My Own