We made it – we're in St. Louis, though when we arrived the fog was so thick we couldn't see the arch at all.
We traveled on Thursday to my daughter's in Tennessee – fairly short trip, nice visit with her.  Then on Friday it was on to #1 son's in St. Louis.  NOT a short trip (at least for me) and the weather did not cooperate.  It rained the whole way, but worse was the fog – AND the incredibly fast traveling traffic.  No one seemed to pay any attention to the weather or the speed limit – and it was evident from the number of cars AND big trucks that had slid off the road.  But we managed to get here safe and sound, though VERY tired.
Did you know that when it's raining you cannot stop your vehicle on a dime?  Apparently a fair number of people don't know that 🙁 
So, I pretty much spent the weekend resting and being pampered by my son and DIL (who is an incredible cook).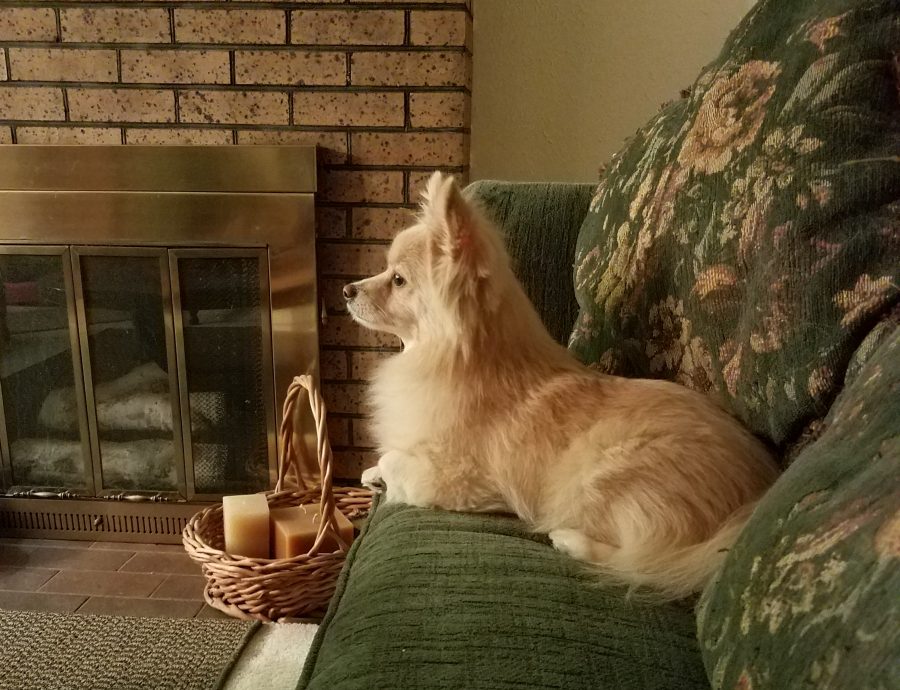 Koda is resting on the couch.  He is on some mild tranquilizers for the  duration and he did much better on the long drive than on the original trip to Tennessee in November.  There are so many more sounds and smells here than at home, so he tries to stay on the alert.  Never far from me though.
#1 son took a couple of days off while I'm here and we went out browsing today.  Several antique stores and a great lunch at Cyrano's Cafe.  The weather is cooperating and it was a lovely day with sunshine and warmer temps.  
The fireplace was a nice touch and even on a mild day felt good.
I managed to find a couple of things at antique stores – a really nice basket with a lid (Chuck once told daughter and I that we needed to join 'baskets annonymous') and a tin that has red on it to put Koda's food in.  Found a nice picture frame at a different shop but the guy checking me out was rather snippy so I left it sitting on the counter. 🙂