Family history says this house went through a number of  'advancements' (changes) over the years.  This picture is pretty much how it looked when I was growing up.
Originally built by Ira R. Foster (my great-great grandfather) but known as the Ayres home in my time.  Foster served in the Georgia House of Representatives and both Georgia and Alabama Senates, was wounded in the Seminole Indian War and served as Quartermaster General for Georgia in the Civil War.   He had extensive land holdings in both Georgia and Alabama and moved his family to Georgia Mountain after the war (wish I knew why he chose this location).
This was my paternal grandparents home – which had also been home to my great grandparents and my great-great grandparents.  It's where I always considered home as we lived there on and off with my grandparents during my childhood and I lived there (with hubby and #1 and #2 sons) when #3 son was born.   And… if we lived elsewhere we visited often.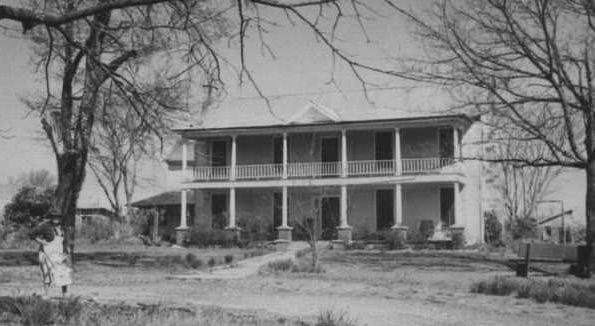 Btw, that's my grandmother in the picture – complete with her ever present apron and straw hat.  She loved flowers and had wonderful flower beds in the front on the sides.
My mother and I lived with them during WWII when my Dad was in the south Pacific in the Navy.  It was quite a house and as mentioned above had housed several generations.
Foster built his house on top of the mountain.  To reach the top back then one had to come by river to Foster's Landing (now underwater and not too far from the present Guntersville Dam) and up the (now) back side of the mountain.
I always wondered why the General chose this particular spot to put his home when he owned much of the mountain.  There were bluffs with fantastic views, much more scenic spots and miles of riverfront.  But perhaps this would have been the most protected spot.  Away from the river – no military gunboats.  High on the mountain – no chance of flooding, and frankly quite difficult to reach.  And maybe, it felt safer here to those surviving a terrible war!
Built in the late 1800's, the foundation was all rock – some HUGE, that was brought up from the "bottoms" (the valley which had rich farmland and is now covered by Guntersville Lake).  The walls were all wood – really, really wide boards – some at least 12″ wide (shiplap I guess they would call it now)  that had been covered with 'cloth wallpaper'.  By the time I came along it contained 14 rooms, a few with electricity that was installed sometime in the 1940's.  No plumbing, though there was a telephone.  Heating was fireplaces and pot bellied stoves.  My Dad installed gas heaters in the kitchen and my grandmother's room in the late 1950's.
There were 14 large rooms, several large hallways, an enclosed "well" porch off the kitchen (a luxury – one didn't have to go out in the rain or bad weather to get water), two 2-story fireplaces and one single story one, a large enclosed area that connected two sections of the house, four large porches – the front with brick pillars and white columns.  A pear shaped driveway led from  the road to the house.
There were also numerous outbuildings:
"Wash" house (another real luxury back in the day)
"Wood" house – where wood was kept dry for heating.
"Smoke" house – where the meat was smoked/cured
"Generator" house – apparently there was some generator use before electricity was added.
"Cellar" house – a sturdy structure with a cellar made of hand/hewn and hauled rocks – for storing fruits and vegetables.
"Garage" and lean to shed – 1940's car in my memory
 "Large barn" – amazingly still there, though not in great shape.
"Chicken" house – obvious use
The house became my Dad's after my Grandmother died.  My family lived in it briefly when #3 son was born, then it was unoccupied.  My Dad kept it locked and boarded up – that that didn't stop vandals 🙁
The house finally became mine in the late 1980's – and burned not long after – taking my heart with it.  Chuck had planned to redo and update the house.  He would probably have killed himself trying – but wouldn't it have been wonderful.  We never knew for sure what caused the fire.  Vandals and teenagers were numerous and it was speculated that some had tried to have a fire in one of the fireplaces that got out of hand.
I have no interior pictures (I wish) – just in my head and heart.  And those I remember well.  <sigh>
We lived away and moved back here when Chuck retired in 1990. My home is where there used to be cotton fields, a little to the southwest from where the old house was.  I can see the well from my bedroom windows.  I have such wonderful memories of the house.