So #2 son & his wife took me on a 'fun day' after the wedding.  I mentioned that sometime when I visited I'd like to go back to Waco.  So, Monday was a pleasant windy day with sunshine and they decided we would have a "fun day".  It was about 1-1/2 hours from where they live but I didn't have to drive, so just sat back and looked at the Texas scenery.
We made several stops in Waco and one was "Magnolia Market" at the Silos.  It was a busy place but not so crowded you couldn't move around and they have it laid out so well with a food court and lots of seating.
We didn't attempt the bakery where you could smell the famous cupcakes – there was a line that stretched around the block and since it's a smaller building they only allowed a certain number of people inside at one time.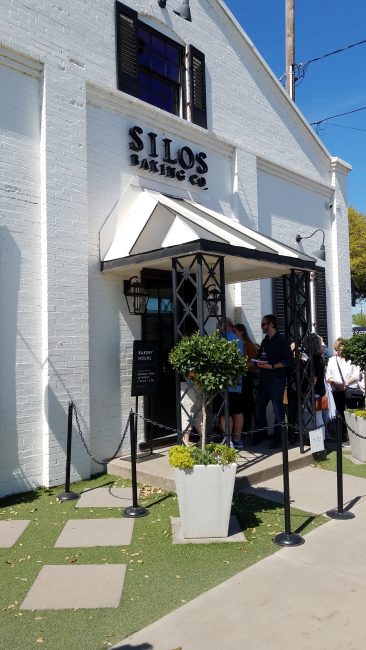 This place has been a boon to Waco economy as it draws a LOT of people and there are a number of small shops & eating places that have popped up around it.  Parking is free and there's a little shuttle 'train' and cute city buses.
I thoroughly enjoyed browsing around in the market and seeing all the things that reminded me of Chip and Joanna's HGTV show (that I watch faithfully).  Naturally I came away with a coffee mug 😊  A sweet reminder of a fun day!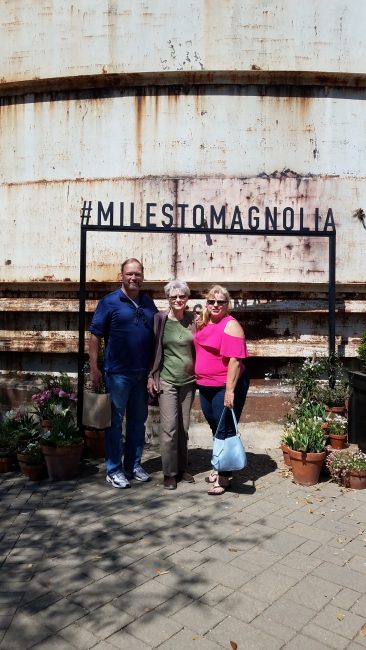 Did I mention it was windy? 🙂  Didn't matter – I thoroughly enjoyed it!