Boots is still inside!!!  As I type this, he's curled up in the across just across from my work table.

He still adjusting to being a house cat – but it's getting much better.  He still goes to the door and I keep a magazine there to shoo him back when Koda's going out, but he hasn't made any mad dashes recently.
He does have a new "condo".  Thought I'd posted about it, but couldn't find it, so…. I had posted another idea earlier, but didn't go with that.  Instead, after much online searching – I bought an outdoor chicken coop.  The kit came in two large boxes – which I managed to drag/push/pull from the front door to the deck.  There they waited till #1 son came to visit.  (You understand, he never just visits – he usually works the entire time he's here.)  Anyway,  he made some modifications – removed the nesting box & covered that with hardware cloth….  and walla – cat condo it is.
This picture is from down in the yard looking at the back side.
Obviously this in up on the deck with Boots surveying this kingdom.
He doesn't stay in there for real long periods and I don't ever put him there when the sun is directly on the condo.  Also have a fan I can turn towards him if it's really hot.  He has a bed in the little house along with food and water, so he has all the comforts of home.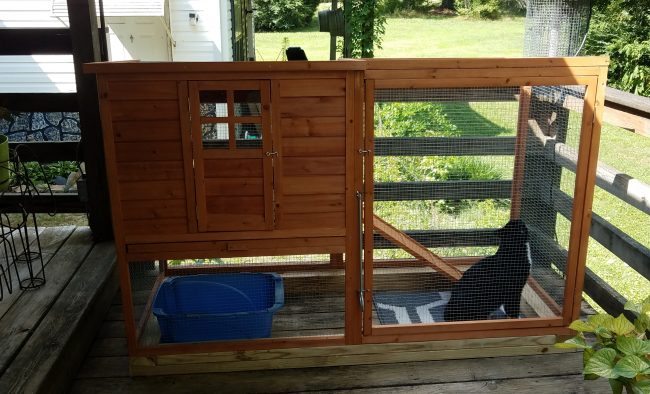 He wasn't too sure about it at first, but is adapting and seems to enjoy it now.  Of course, he's rather be loose so he could be a hunter – but that portion of his life is over and he seems to be a pretty happy cat 🐱 – who follows me almost as much as Koda does 😄.