And like the last, this was totally unexpected.
I've done more shopping online since our world has changed so drastically.  Dog and cat supplies are easier that way and I discovered Chew.com.  Now I filled out a little "profile" on both cats and on Koda – along with pictures.
I got a cute birthday card from Chewy and one day a "just thinking about you" card.  But the biggest surprise was about a month ago… when a small package arrived.  Gift wrapped with a cute card and then wrapped carefully in bubble wrap.  I sent them this thank you email:
Oh my goodness – I don't think I've ever been as surprised as when I opened my mail today. The painting of my little Koda is THE most wonderful gift. I'm speechless. Whoever or however it was created did a wonderful job and I'm totally touched – especially in this time of such uncertainty. Just know that I will forever be a customer. Thank you SO VERY MUCH.
Iris Smale
And received this in return:
Hi there Iris, 
Absolutely! It was our purr-leasure to capture your furry families beauty in something you can hold on to furever. Thanks for your continued loyalty and support, and thanks for being a part of our family! We look forward to filling your furbabies bellies for many years to come. 🙂   
Over and snout,  Customer Service
Now I know you're dying to see what I got: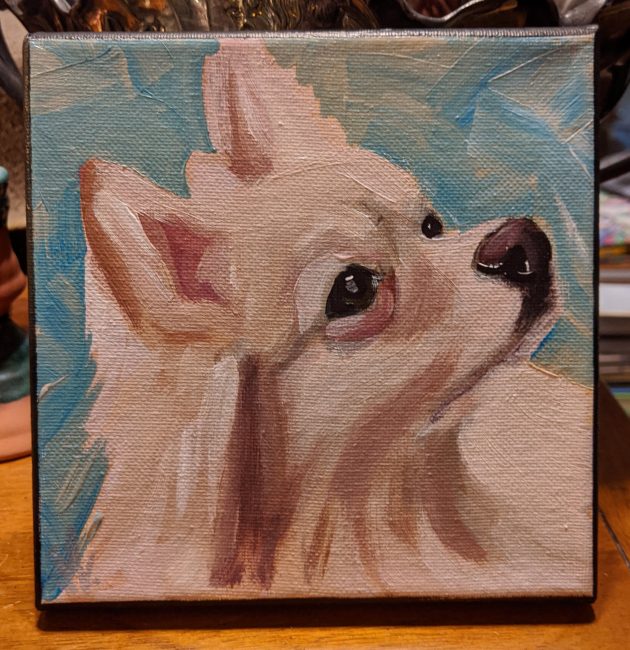 It's 6 inches square and a perfect likeness painted on canvas and I love it!