Well technically it isn't "my" mountain – but I live on it and my great-great-grandfather brought the folks who settled it – so I've always felt like it was mine.
Right now the little creek that flows down through the pasture is going full steam.  The fence is still holding up from being "band-aided" a number of years ago when I still had goats.  You can see that it's definitely out of it's banks back in the pasture.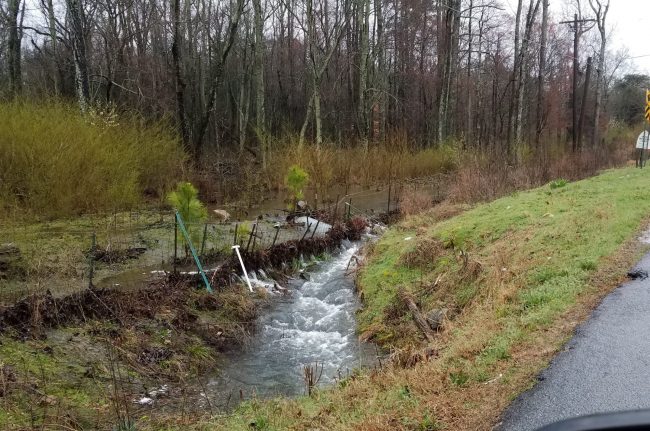 That is one of the gorgeous views – not from my house. When my great-great-grandfather came here after the civil war, the location he choose for his home was not a view (though the lake wasn't there then anyway), but a location he considered safer.
There's a new subdivision being developed 🙁 and I drove into it to get this photo.
There is the lovely drive down the mountain when I go into town. It's a really crooked road that was built in the late 1800s for mules pulling wagons, finally paved in the 1960s with only one curve removed. Still really narrow, with the right side rising sharply and the left side dropping even more sharply. They did add a guard rail a few years ago. Some of my local friends still won't drive this route (there's another, longer way up the mountain) but it's the road I learned to drive on (though a dirt road them) and I love it!!