This will be more info than you ever wanted to know (unless you're interested in counted cross stitch).  Since I'm not a fashion blogger like many of my friends are I sometimes struggle with something to post – and I do try to post weekly.  My blog surely lives up to it's name "Ramblings" 🙂
Anyway, about my little business.  I've loved cross stitch for many years and stitched a gazillion things as gifts and for myself.  Chuck always fully supported my cross stitch habit but eventually told me, "Okay, you've stitched for everyone except us – you need to stitch something for our walls".  Boy, did I take him seriously.  In any event, I do love to cross stitch and it's a serious stress reliever for me.  I've worked part time in the local cross stitch shop for 15 years and both my original & current bosses encouraged me to market my own designs.  I'm not particularly good at marketing, and I'm just a very small fish in a very large pond, with lots of really BIG fish – but I'm working on it.   I know my charts are in a number of shops – but don't know where.  The wholesale site I sell through just tells me sales, not where they have gone to (I wish).  I sell a few charts on Iris Originals and do know I have customers in a variety of countries and I just keep plugging along.
Now you're bored to tears, I'm going to share a few of my favorite (and best selling) charts.
The very first chart that I marketed, and it was while I was still in treatment for cancer myself.  Mine was breast cancer – but this poem works for ANY cancer and I included all the colors for the various ones on the chart.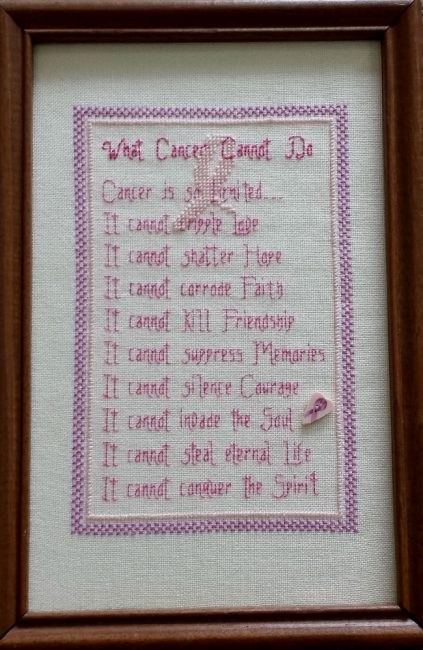 I hope I haven't bored you too much.  There are a LOT more, but I didn't want this post to be miles long.  If you've stuck with me this far – thanks and blessings to you!!!  Iris