When I was engrossed in furniture re-finishing a number of years ago, I decided I wanted a new coffee table.  Actually saw one on HGTV that I really liked – yes, I watch a LOT of HGTV 🙂
So began the search – wanted all wood – and wanted cheap.  The search was long and tiring but I finally found one at a 'junk shop' not far from my house and paid $12 for it (woo hoo) – my kind of deal.  #3 son had to repair one of the legs but otherwise it was in great shape – just pretty rough looking.  As a matter of fact, they had it standing on it's end in the shop.  I think they were surprised anyone would buy it.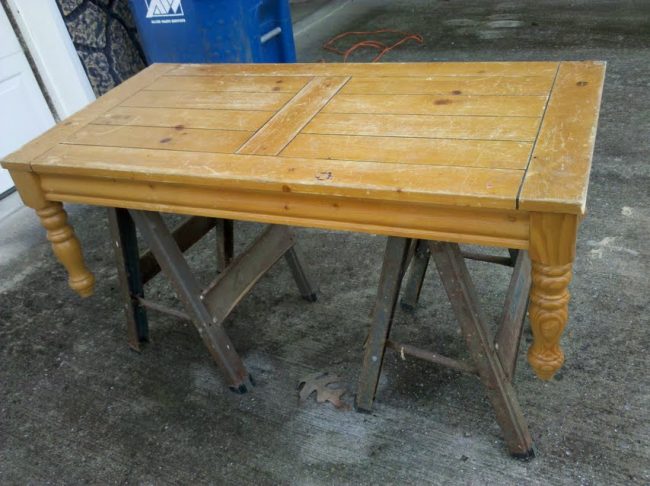 You can see from my inspiration picture that the top and legs were not the same color – and that was one of the things that drew me to it.
So, I sanded and sanded and……. gave it 2 coats of primer (then curing for 7 days), 3 coats of sage green on the legs and skirt, 2 coats of stain on the top, then 3 coats of polyacrylic on the top.  In case you're counting – that's TEN COATS of some sort of paint, with all the waiting/curing time time between each one which means it wasn't a quick project!  I don't understand how they do this kind of stuff so quickly on HGTV.  Oh wait!  It's TV, right?
I considered doing the coffee table in yellow (did I mention, I love yellow?), but decided to use the green since I already had/have several yellow tables in my living room.  I took a swatch of my drapery fabric to Lowe's and they matched it for me.  It actually matches really well, though it doesn't show in the photos that well.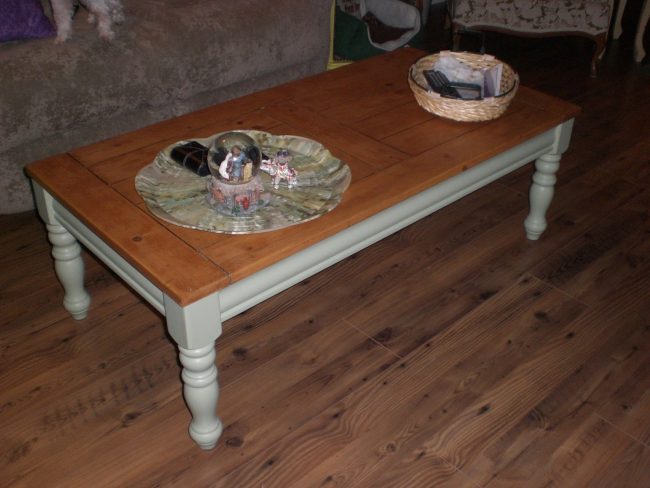 I'm still really pleased with the results – but I did get pretty tired of painting stuff.  As I said, this was a number of years ago – not sure I'd be up for all that sanding and painting in my life at this point – but I'm still loving my coffee table.  And yes, that IS an elephant on the tray. 😊