I was waaay too old to be doing this, even a couple of years ago when I tackled this – but I couldn't take it anymore and finally snapped.  I'm here to tell you that ripping up old carpet is not for the fainthearted.  It was this was darned hard work, but I was determined.
My house is 28 years old and we originally had carpet everywhere.  It's all been replaced with laminate flooring except for one room… the guest room/my studio/sewing room.  This originally started out as my MIL's room and she had a little dog – who didn't always go outside for his business.  Over the years, a cat, and then Koda could still smell the past indiscretions and made it considerably worse.  I had tried everything on that old carpet as a band aid to the problem and nothing worked.  Always intended to rip up the carpet and replace with laminate, but the "help" (son/grandsons) moved away (how dare they 🙂 )and the laminate is beyond my abilities. But… I can rip up carpet — and I did.
The sub floor is rough particle board, but I did a good bit of research before I started and found it can be painted.  I can't put down laminate, but I can paint (slowly, but I can do it).
Now mind you – that room is BEYOND FULL of furniture.  The best scenario is to move all furniture out.  That's definitely beyond my pay grade, but it does have to be moved off the carpet.
This is my sewing "nook". It was the first section I worked on.  Chuck built my sewing table not long before he passed away and it's perfect – machine and serger both easily available with storage underneath (way too much storage, I was amazed at what all was down there).  My Dad built this handy little chest for me and it sat under the window in my bedroom and I used it as a 'hope chest' and window seat.  It now holds a lot of fabric that is probably important for me to keep.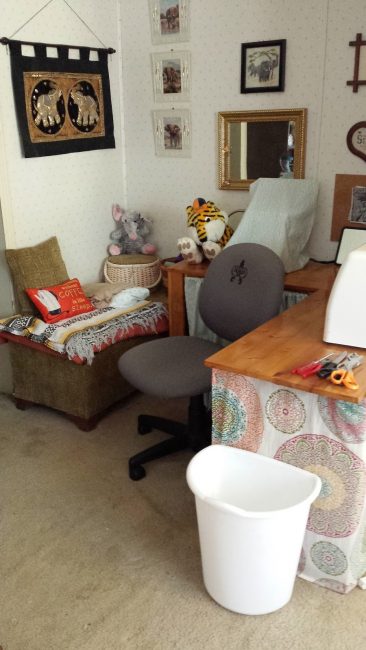 As an aside – you might notice a few elephants on the wall 🙂
And here's that sewing nook – when it was ready for the furniture to be moved back.
The room was a mess for several weeks as I slid, drug, and managed to move everything myself except the hutch that had a removable top.  I considered it, but it was heavy and I was afraid I'd drop it.  So as much as I hate to ask for help, did have my neighbor come over and lift the hutch top down, and then put it back when I was ready.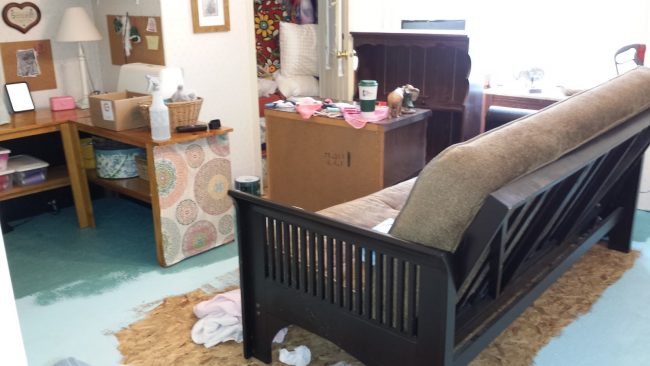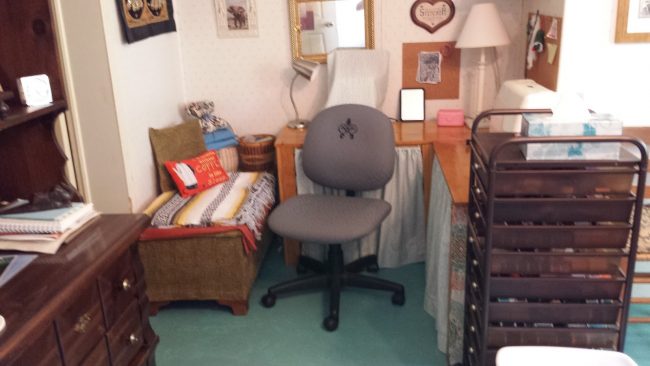 Would it look better with laminate flooring down – probably.  But for now the nasty carpet is gone and I rather enjoy the room with a bright colored floor.
As you can see from the photos, I had to work in sections and because there were several coats, that required several days.  I researched and followed directions.  I used a strong Kilz that was designed for pet odors and that was supposed to be dyed to the same turquoise color – obviously it wasn't quite the same.  Two coats of the Kilz at least 24 hours apart.  Then a coat of good quality porch & deck.  Dried or cured for 24 hours and then furniture could be moved back.
That's the directions, and I followed them faithfully.  Of course, now when I move  anything – and the futon gets moved with some frequency for guests – it pulls up the paint and the Kilz.  VERY ANNOYING.  #1 son (who is Plant Manager for a large commercial paint company) tells me the whole thing should have cured for many, many days.
<sigh> It is what it is!  It's better than the awful, smelly carpet and the Kilz did it's job on that score.  I'm enjoying my turquoise floor and pleased the carpet is  gone!
Just for the future – someone remind me that I don't need to tackle this size of a project again 🙂