Well, I give up on scheduling posts.  I've tried this multiple times and it hasn't worked.  I know, it's probably operator error, but I'm frustrated with trying to find the problem, so I'm moving on to something else.
Okay, so now I've dipped my toes into the 'affiliate link' sea.  Please tell me that the few I have on my sidebar are not annoying or intrusive.  I may never make a dime – and that's okay – that's not why I started this blog.  If I make a little, that's fine. One thing I can promise – I will not allow an ad for anything I wouldn't buy or use myself and I will never have a pop up ad!  Period.  Just wanted to let you know where I stand.
Btw, here's what Koda thinks of all the annoying popup ads.

Since I started my blog I've been reading more of other people's blogs.  I expect to see ads as many are trying to make a living off of a blog – I never figured out how they do that.  But there are some – and it seems that's the only thing they're about.  Needless to say, I don't tolerate them very well.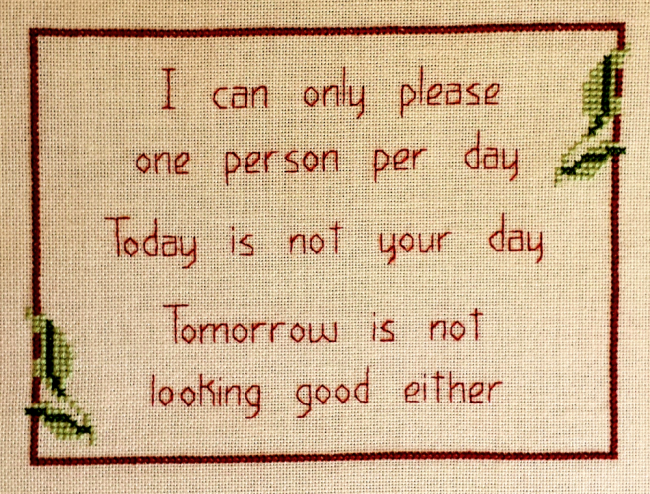 If I haven't totally made you mad and you've read this far… please understand, I am not knocking all ads. I even enjoy clicking on the unobtrusive ones. That said – I've chosen Amazon and the site I use for my web hosting.  I know people who have a love/hate relationship with Amazon – but I do a fair amount of shopping there.  I'm all about 'support your local shops' – as long as you HAVE local shops.
Living in a small town without access to lots of different types of stores, it's the only way I can find things sometimes.
I did have a heck of a time getting the Amazon ads to post – took some trickery on my part 😉   Now if I could just figure out how to get the post scheduling to work I'd be a really happy camper.
I don't know about you, but the thing that will get me to leave a website, blog, news or most any site is extremely annoying popup ads.  It's a sure way to lose me.  I don't read them, I'm definitely not going to shop them and I can click away from that site really quickly.
And while I'm on my blog/website rant.  Light gray or soft colored print drives me nuts.  Another way to get me to leave a site immediately.  I know I'm old, but I'm not the only one in the world who doesn't see all that well.  Tiny/light gray text does it for me.
Okay, back to our regular programming.  For those that read here, I promise my next post won't be a moaning and groaning one, just wanted to let you know you can check out my links if you are in the  mood. 🙂