An excerpt from the memoirs of Albert Martin Ayres.
Albert was in school in New York when the Civil War started.  A southern boy in Yankee territory.  He had relatives there, one being his Grandmother….
"It seems that Father was anxious for me to become a Civil Engineer.  He had talked with his friend Mr. Hazelhurst who was Chief Engineer of three different railroads so he decided to send me to school five miles above West Point to learn Mechanical chaining and the use of surveying instruments….."
Blockade Running…. To get Home
Finally, an old blockade runner from Macon came to New York and I was to return home with him.  (Would have still not been 18 years old.)  I disposed of all my things I didn't want, and the last afternoon all the boys went out with me to Canterbury, a mile west of where the stores were, and when we got our meals, it was a pretty demoralized crowd that got back to the school.  My roommate, the wild boy, I heard afterwards, disappeared that night or shortly afterwards and was never heard from again.
I went down to grandmothers at Woodbridge and learned that my old principal from Yonkers had a new school at Perth Amboy.  So, I traveled down there to see him.     He was in Trenton but his wife said I must stay to see him.  He came in about dark, grabbed and hugged me.  I took supper with them and he introduced me to all and told them I was a southerner and on my way home.
I left late at night and walked back to grandmothers in a furious snow storm.  The last I heard he was Col. of a New York Regiment, and was Provost Marshall of Washington.
I went back to the city and I remember that last evening with Mr. Pike (his guardian in New York).  I believe we parted at the St. Nicholas pier.  That evening, the news boys were shouting of the battle of Mill Spring where Zollicoffer was killed.  (Brigadier General and the first Confederate General to die in the western theater.)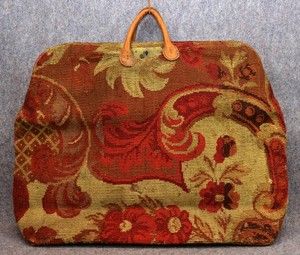 Well, the next day, the old blockade runner started, I had packed a red cloth carpet bag and it was so full, I feared to open it unless it was very necessary.  (This is simply a picture I've found online to illustrate pretty much what a carpet bag looked like).
We went westward through Philadelphia, Pittsburgh, Indianapolis, and Terre Haute. My remembrance of Indianapolis was that here for the first time I drank a Tom & Jerry.
In Indiana, on the train, we passed through great fields of fine corn (in the Wabash bottoms) that had never been touched.  Their  market used to be in the south..
At Terre Haute, we started south, went to Evansville where our railroad travel stopped for awhile.  There, I remember we hired a man, who had been expelled from West Point for chewing tobacco, to carry us 25 miles to Mt. Vernon (Indiana) down the Ohio River.  The river was on a "big fresh" (flooded) at the time and I remember the back water tumbled us considerably and added some distance to our trip.
The trains all along were crowded with soldiers, mostly officers, many belonging to the gun boats and I hardly looked down the isle without seeing bottles & flasks crossing from side to side.
At Mt. Vernon, the surveyor of the port, I believe he was called, came to us.  He looked over the letter I had, never bothered about my colt revolver and made no objection to our going on south.
There was four of us, I think, that went across the river.  I believe it was 11 miles to Uniontown on the Kentucky side.  I  remember we stopped once to turn our boat over on the bank to let the water out.  The river bank was only some inches above the water.  At Uniontown, I met Dr. Blount from Australia, the father of two schoolmates I supposed to be orphans.
There, the four of us hired a man to take us across the state to the Tennessee line.  The distance of 96 miles, and it took us six days to make it.  Once we were stopped a half day to let a creek go down so we could cross.  We took dinner one day at Hopkinsville and there I saw my first Confederate soldiers…two of Forest's troopers.
At the Tennessee line we again took the railroad.  The first stop was Nashville.  Spent a day there and attended Zollicoffer's funeral from the Statehouse.  Next, a day in Chattanooga when I met the Poes from Macon.  Then, we stopped in Atlanta (trains didn't seem to make any connections in those days) and then on to Macon.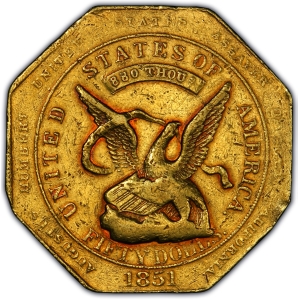 I remember, in Kentucky, the old blockade runner and I parted with my giving him a $50 gold piece, the last one I ever saw.  They were minted by Colorado and were octagon instead of round. (I found this photo online AND, the sale price on eBay today is "only" $173,300.00).