Okay, I know this is silly for a grown, "old" woman – but I have a fairy garden, and my little fairy seems to enjoy visiting with Ms. Goose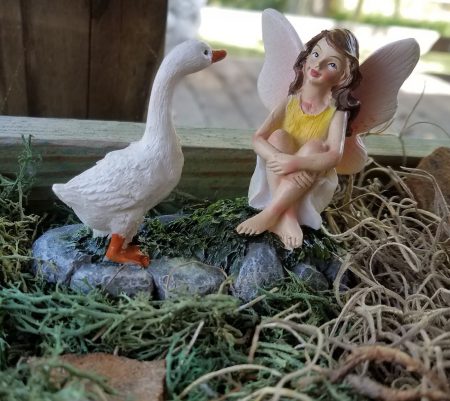 Let me explain. I have this really vintage wooden planter that was my grandmother's (there were two, my daughter has the other one). It's long and very narrow and sits on legs on the floor. It is obviously homemade. I don't want to put dirt directly in it – I'd like for it to last awhile longer and I'm pretty sure that would certainly lead to it's demise.
So, I've tried a number of things….
Difficulty finding little pots that would fit in it – and if they did when I watered the plants the water overflowed – again not healthy for the old wood.
Then I tried artificial plants – they just looked tacky (granted, I didn't buy the expensive ones).
I even used it inside as a magazine holder for awhile, but it was really too long for that.
Just left it empty last year.
Then this year while I was buying the few potted plants I can keep alive (if I remember to water them), I saw a fairy garden and remembered my friend Cathy always has real fairy gardens. Of course, hers have real plants that she tends frequently – and look great. Real plants were not in my plan.
So, after finding all the 'ingredients' for a cute little garden at Big Lots and Dollar Tree for a price I was willing to pay, and figuring out how to get the interior of the planter raised so I could actually see the 'garden' – I have this adorable little garden where fairies can visit and that does not have to be watered or weeded. Just perfect for me.
Who knew there were so many varieties of fairy garden houses! I picked this one and couldn't resist having a bridge with 'water' flowing under it.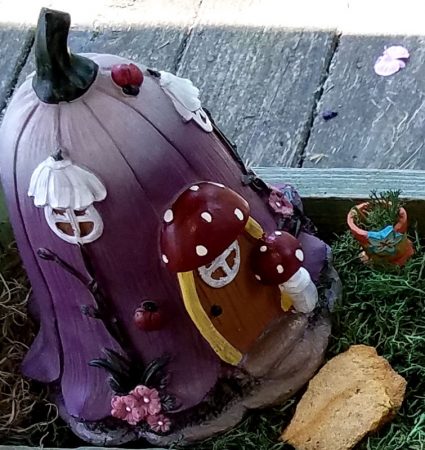 A bench for the fairy to sit when she entertains guests and not chatting with Ms. Goose. Stepping stones from my driveway and grass from some kind of weird moss.
And I enjoy it when I sit on the deck. 😊
Yup, this was a silly thing to do since I have a gazillion other things I wanted/needed to do, but hey, I'm old that I can pretty much do what I want to do. 🙂