After my husband passed away I was changing my bedroom around and a friend mentioned making a headboard….  and after all the HGTV I watch I was hooked.  And, there are lots of tutorials online.
I sold the king size bed we had used and bought a full size platform frame (much like this one) that sits much lower to the floor and a memory foam mattress.  This bed also prohibits cats from getting under the bed. 🙂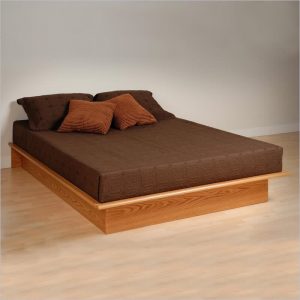 My materials consisted of a 4×8 piece of 1/4″ plywood, three 1x4s, bolts, foam, batting, vinyl and nail strips.  Costs for all the materials was $67. (I think I did this about 10 years ago – so materials would probably be a bit more now.)   Labor was free 🙂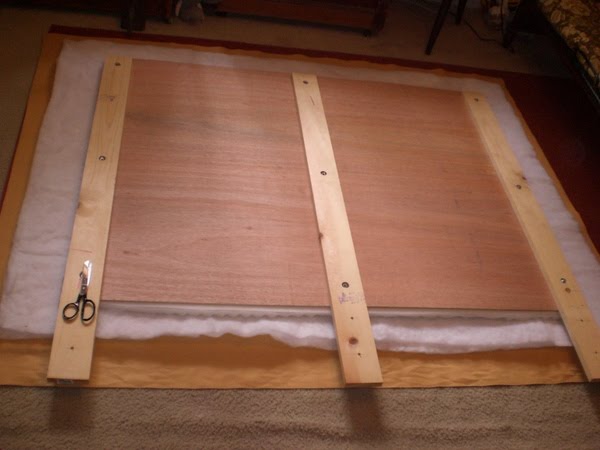 Vinyl on the floor with back side up, batting, foam and then the frame.  The foam was cut the same size as the frame, the batting was about the same size as the vinyl.  Fold around the edge and staple.  Turned it over and put the nail strip on.  Another crawling around on the floor project.
My son is too much like his Dad, and the thing had to withstand a tornado.  So he and a neighbor cut the 1/4″ plywood for me and attached it to the 1×4's.  I did the rest of the work, until it came time to attach it to the bed.
I must say I was (and am) rather proud of myself.  I could have done it quicker than the 2-1/2 hours that it actually took if the darned electric stapler that I was using had cooperated.   I could just about walk when I got finished.  That's 2-1/2 hours longer than this old lady needs to be on the floor.  I could have gotten help.  But, but, BUT…  "I wanted to do it myself".
Son (Asher) and grandson (Nathan) and a couple of Nathan's friends got it attached to the bed and the whole thing put together.  Did I mention that it's sturdy?!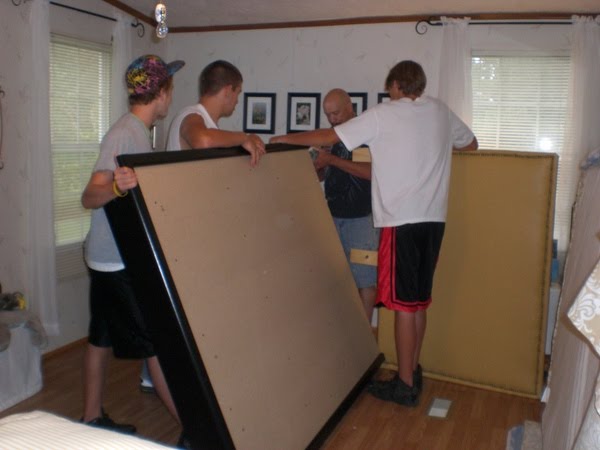 I love my bed and headboard!
Grace & Peace,
Iris