Doesn't everybody???  And yes, I really do have a cemetery in my yard – so if you're bothered by gravestones and cemeteries you might want to just move along now.
When we were deciding where to put our house my mother was mortified about where it was going. "But you'll have a cemetery in your yard." My response, "You know, they'll be great neighbors. They won't bother me and I won't bother them."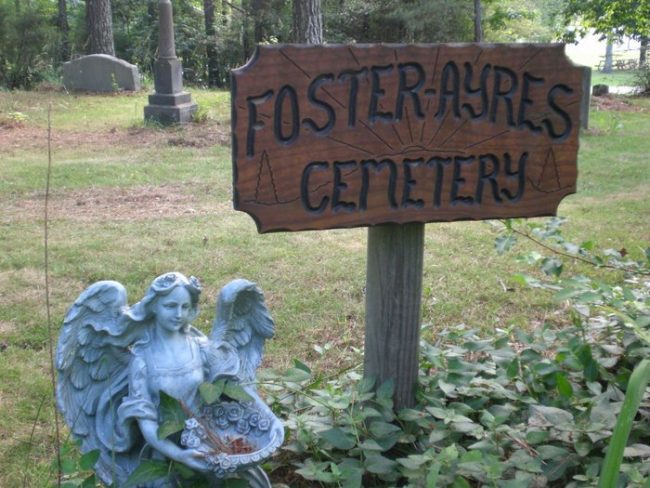 This is a small family cemetery that occupies a very special place in my yard and I'm honored that it's here. I don't take care of it nearly as well as I'd like – it takes more energy than I usually have.  Currently there are some tall pines loosing limbs. I know, I know – I should never have left the pines grow. DH told me that.  Having a couple of the cut soon.  I love pines, and I love pine straw <sigh> but I just can't keep up with it.  I could blow the graves off every day and they would still have pine straw on them.
There's a number of things he told me, but agreed to anyway, that very much annoy me now because he was right. But that's another story too.
So, back to my cemetery.
The first grave was that of "Millie Arthur Creighton Crooks Foster" in 1883. She was the wife of General Ira R. Foster (Civil War). Their daughter (Nancy) married Albert M. Ayres I, and the cemetery has been continuously maintained by a member of the Ayres family from that time until the present.
Vandals got to it between the time that my Dad died and we moved back to Alabama 🙁 so now this portion of that first tombstone lays own on the solid stone.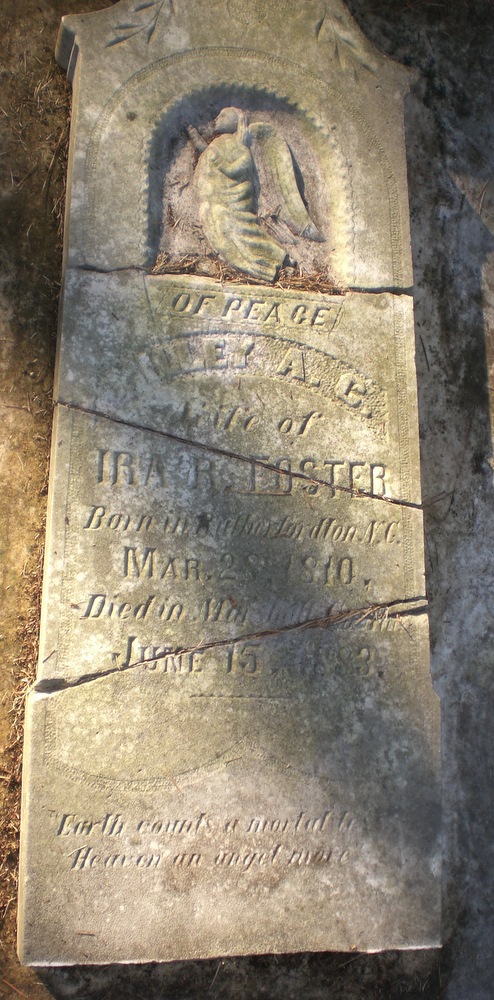 The last grave was my late husband in 2005 – my spot is right there and my name is on the headstone also.  🙂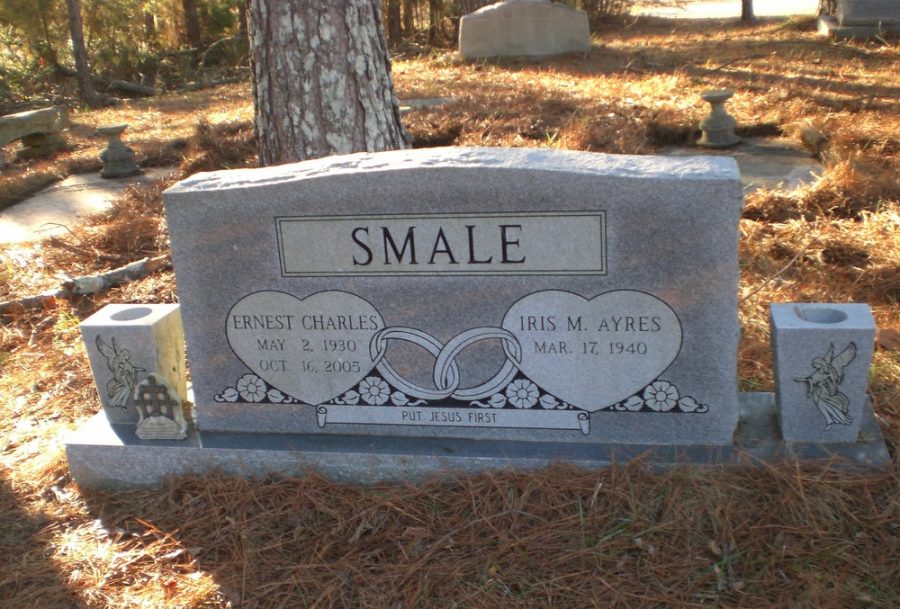 The youngest is a baby only 1 year old 🙁 who was born after his father died – both baby and father are here.

And of course, we have the furbabies.  The first two were the dogs we had when we moved back here… and I was creative enough to make 'headstones'.  There's one more dog that was my husband's that I want to make one for (when I have the time and/or energy).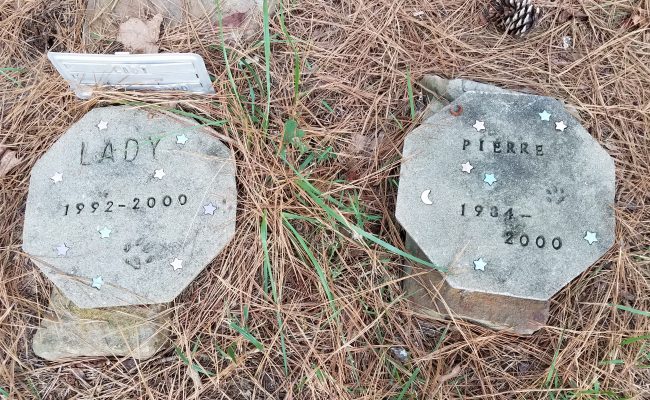 And these are various kitties and one bird: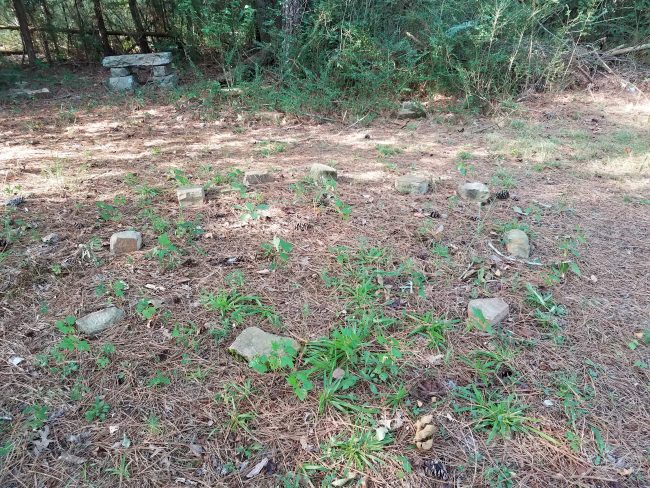 I had a couple of benches made from some of the rocks from the foundation of the original house on the property (also another post).  You can see one off to the side of the above picture – and the other is closer to the tombstones.  Though I must say – they're not very comfty to sit on for very long.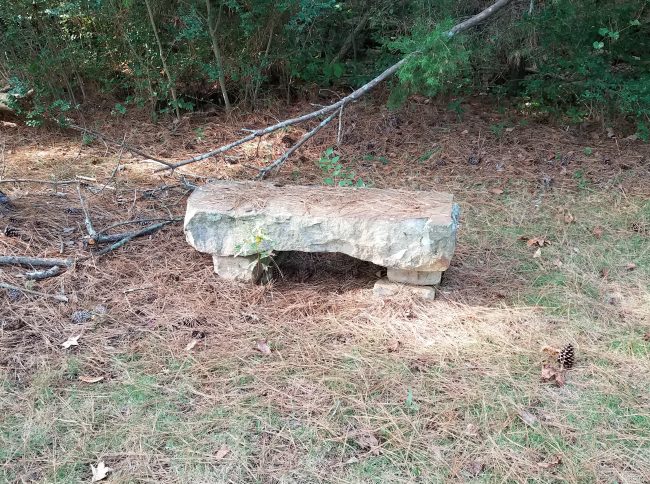 And then, oldest son arrived for his last visit with this absolutely wonderful bench.  It's 'teak' and will last forever (or at least my forever) and I absolutely love it.  It belonged to a friend who was downsizing.  I'm so happy it came to live in my cemetery.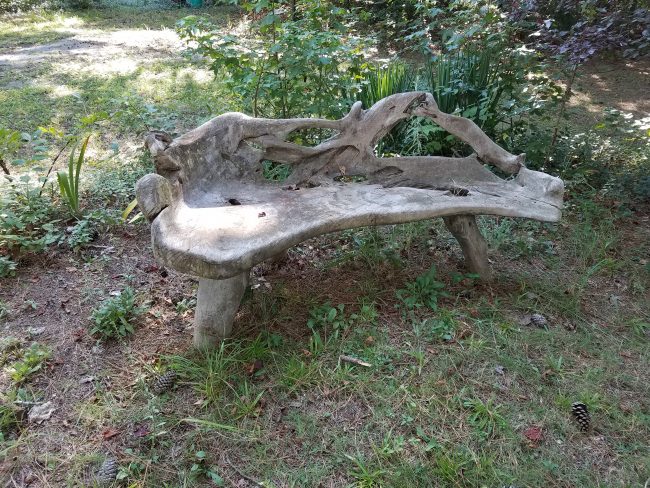 After dealing with my cemetery for a while I got involved with Find A Grave – and some genealogy, though it's kinda a come and go.  It's totally fascinating and can take up a LOT of time.  I get back to it on and off.  Hope you've enjoyed my cemetery tour.
Grace & Peace,
Iris