Yes – yellow!  Who likes yellow furniture? Me, me, me! As a matter of fact, I like yellow most anything. We painted a two story house yellow one time when my sons were teenagers – I think that pretty much soured them on yellow – especially #3 son, who had the ladder go down with him on it. He did a great job riding it to the ground though.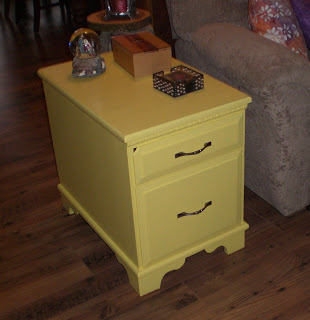 This isn't a very exciting little table aka wooden file cabinet but I really love it. It makes a great end table and the bottom drawer is large enough I can stash things I want to have close but don't want them sitting around cluttering.
It is wood (with laminate top) and I found it at an antique store when I was looking for the 'dog bed table'.  The price was right and thought I might be able to use it for the dog bed if I couldn't find what I actually wanted.  It was really scratched up, but I planned on yellow, so it didn't matter.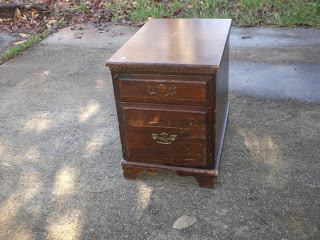 So, like the round dog bed table (from an earlier post)…. sanded (though laminate doesn't sand well).  Two coats of primer, cured for 7 days, 3 coats of yellow paint, 3 coats of Minwax polycrylic, cured another 24 hours, new drawer pulls, and 'walla'…
And like the dog bed this was done several years ago when I didn't think much about doing these kinds of projects. 😌 Not sure I could scrounge up the energy to do it at this point in my life.