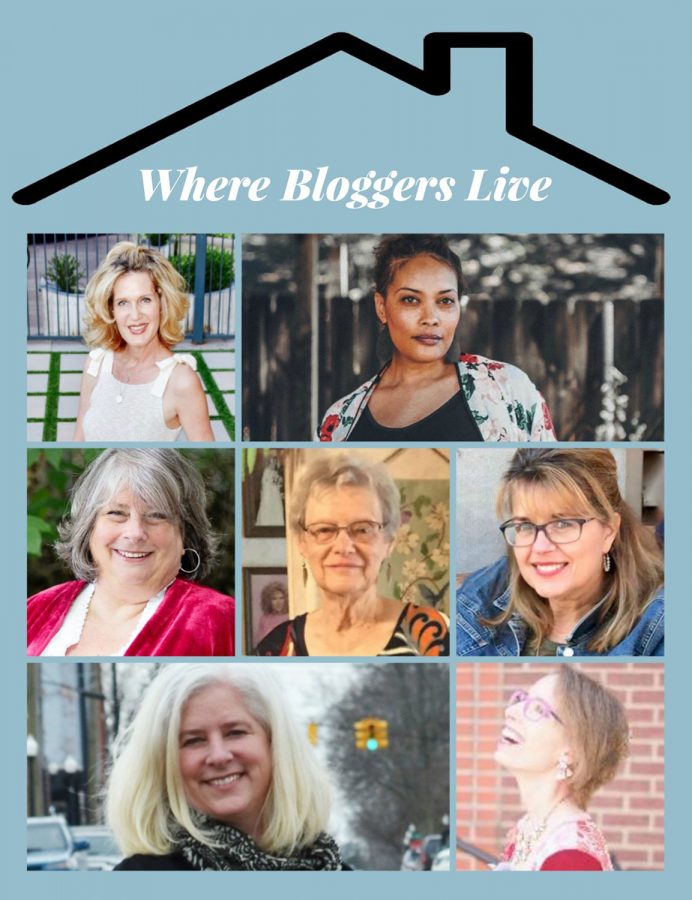 Welcome to the monthly edition of Where Bloggers Live. It's kind of like HGTV's "Celebrities at Home," but…Bloggers! Who doesn't like to peek behind the scenes and see inside people's homes? Over the next few months, a group of seven bloggers will be sharing their workspaces, their homes, towns and more!
Make sure you visit everyone to see where the magic happens!
Daenel at Living Outside the Stacks
Iris at Iris Originals Ramblings
Jodie at Jodie's Touch of Style
So – here goes…. I live out in the country near a small town in northern Alabama (more about it later).
I'm starting with the main part of my home that I "live in". My house is much larger than I need, but all that size can easily fill up when family visits.
So you enter the front door into a small foyer.  Love having my family pictures there.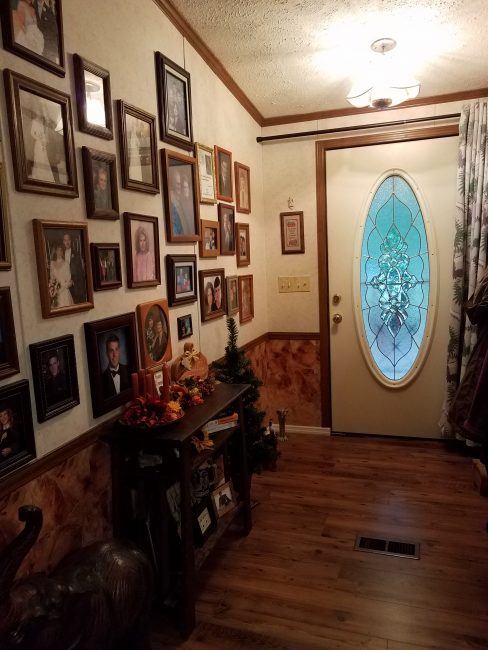 You'll notice right away, I do NOT live in a minimalist house.  I'm old enough that there have been lots of birthdays and Christmases – and I have 8 grandchildren AND I'm blessed to have lived in this house almost 30 years.  That's really no excuse though -I've always had "things" around and far be it from me to have an empty wall in my house 😀
So, by now you're in the "great room" (which basically includes my living room and dining room).  You'll note Koda trying to figure out what on earth I'm doing. 😉  The door to the right of the TV goes into my master bedroom, and obviously the french doors go out onto the deck.
I have a LOT of antique family furniture, but the buffet you see at the back of the love seat was a great antique store find years ago.  #1 son made the lamp sitting on the buffet and #2 son made the wooden candlestick on the right when they took shop in high school.  The strange floor lamp to it's left is my magnifying lamp for cross stitch.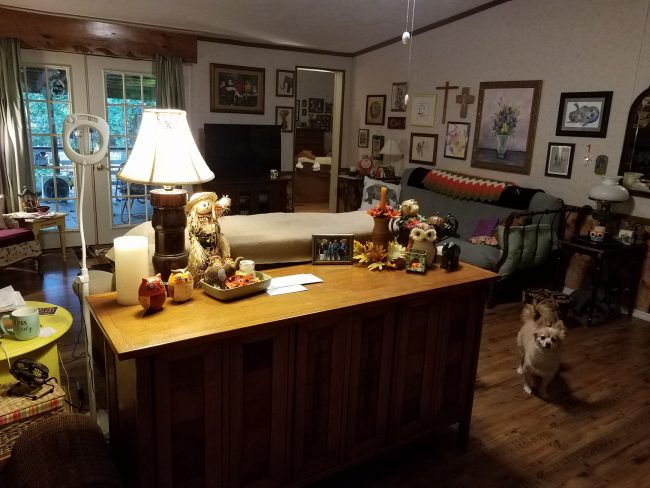 The futon wall contains paintings, drawings and cross stitch – mostly of elephants or irises. There are two paintings actually done by elephants. 🐘❤  And there's still space above all those where there's a slight vault to the ceiling – so more wall space to fill up. 😄
I love to watch the 'house shows' on HGTV, but rarely really like their finished product.  All white – not for me.  So, as you can see, I'm not very "up to date" with the latest styles.  My husband used to say my house was decorated in "early elephant" (pretty much correct).  At any rate – notice the cornice over the french doors and another over my dining room window.  My husband made those for me for my birthday years ago (there are several in other rooms also).  I love them!!!
The dining room table is a favorite piece of furniture for me.  It belonged to my great-great Grandfather who saved it from Sherman's march to the sea.  It stays square as long as it's just me or only a couple more but has 4 leaves – which stretches it to 104 inches.

Looking into the 'living room' from my bedroom….  the tall glass front cabinet in the corner is another family antique that I love!  The love seat on the left in the picture is where I can be found if I'm working on the computer, cross stitching, reading, or watching TV – and Koda is usually right next to me.
The painting over the fireplace is of the old family home – great,great grandparents all the way down to me.  Sadly it burned in the 1980's.  I'm the 5th generation to live on this land and I'm so grateful to be here.

Love my fireplace and it won't be long before I'll be using it.  I loved it when hubby was alive and it was wood burning – but that's definitely above my pay grade, so it's gas logs now. 😊  Those are more family pictures on the mantle.
There's a kitchen, laundry room/3 bedrooms and 3 bathrooms on this level – one bedroom is my office (that's code for where to stack stuff till I put it away) and one is my sewing room.  Both of those rooms have futons.  I don't have clutter, I just have 'stuff' and I wouldn't have it any other way.