I had a wonderful Thanksgiving with 18 (no, that's not a typo) family members here from 7 different states.  (More about the family members when I get pictures)
So the large number of family members all (well, all but one) wanted to go to Unclaimed Baggage on Black Friday.  I do enjoy going there just not particularly on black Friday – LOTS of people.  In their defense, there wasn't a lot of time for some of them to go unless it was that day.
If you're not familiar with Unclaimed Baggage you haven't lived.  Their 'about us' says, "We're the only store in America that buys and sells unclaimed baggage from the airlines." 
In a small town in north Alabama with about 15,000 people, Scottsboro is about 35 miles from where I live.  Unclaimed Baggage has been open since 1970 and they have grown dramatically over the years, offering 40,000 square feet of shopping and are about to expand again.
They've been featured on Oprah, the Today Show, the New York Times, the Travel Channel and various other places and people come from everywhere.  They have everything from electronics to wedding dresses and everything in between.  Think about what you put in your luggage when you fly.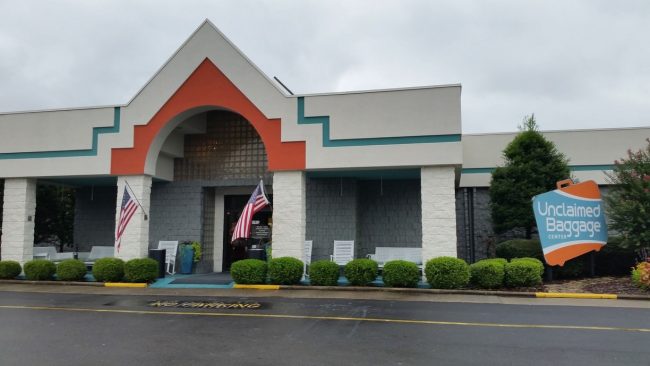 They have a small cafe offering lunch and a Starbucks and some comfty seating and racks and racks and racks… well, you get the idea. Nice outside seating (if the weather is nice). Of course I didn't think to get pictures when I was there (my bad 😳).  My brain was suffering from overload.
They're kinda like a thrift shop on steroids and I can almost always walk away with at least one bargain.