Welcome to the latest edition of Where Bloggers Live. It's kind of like HGTV's "Celebrities at Home," but…Bloggers! Who doesn't like to peek behind the scenes and see inside people's homes and lives? Over the next few months, a group of seven bloggers will be sharing their workspaces, their homes, towns and more!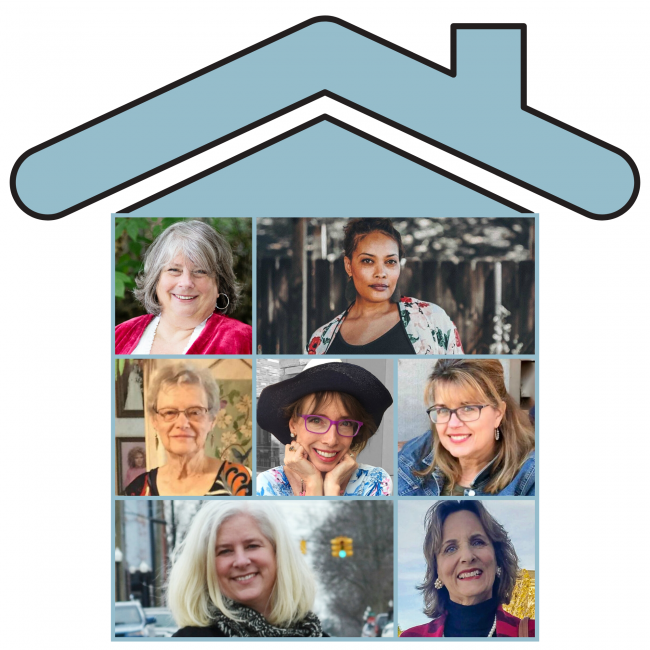 This month we're sharing our yards…. and goodness, not sure you want to actually see my yard.
I have a VERY large yard, which is way too much for me to try and take care of at this stage in my life.  Do have a couple of kind neighbors who have helped with mowing the front.  I usually do the back (both are way too big).   All those trees that were so small when we planted them 30 years ago and have grown big.  Can barely see my house from the road.
So, at the edge of my front yard is my cemetery (not visible in this picture). Doesn't everyone have a cemetery in their yard?  Apparently not, my mother thought we were crazy when we chose the place to put our house.  But, I love it.  It has 13 graves.  The latest being my husband and the oldest my great-great-grandmother (1883).  If you look closely at the one with the hearts you might be able to see my name that is is already there 😍  One of my kind neighbors cleaned it up for me before Memorial Day and even brought some flowers and flags.  Oh yeah, there are also some pet graves in there! 🐩🐶🐱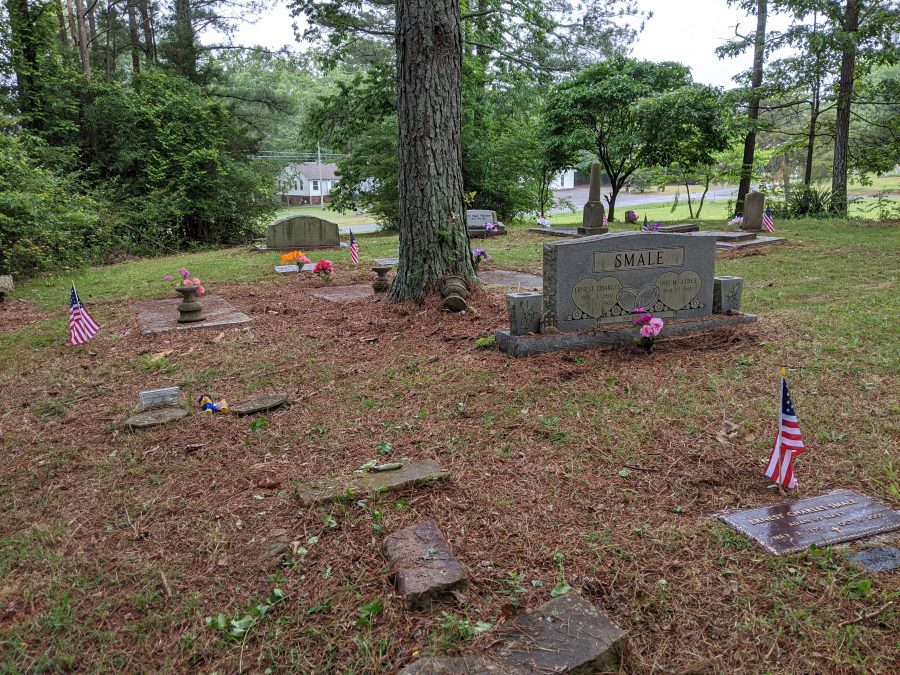 I have two stone benches that I had made from some of the foundation rocks from my great-great grandparents home and a really interesting teak bench.
Everyone who knows me knows I am NOT a gardener.  I do love the peonies though.  Both of mine came from my grandmother's yard.  Of course they were big and beautiful when I transplanted them (30 years ag0), but it's a miracle they're both still alive and blooming. They bloom early so are long gone by now.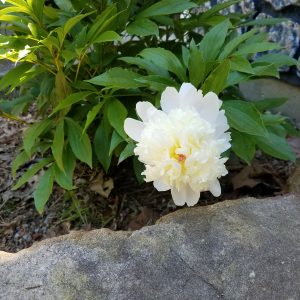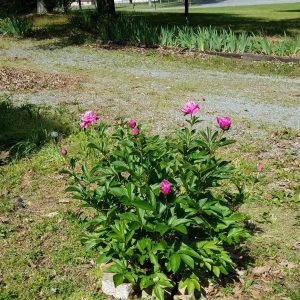 My back yard is also large and is fenced, but SO grown up around the fence line.  I try to keep it mowed but even that's a challenge.  This is my "flower bed" – or really grown up bed now.  The old fashioned day lilies are great – I love them (also came from my grandmothers) and they require NO effort at all.
In case you can't tell from the picture, the lovely vine growing up the tree is poison ivy – "leaves of three, let it be" (and I absolutely do).  There's a birdbath in there somewhere – the birds love it.  My late husband loved the outdoors and taking care of it – not me so much.  Actually both my grandmothers and my parents were excellent gardeners – I, obviously, did not get that gene!
And then, there's Koda's yard – which I just mowed this morning.  That little yard is another story, but is actually just a small fenced area inside the big fenced yard. Like my elephant?  One of my MANY from my hubby.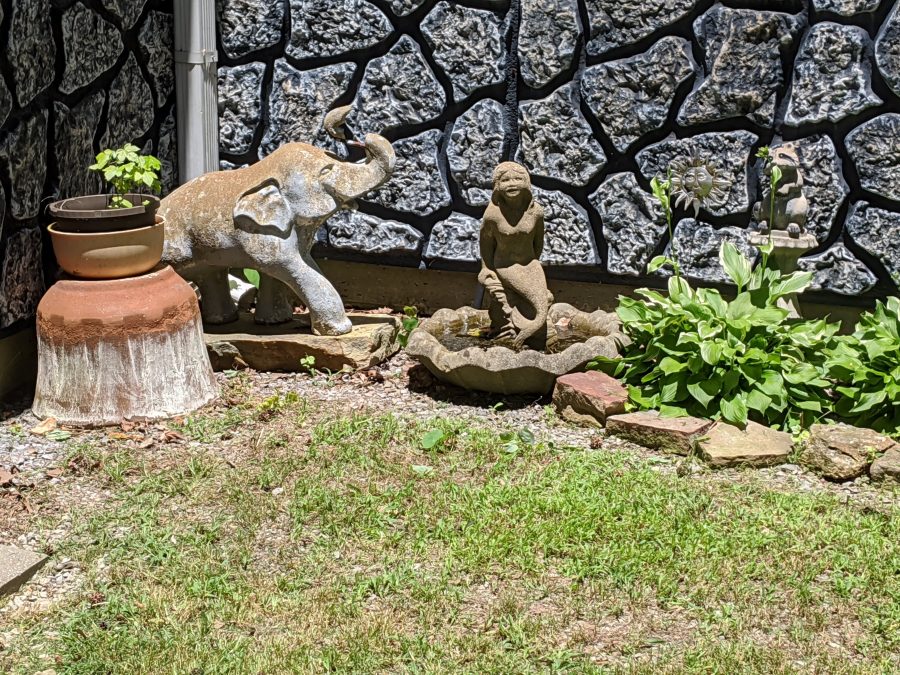 Again, another plant that requires virtually no attention.  The hospice nurse gave me those when Chuck was sick, I stuck them in the ground and wa-la.  They're about getting ready to bloom.
So there you have it – not nearly all of my yard, but enough.
Bettye at Fashion Schlub
Daenel at Living Outside the Stacks
Iris at Iris Originals Ramblings
Jodie at Jodie's Touch of Style
Em at Dust and Doghair
Julia at When the Girls Rule
Leslie Roberts Clingan