So here we to again – the latest edition of Where Bloggers Live. It's kind of like HGTV's "Celebrities at Home," but…Bloggers! There are seven of us and this month we're spotlighting vacations.  Be sure to check out everyone else's vacation – links at the end of post.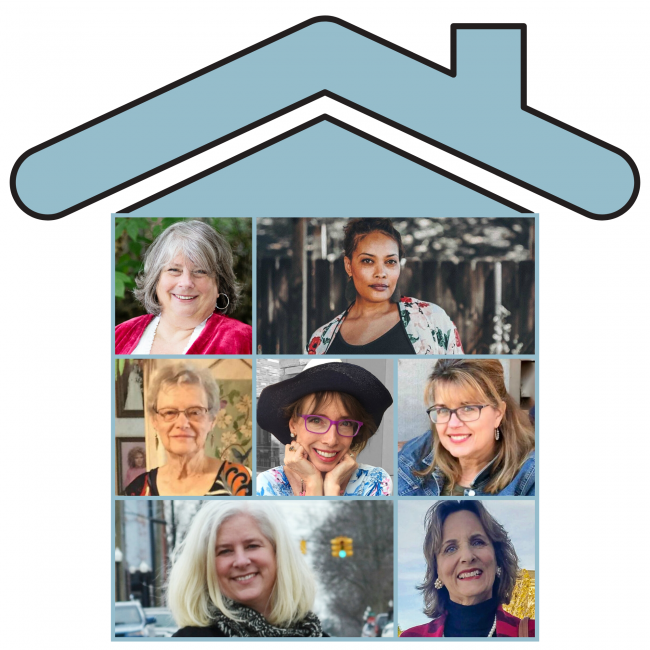 This month has been a challenge for me.  I haven't gone on a 'real vacation' in a VERY long time.  However, back in the day that was a different story.  I worked a long time for a large travel company and we were able to take trips at reduced prices, plus I went on a number of "fam trips" (familiarization trips) that would be basically sponsored by a government or….  Then there were trips with Chuck when he was sent to destinations for 3 or 4 months.
Unfortunately back then we didn't have cameras that took really good pictures like our phones do today, so I have few pictures of any of my trips and most of the ones I have are blurry and from such a long distance no one is recognizable.😢 I've tried to pick a few that you can actually tell what you're looking at.
Sooo, I'm gonna talk about my visit  to Ft. Lewis in Tacoma, Washington.  The date was 1986 and I was there for a month between mid November and mid December.  Chuck was there for 3 months.
I had never visited the northwest and we got to do a lot of sightseeing.  Chuck had rented a little efficiency apartment for his stay there, but we did most of our eating out (fine by me).  There was a little local restaurant close to his apartment that he had already frequented, so the first morning I was there that's where we went for breakfast.  When the waitress saw us she immediately brought "me" TWO cups of coffee.  She said Chuck had told her all about me and that I needed a coffee IV in both arms every morning.  (Chuck NEVER met a stranger and could talk to the wall 😉).
On one of our 'excursions' we drove up to Port Angeles and stayed a couple of nights at "Glen-Mar By-the-Sea" a really lovely Bed & Breakfast that was Built in the 1890's. I looked it up and it's now an Airbnb.  The picture below is actually one of mine.
They had a "guard cat" who was quite beautiful – and of course I got a picture of him.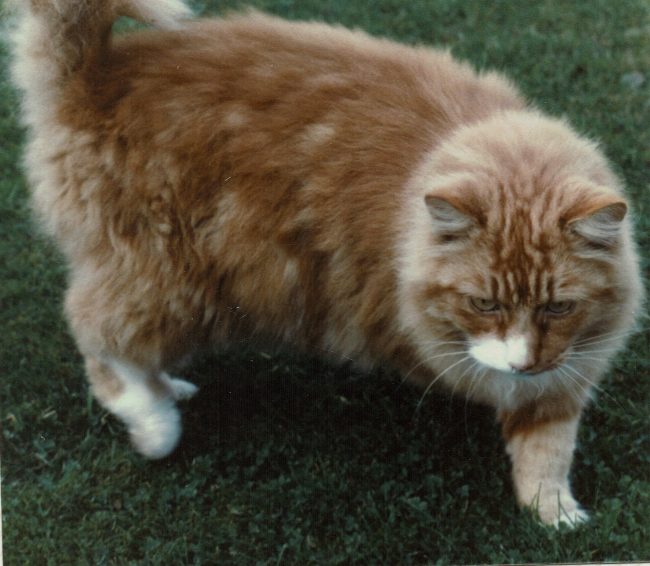 And we had a lovely view out of our window.
The next morning after a large and tasty breakfast they drove us to to the ferry where we crossed the "Juna de Fuca Strait" and spent the day in Victoria, Canada.  (Remember, travel was much easier in those days.)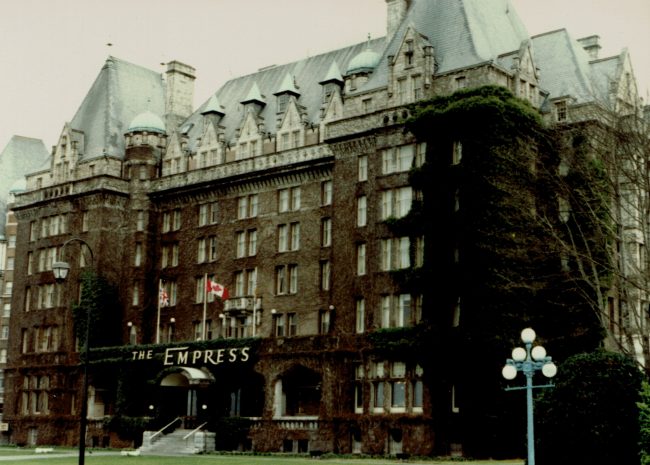 Visited the Empress Hotel for hot chocolate and then just wandered around a VERY cold Victoria.  Very tired and glad to see our hosts waiting for us at the ferry back in Port Angeles.
I hadn't seen the Pacific Ocean so we drove over there one day.  It was cold and very dreary (it was cold and very dreary during our entire trip).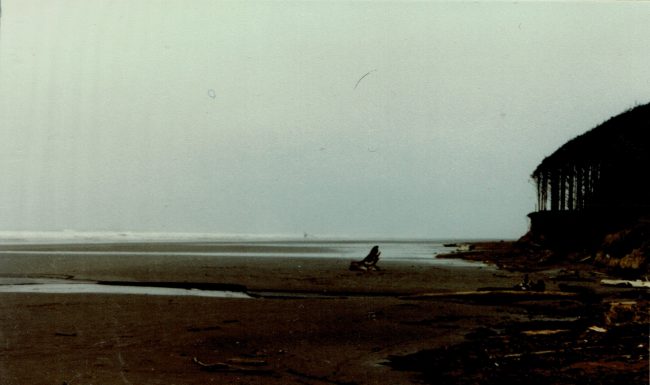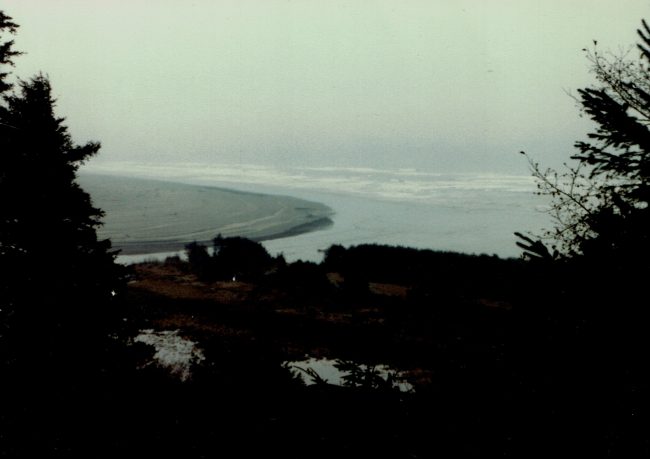 Not at all like the beaches I'd seen on the Atlantic side.
We did find a delightful little gift shop somewhere along the coast area where I browsed while Chuck read in the car.  I found this little bun warmer that had been made by the owner and since it had an 'iris' on it – it came home with me.
I wanted to drive up Mt. Rainier, so that was our destination for Thanksgiving Day and to eat dinner at the restaurant at the top. We didn't make it. The weather was so bad we got about 2/3 of the way up and the road was iced and closed. So we turned back. We had passed the "National Park Inn"  about halfway up, so that became our choice for Thanksgiving Dinner. It was quaint and I loved it.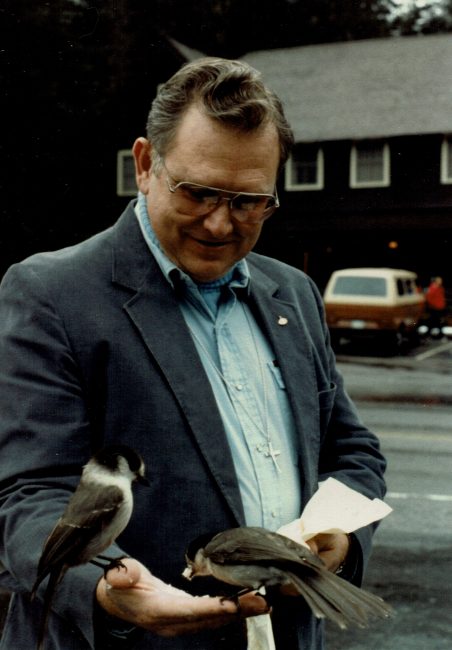 The birds around the inn were apparently used to people feeding them and were happy to have the morsels from Chuck's hand.
Visiting the Seattle Center and  "Sugar Plum Square" offered all kinds of Christmas treats, including the "Sugar Plum Fairy"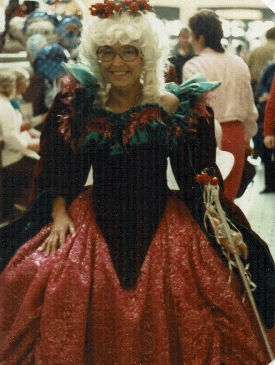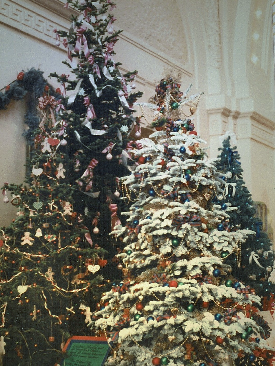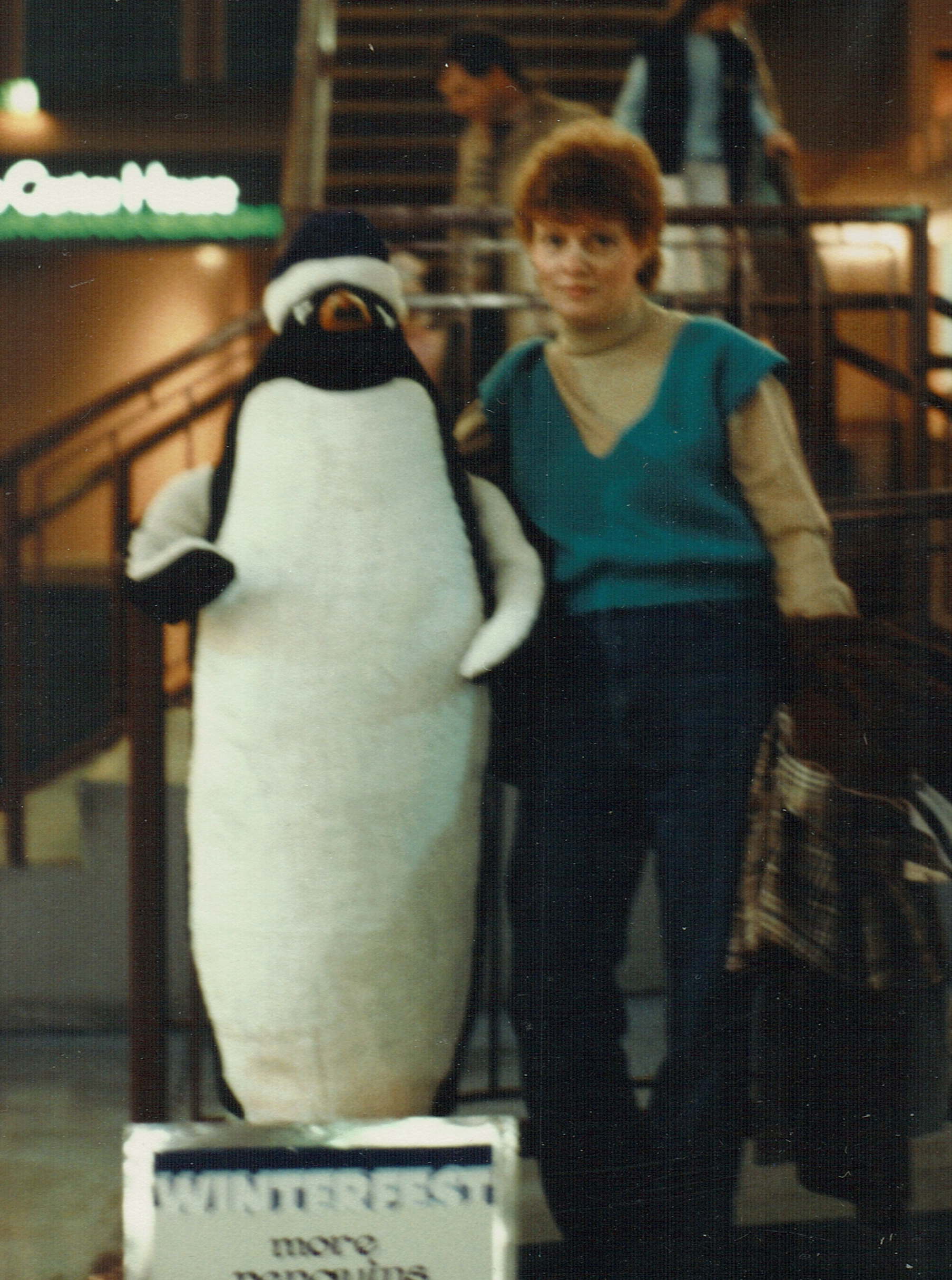 And that must have been the 'year of the penguin' – they were everywhere.  (And yes, that really is me with the little guy.) 😳 🐧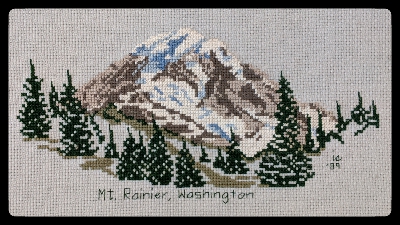 I stitched a cross stitch of Mt. Rainier a couple of years later and it now hangs on my dining room wall. Sweet, sweet memories.
Bettye at Fashion Schlub
Daenel at Living Outside the Stacks
Iris at Iris Originals Ramblings
Jodie at Jodie's Touch of Style
Em at Dust and Doghair
Julia at When the Girls Rule
Leslie Roberts Clingan