Closets – who's idea was that anyway.  No one wants to see in my closet, it's pretty much a hodge podge.  But… here you go anyway.
And, welcome to the latest edition of Where Bloggers Live. It's kind of like HGTV's "Celebrities at Home," but…Bloggers! Who doesn't like to peek behind the scenes and see inside people's homes and lives? We're a group of seven bloggers who are sharing where we live…. and things about that place.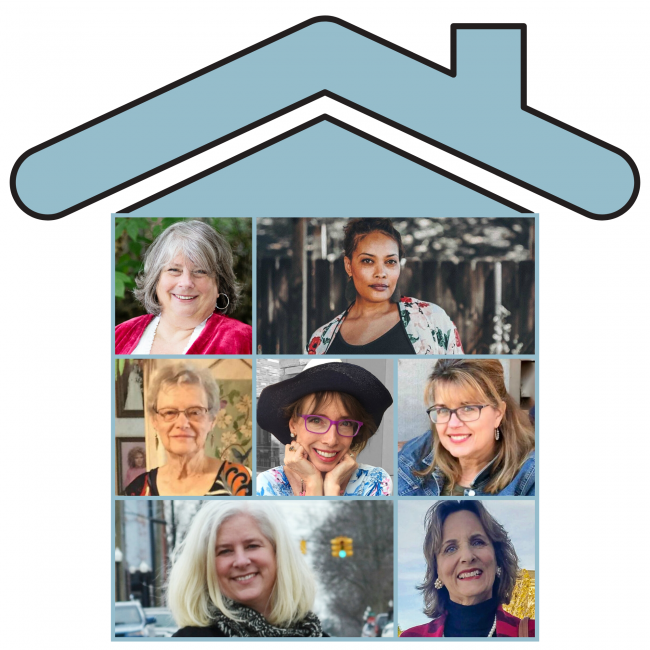 My closet, well let's see. I have a lovely walk in closet – not a big one, but nonetheless. It's certainly bigger than many of the closets I've lived with and I'm used to it. Keep in mind, Chuck and I used to share it (I have no idea how we did that), and I only had one side.
This picture is standing in the door looking in – it really is organized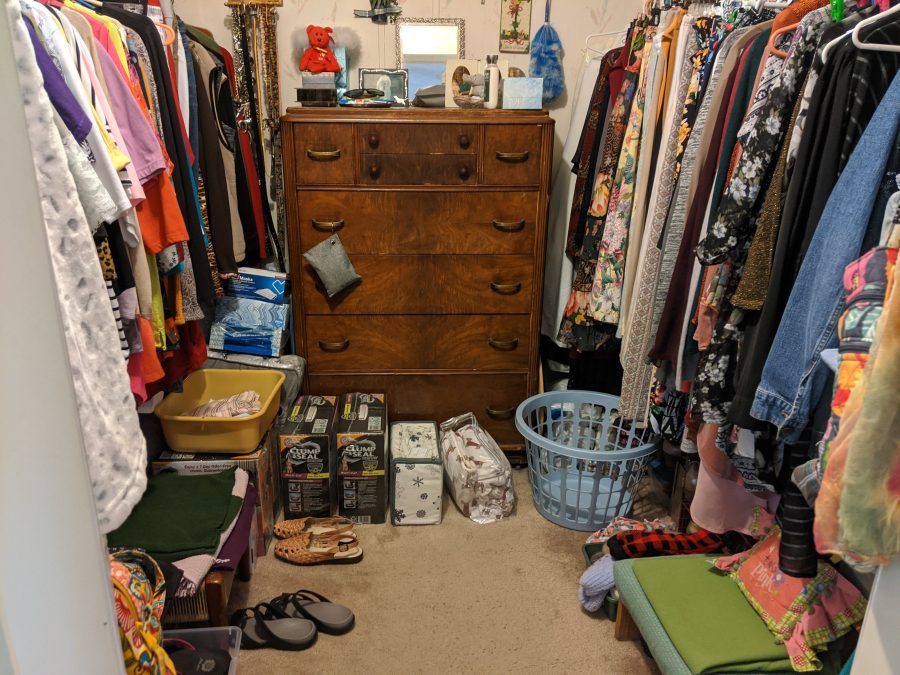 And before we really get into the closet, you'll notice several BIG boxes of cat litter.  If you read my blog you may remember the post about customer service – and yeah, I'm still working my way through the litter.
So, on the left side are my tops, some pants, and some winter things.  Shelves above and below contain mostly blankets, pillows, a few Christmas decorations, etc.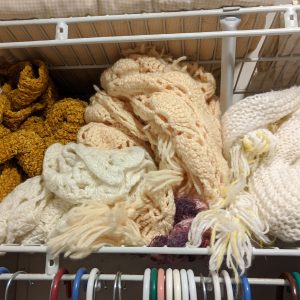 There's also a plethora of winter shawls and wraps that I really do use.  All handmade (though not necessarily by me).
And under the hanging clothes are shelves with blankets and under that are shoes (mostly winter).
Still facing into the closet, there's the very vintage chest of drawers.  It belonged to my mother-in-law, is solid wood, weighs a ton and I love it!!!  The top contains a variety of stuff, from elephants (they're everywhere, they're everywhere) to a picture of sweet Frosty.  Note the wall above – apparently I simply cannot have a blank wall.  Doesn't everyone have their closet walls decorated with pictures, plaques, an elephant, an odd purse, or….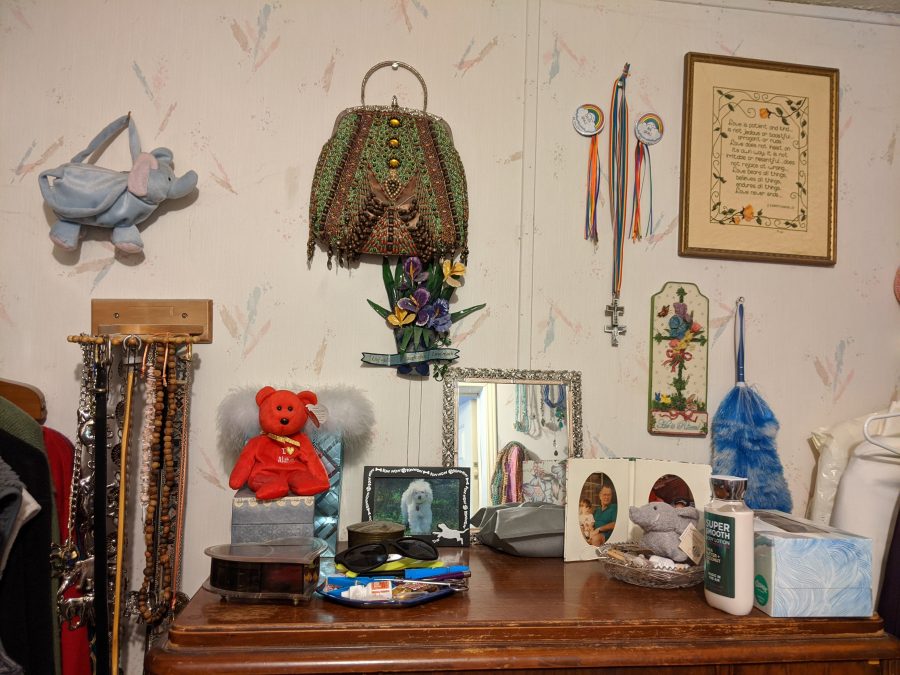 Maybe you see the tie rack to the left of the chest – it holds my belts – which I don't wear anymore.
Then we have the right side.  On top are two hat boxes – and yes, they contain hats.  Haven't worn them in years, but I know they're there.
My cute tiger hat for cold weather.  If you aren't in Alabama you may not realize the significance of the tiger.  99.9% of the people in Alabama are either University of Alabama or Auburn University fans (football is BIG).  The University of Alabama's mascot is an elephant (NOT to be confused with the elephants I collect) and Chuck was and all three of my sons are – big Alabama fans.  NOT me – I'm a War Eagle, Auburn fan – who's mascot is the tiger.  This little guy was a gift from my boss who passed away and he really is quite warm in the winter, and always makes me smile.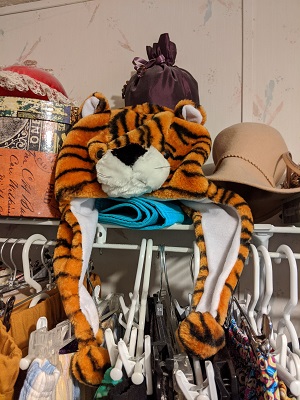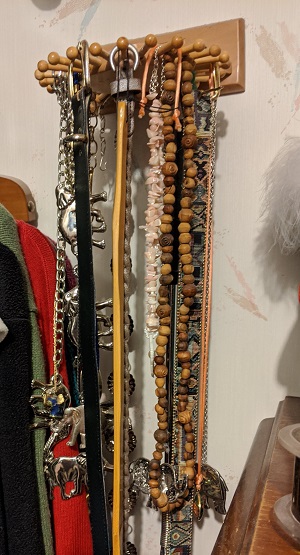 The fourth picture is on the left as you're leaving the closet, small purses (my latest Vera Bradley) and scarves – and a new "twisted" scarf that my #1 DIL just crocheted for me – I'm looking forward to wearing it soon.
The right side of my closet contains skirts, palazzo pants, kimonos, a few lightweight jackets, a couple of Chuck's old flannel shirts, etc.  Underneath are shoes.  Haven't worn many of them in quite a while, but I know they're there and I think they multiply when left alone.  On top of the shoes where you can't see are more purses.
There are two little stools in my closet. The one with the cute pillow is the one I usually sit on. My grandfather made that for my grandmother to scoot up close to the fire and warm her back. I recovered it and while its a pretty basic stool it is definitely my favorite.
So there you pretty much have it. Be sure to check out everyone else and see what goodies hide in their closets.
Bettye at Fashion Schlub
Daenel at Living Outside the Stacks
Iris at Iris Originals Ramblings
Jodie at Jodie's Touch of Style
Em at Dust and Doghair
Julia at When the Girls Rule
Leslie Roberts Clingan