Yes, I'm gonna be a Great-Grandmother!!!!!😍❤💛💚💙💜💖  How exciting is that?!  And now my #2 son will be a grandfather (that makes me feel old).
My oldest grandson and his wife surprised me at Christmas with the news.  I had to wait to share it – but my enthusiasm hasn't dulled any.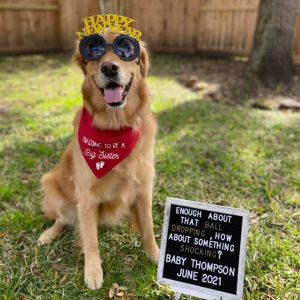 Understand I have several grand-dogs and I love them all, but….  Sadie even got in on the act to help with the announcement.
I attended a "Zoom" Gender Reveal Party on Saturday.  Even the parents to be didn't know the gender.  One of the sister-in-laws got the results and planned the party.  It was great fun seeing their faces.  Everyone had guessed (I was right).
And……… IT'S A GIRL!
But maybe the Christmas gift I got from Matthew & Jamie was the best.  We did a video call and they suggested I open my gift early so they could watch (I should have known there was a trick in that suggestion).  But, I got the elegantly wrapped gift that had come in the mail a few days earlier and "finally" got it open.  I hate to destroy pretty bows and ribbon but Jamie had that rascal WRAPPED.  Finally got inside and found….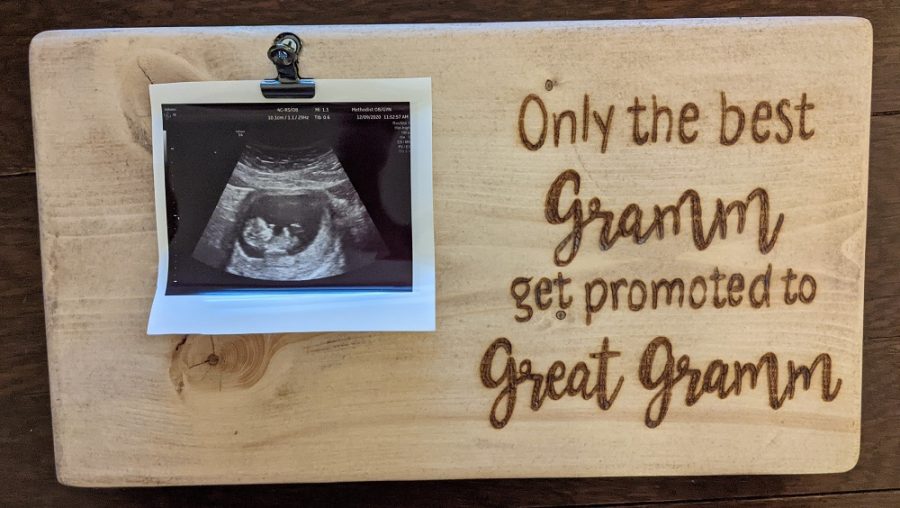 She's already made "the wall" at my entry way!  Excited?  Nah, not much.💞