I know I'm old and can do dumb things – but this one about takes the cake.  Unfortunately, I have no idea how I did it!
I've designed a number of websites over the years but mostly stopped doing that because of the stress involved.
I currently have a small counted cross stitch design business – Iris Originals.  I just checked and can not believe I've been designing charts for sale for 10 years – 10 YEARS!!!  So, that's why "I" have a web site now.
I started designing charts at the urging of my boss at the little cross stitch shop where I still work part time.  She has since passed away, but is still my inspiration.  For most of those years my charts were just sold in her shop and a couple of others, plus I had an Etsy shop, etc.  I currently market wholesale through a distributor, but still sell direct to customers.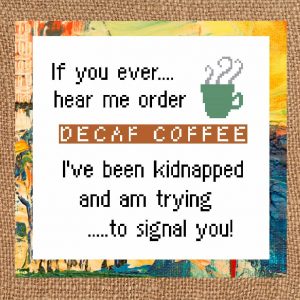 So, what dumb thing did I do – I TOTALLY ZAPPED MY WEBSITE!!!  Did I have it backed up – well NO!!!  I could just hear Chuck saying "back up", "back up", "back up".  I knew better,  but I'll do that tomorrow!!!!  You cannot imagine how aggravated I was with myself.  I mean, it just disappeared and I have no idea how I managed to do that.  Stress 😳😳😳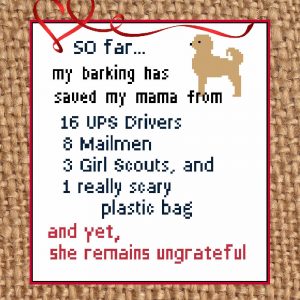 Coffee – anyone?  I talk about coffee a lot!
Obviously this totally relates to Koda – who barks at EVERYTHING – all the time.
And then there's Old people – I can design charts pretty easily about old people –  since I am old!
If you're interested you can see more of my charts at the link above.  I'm still in the process of getting them all listed again.  I have over 200 and counting, so it's a slow process.  Needless to say – the site is backed up now and on a set schedule for that little process!!!!