I talked about Aunt Sweetie in a previous post and mentioned the red coat.  My blogging friend Leslie suggested I write a post about it – so here goes.
During WWII the War Department selected Cumberland University, in Lebanon, Tennessee as the location of the Headquarters for the Army Ground Forces field problems, commonly known as the Tennessee Maneuvers.
Aunt Sweetie lived in Lebanon, TN and was already a widow.  She became a very active volunteer at Castle Heights Military Academy, so it was only natural that she should choose to use her home to try and make soldiers feel like welcome and appreciated.
I can remember massive numbers of solders marching down the street in front of her house.  When possible, she would invite some into her home for coffee & deserts.  I was probably 4-5 years old at the time "I" was allowed to greet soldiers and pass out cookies.  I loved it and the soldiers loved it – I'm sure it reminded them of home.
So, on one of our visits, my Mother decided I needed a new coat and we went shopping.  "I" found THE coat that I loved – it was a Princess coat and quite flared, BUT it was RED.    My mother seriously disliked red (I never found out why as it was my Dad's favorite color).  At any rate, she was NOT buying me a red coat.  I wouldn't agree to any of the other coats offered, so we went back to Aunt Sweetie's coatless (I remember neither of us were very happy.)
The next day, Aunt Sweetie had to run an errand!  She came home with the red coat.  Not sure who was most surprised, me or Mother, but…. "I" was ecstatic.  I LOVED that coat, and wore it till it was threadbare.  Sadly there are no pictures – it was the 1940's.  I've searched the internet for something comparable and these are the closest I can come up with.  The first girl is older than I was, the second younger, but you get the idea.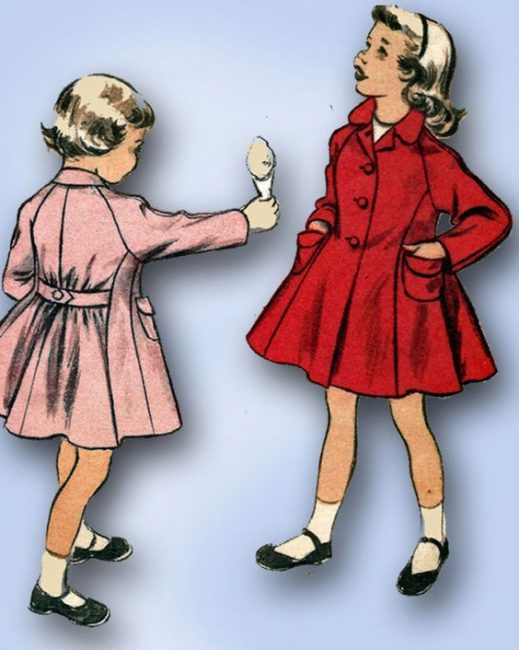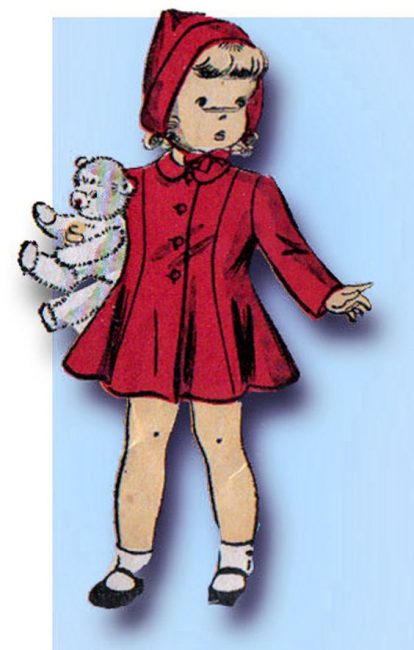 An adorable, flared "Princess coat" in bright red.  I did manage to find a similar one for sale if you're looking for a red coat for that special little girl.
I still have sweet memories of that coat, and of course of Aunt Sweetie who made it possible.  My Dad and I loved it. ❤️