So, I've been in the process of redoing an upstairs bedroom for months.  I'm normally much faster when I decide on a project – but remember, I'm old and I don't move quite as fast as I once did.  This room has had a variety of names since it's inception (I like naming rooms).  It was originally my sewing room – then it morphed into the Barbie room, from there it became my granddaughter's room and now it's a "new guest room" (currently without name).
So, this room was originally a guest room that…
held all my sewing 'stuff' and a daybed with trundle so it could be used for guests (name – Sewing Room)
When the Barbie invasion began Chuck built shelves all along the wall to display them (name – obviously changed to Barbie Room)
When #3 son temporarily moved in with his family a few years ago it became #2 granddaughter's room, the sewing stuff moved to a different room and the Barbies went into storage (then it became Ariel's Room)
Then, Ariel went away to college.  Now she's graduated, married and teaching school so it was time to clear all her high school memorabilia (that part's still a work in progress), and turn it into a proper guest room.
Last Thanksgiving #2 son from Texas was here and took the daybed apart and moved it out into the FROG room (family room over garage).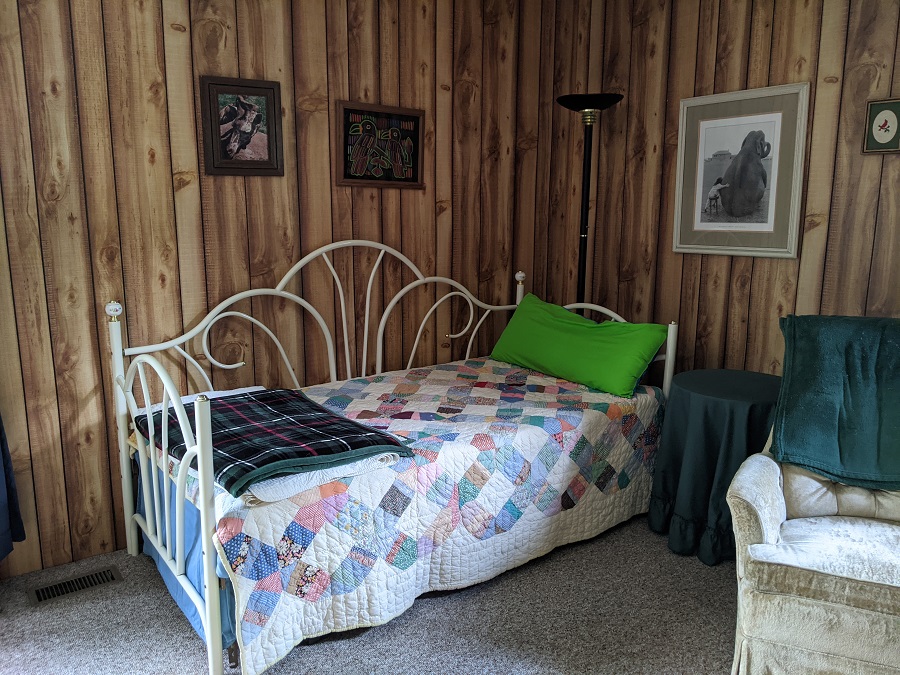 It's taken me awhile to get everything else in the room in order, but finally "most" of the drawers are cleaned out, there's a new bed and mattress and I have a another guest room.  All the shelves on the walls in the room were originally for Barbies, now they hold family pictures and other memorabilia.
I ordered the bed frame and mattress and #1 son put the bed together for me.  The mattress is a foam one that came rolled up in a LARGE box.  I'm still not pleased with the mattress – it never expanded as much as it was supposed to.  I sleep on one of those and love it – hopefully it'll work for guests.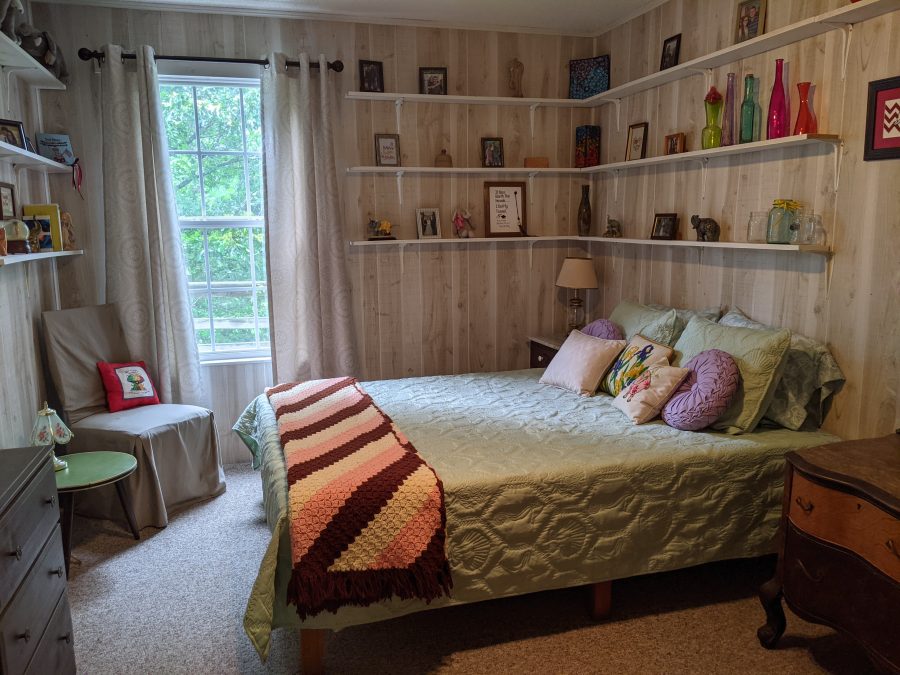 #1 DIL used it over Memorial Day weekend, so I think it's at least acceptable.