…. all in my bathroom. And, "bathrooms" is the subject of this month's "Where Bloggers Live".  We sure have some interesting topics sometimes.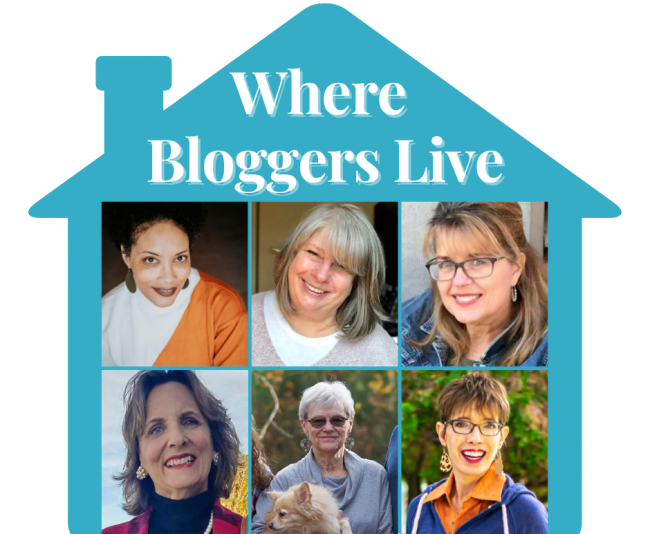 I'm fortunate to at this stage of my life to have multi bathrooms, though that certainly wasn't always the case.  When my sons were growing up, we had ONE, and it was a pretty small one.  Now the only time I need these extra ones is when family comes – but they're surely a blessing then.
I'm going to focus on "my" bathroom.  It's bigger than my kid's rooms were when they were growing up and bigger than I need, but I've been using it for 30+ years and I'm thankful for it.
You might notice the cats share the bathroom with me – two litter boxes!
Then there's my 'vanity' and no, that's no clutter those are necessities!  (And of course, Boots had to be in the this picture too – there's a water bowl there.)  Love my little 'bench'.  We got that at a 2nd hand furniture store so MANY years ago I can't even count them – and it's been a God send.
I'm sure by now you understand I could just keep on showing you elephants and irises – this has barely scratched the surface.  Both items make great gifts – so more come all the time 🙂
But the last of this entertaining reveal and certainly not least are my favorite things.  A dresser set that belonged to my grandmother (It is silver and really needs polishing.)  I wonder what she would think of me keeping dog treats in the larger of the cut glass containers? 🙂 Each piece is monogramed "MM" (her initials before she married my grandfather).  I was named after her (Margaret is my middle name) and she was a VERY SPECIAL LADY IN MY LIFE.  I remember this set sitting on her dresser when I was a little kid – I use the mirror every day of my life and LOVE having it.
Be sure to check out everyone else's post – I'm interested to see their bathrooms too. 🙂
Daenel at Living Outside the Stacks
Bettye at Fashion Schlub
Em at Dust and Doghair
Leslie Roberts Clingan
Iris at Iris Originals Ramblings
Jodie at Jodie's Touch of Style