0………..0000000……………………..Favorite recipes huh?! Does that mean everyone should have favorite recipes? Guess we'll find out.
In case you haven't visited us before "Where Bloggers Live" is a group of ladies from around the country who post about their homes (inside and out), towns, and generally their lives. Be sure to check their links below to read about their actual recipes and other interesting things about them.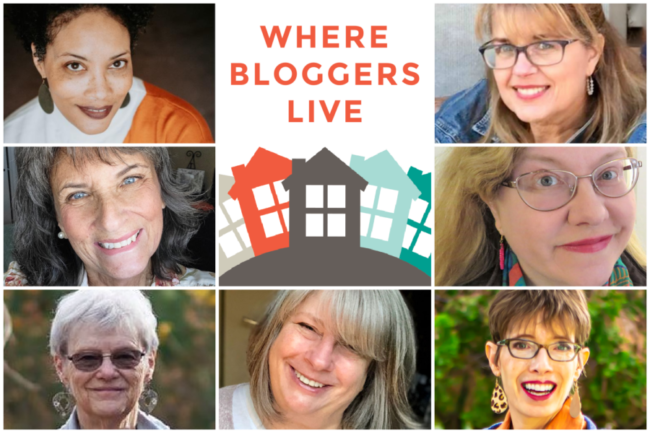 So our fearless leader in this endeavor is Bettye – she works long and hard to keep us all in line, remind us when we're supposed to post and the subject for the month.  Now, our subject can come from any one of us and they've always been one that I could find something to write about.  But, RECIPES??  
Okay, this post is coming from THE worse cook in the world, and the one who hates cooking more than anything.  If they'd just invent a little pill we could take instead of eating think of all the time we'd save – on both the eating and cooking.
Yes, I had to cook for many years and both my dear husband and kids all survived.  I was married to a man who LOVED TO EAT, and he was married to a woman who HATED TO COOK.  But, he never complained.  He would tell the kids, "If your mother can cook it, you can eat it".
One of his favorite activities was to sit and read recipes to me out of the paper or magazines while I cross stitched.  I HATED to hear recipes.
Years ago he bought me a really nice (and expensive at the time) set of "Saladmaster" stainless steel cookware, with a lifetime guarantee.  Sadly it didn't improve my desire to cook (nor my proficiency in cooking).   But the cooking set is still going strong.
So… after all that sad history – you may or may not know that my #1 son and his wife have moved next door to me.  My DIL is a gourmet cook and my son cooks pretty darned well too.  Now – their mission in life seems to be that I get to eat well.  #1 son comes to my house every weekday to 'feed me' and on weekends when she has time my DIL whips up lavish dinners and we eat at their house.
That's my sad cooking story.  I can remember a few things I cooked back in the day, but no idea where the recipes are.  Sorry!
These are links to the others in the group.  Check out their posts – I'm sure you'll find some yummy things to cook from them.
Bettye at Fashion Schlub
Daenel at Living Outside the Stacks
Em at Dust and Doghair
Iris at Iris Originals Ramblings
Jodie at Jodie's Touch of Style
Leslie at Once Upon a Time and Happily Ever After
Sally at Within a World of My Own