Okay, this one might be a challenge for me.  You see, I don't really have a "medicine cabinet".  I have places… a sort of linen closet, a cabinet under my sink and a few drawers.  Not sure any of those meet the title of this post, but I guess I'll fake it.
Welcome to the latest edition of Where Bloggers Live. It's kind of like HGTV's "Celebrities at Home," but…Bloggers! Who doesn't like to peek behind the scenes and see inside people's homes and lives.
Most everything I use on a regular basis is either out on my bathroom counter or in a drawer.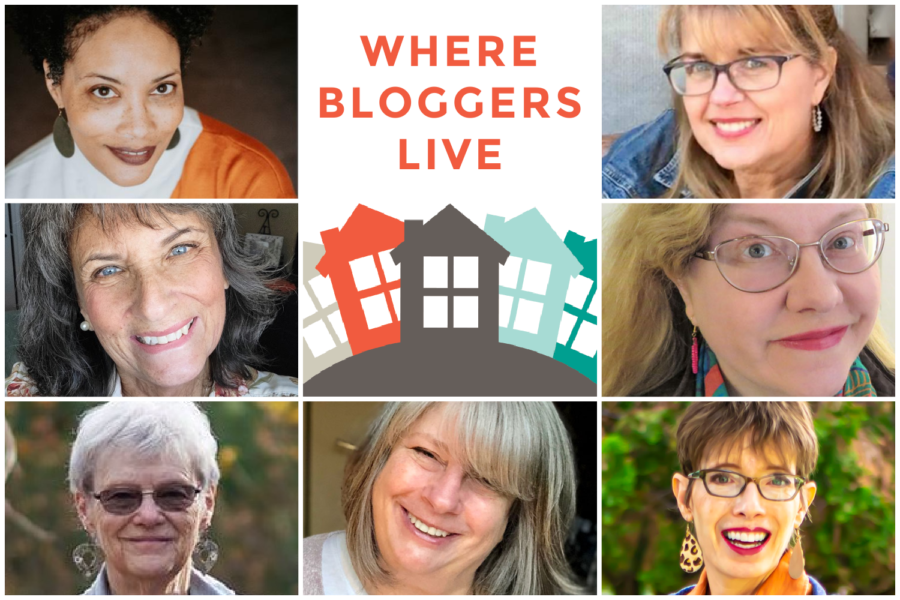 Now, I do have a lovely bathroom (at least I think so – and I think that's what matters.)  I chose an aqua color for towels, with pale purple accents – I love color!   It's decorated with elephants and irises  – you thought it would be something different? 😀😀
This little aqua box contains good stuff like tylenol and various other things.  I found the box at Dollar Tree and thought the color was about what I had in my bathroom.  Matched perfectly!  Of course the shelf holds an adorable glass jar with an 'elephant' stopper.  It contains my noon day medication.
This is probably the closest thing I have to a "medicine cabinet" – and is actually the top of my 'linen closet" and holds all kinds of bandaid aids, salves and a variety of other odds & ends.
This little shelf/towel holder is one of my favorie things.  A friend who knows I love elephants gave it to me and it a perfect fit.  It's the first thing you see on the wall across from the door.  Of course there have to be aqua elephants to go along with the ones that are part of the shelf.  The little elephant is made of some sort of flannel material, and there's a cute little towel with an elephant (aqua colored).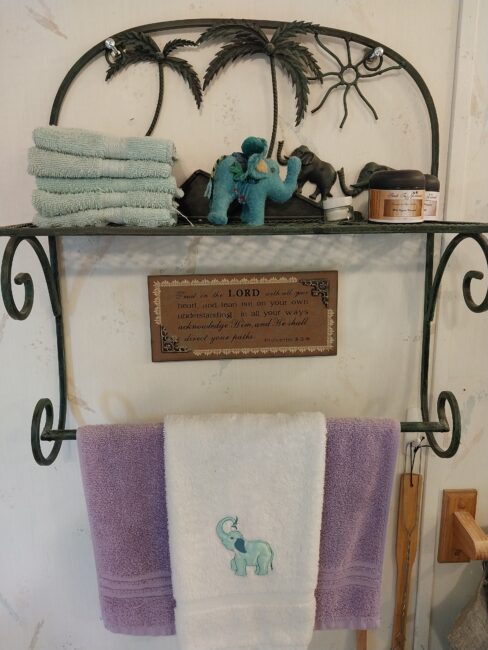 And let's not forget the irises…
Towel rack with a painting of irises.  A gift a long time ago.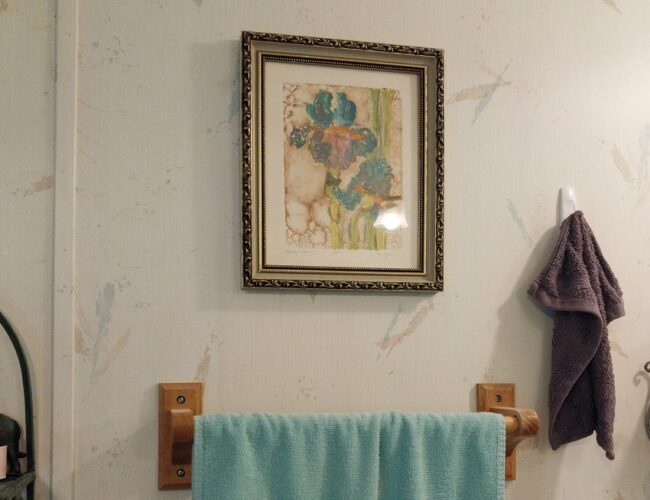 The picture on the left is a vintage one from my grandmother, the one on the right is a cross stitched iris.  The is multi colored elephant print from #1 son has just right right mixture of colors.  He's the perfect size and coloring for this spot – he's hiding something behind him, shuuu, don't tell anyone.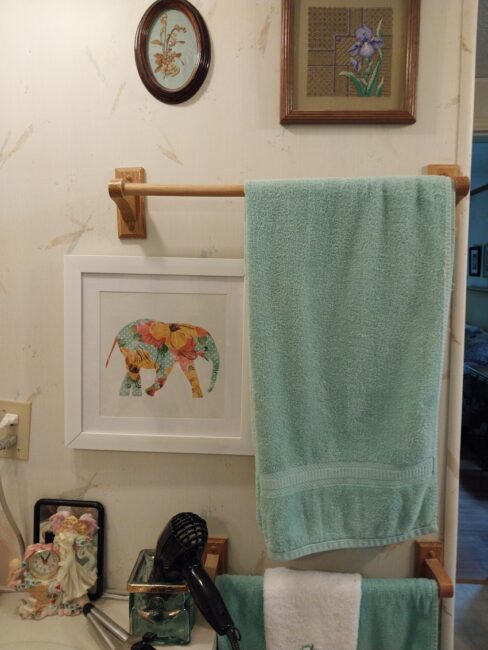 So, there you have a tour of my master bathroom.  It's changed a number of times of the years, but I'm really loving it as it is right now.
Thanks for stopping by – and ee sure and visit my fellow bloggers:
Bettye (our fearless leader) at Fashion Schlub
Daenel at Living Outside the Stacks
Em at Dust and Doghair
Jodie at Jodie's Touch of Style
Leslie at Once Upon a Time and Happily Ever After
Sally at Within a World of My Own