Johanna Littleton……  at our monthly Breast Cancer support luncheon last week.  Her style of art is not usually the kind I really like – but I fell in love with hers.  Not sure what drew me so much, but I do love the colors and there's just something there.  I did ask her permission to write about her – I hope she approves.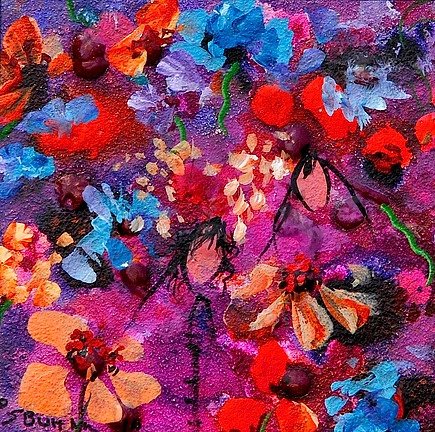 She was kind enough to share her story with us, and show us a few of her smaller pieces.
She's had such an interesting life – living all over the world – raising a houseful of sons – and eventually painting.  She said she never really thought about painting until her sons got together one year and spent their own money and bought her a bunch of art supplies and told her to paint.  And paint she did.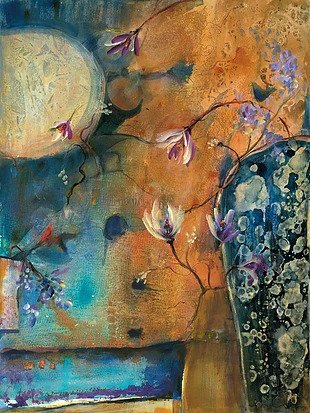 Taken from her website:  "My Family series has been an ongoing part of my creative life since the early 1990s. It started with a meeting with a 93-year-old woman selling vegetables in a bazaar in Esfahan, Iran. We were living there in the mid 1970s and this exchange of ideas led to this series. Now it has taken on a "life of it's own." The original paintings were of women and their interactions. This led to a one-woman show "Seeing Eye to Eye" at Calhoun College. Others were based on Bible stories and the interactions I imagined between the heroes in the New and Old Testaments."
Love the yellow and how the other colors just seem to flow in this one.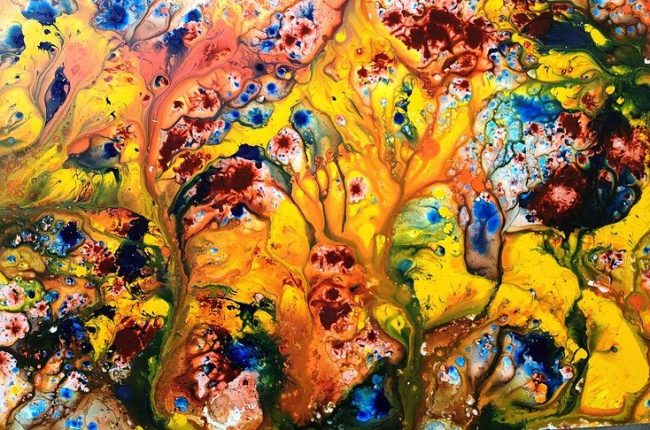 She realized that we in the West are not forced to be "faceless" but are choosing that lifestyle because of our frantic activity. Her message to all is "Slow down and give faces to all those you meet."  Personally I think she's onto something here.
She now lives in north Alabama and her art is displayed at several galleries/shops.
These were lovely Christmas Tree coasters.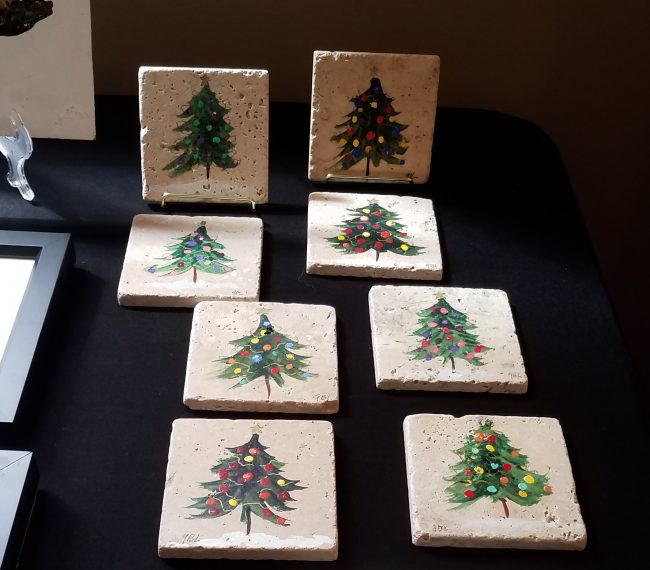 And… my favorites – the balls.  The picture does not do them justice at all.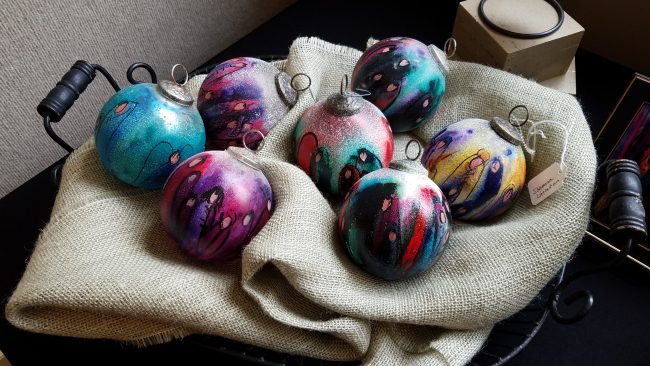 Our luncheons are put on by Clearview Cancer Institute and always interesting but this one was especially nice.  It was also a treat because it was held at our local museum.