….or so they tell me.  I'm not crazy about change, and the older I get the less I like it 😏
Anyway, that's another story.  This story is about some of  my living room changes.  I've lived in this house for 28 plus years (now that's mind boggling) and there haven't been too many changes during that time.  And, 99% of my furniture is old, vintage, antique – or just plain  "old".  Don't misunderstand me.  I'm perfectly happy with it (well, most of it) and definitely not looking for the new modern 'white' look.  I love watching all the house re-modeling shows on TV – but I hate that they use such bland decorating.    If that's what makes you happy, go for it – but not me. 😉
I've had two 'vintage' (nice word for old) chairs against one wall in my living room for a number of years.  They came out of my mother's house and while they served a purpose, they didn't necessarily serve the one I wanted at this stage of my life.  (Side note – see the cute little "yellow table" between the chairs – another refinish.)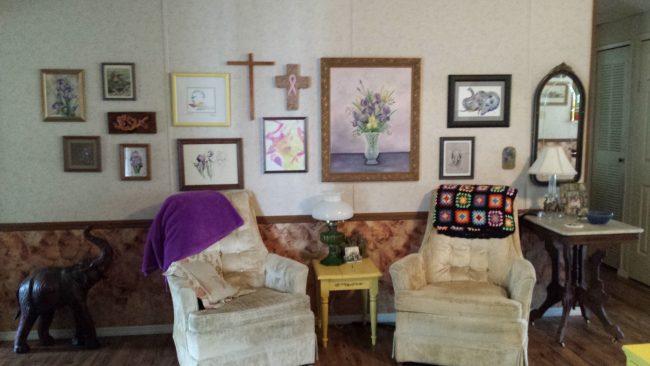 So what did I change – the chairs have been moved upstairs, the marble top table changed places, the little yellow table has a different spot in the living room and the large leather elephant has moved near the front door.
And, in the place of the chairs….. drum roll please…. is a comfty futon that I can lay down on if I get tired and want to lay down to watch tv without going to bed.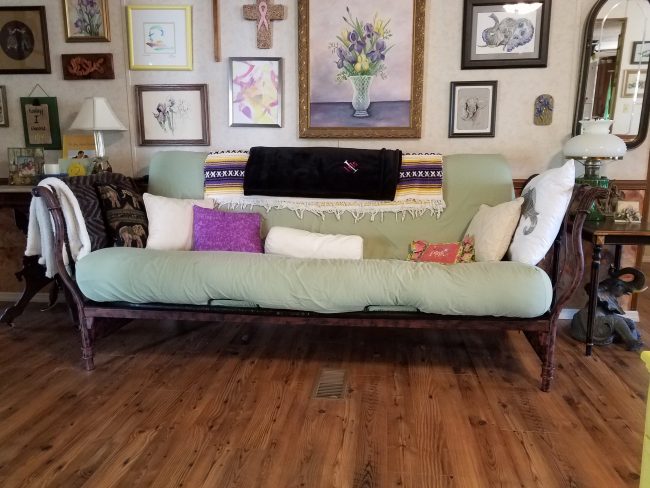 The futon is a story in itself.  I've had the frame for years (again – vintage/or just old).  We originally bought it to use in my office. It lived in there for quite a number of years, then moved to my sewing room, then moved to storage when I got a nicer futon for that room.  Bear in mind, each time it moved to a different place it had to be completely disassembled – it wouldn't fit through my doors assembled.  It's really a pretty frame – metal with 'sleigh' ends.
So, I made this momentous decision that I wanted a sofa/futon.  However, even "cheap" sofas were more than I wanted to spend and then I remembered the frame.
This though was a job what was definitely above my pay grade.  Enter #1 son.  Now, he lives a gazillion miles away in St. Louis, but he does come to Alabama every few months to check on me (and do the long list of chores I have for  him).   So, on his next visit we checked out the frame and found what we thought were all the pieces (turns out they were all there).  And, made a trip to Big Lots where I bought a new mattress.
The color wasn't anything I was real excited about – actually a beige about the same as my love seat, but I fixed that with a green sheet.  Add lots of pillows, rearranged a couple of tables and I have achieved an acceptable look.
It's actually pretty comfortable and I may just enjoy it some later today.  You understand that I don't get to lay on it alone.  Koda is always happy to keep me company.🐕💖🙂