… and the other day I saw a white skunk.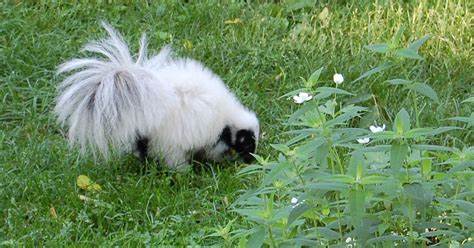 No, sadly that is not my picture, but this little guy looks just like the one I saw.  It was just ambling around in my front yard, digging and munching on whatever it found.
I stood and watched it out my window for a long time.  Too far away to get a decent photo through my window and if I'd tried to go out on the porch Koda would have gone nuts.
I really didn't want to scare it off, though I also don't want it to actually "live" near my house (though it probably already does).
It's pretty difficult to find info about the white skunk (THE ANIMAL) online, but I was lucky to find the above picture.  I don't think they're super rare, but not your average little skunk either.  In any case, I felt really blessed that God allowed me to see such a beautiful creature – and so close to my house.