54 x 75 is a full size mattress – blankets these days come in full/queen.  Most full/queen blankets are 90 x 90, or at the very least 86 x 86 –  and either of these absolutely swallows my bed?
You understand that I shop on a budget and I have a fairly low bed – on purpose.  I don't want to have to 'climb' into my bed.  Nor do I don't want a top sheet or blanket that drags the floor – or has to be tucked under the mattress to keep it from dragging.  I've decided finding what I want is the impossible dream AND seriously frustrating.
So…. after MUCH searching I finally found a really pretty little lightweight quilt for the summer that had bright colors and I was willing to pay for 🙂  It looked nice and I knew it's size when I ordered it.  So of course both sides and the bottom drugged on the floor.   So, I cut off one side and the top.  Surged the rascal and put the surged side on the back side of the bed – it looks great now, just annoying that I had to do that.
Sheet sets are just about as bad.  At least the fitted sheets usually fit, but the last two sets contained a top sheet that was a QUEEN SIZE!  Did I mention I don't have a queen size bed but a full – that's low to the floor?
You saw my bed picture here when I wrote about my yellow curtains.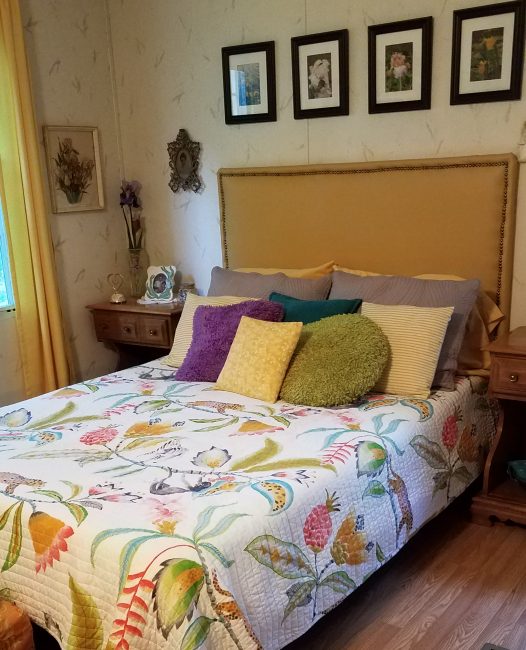 Apparently "Plan B" is I'm going to have to cut off any top sheet or top cover for my bed.  Not sure what I'm going to do for the winter.  That cute quilt is not heavy enough.  I've slept under a down filled comforter for a long time – but it's gone to the thrift store and I do not want to have to use Plan B on another comforter.