So, I'm the proud owner of a John Deere tractor – not a lawn mower, a TRACTOR.  It's a little worse for wear and mostly just sits under the carport, but….  it always gets used when #1 son comes to visit.
Have you ever had to eat your words?  When we bought that tractor (many years ago) – WITH THE BUCKET ON THE FRONT – I said that was the silliest thing we'd ever spent money on – especially that bucket.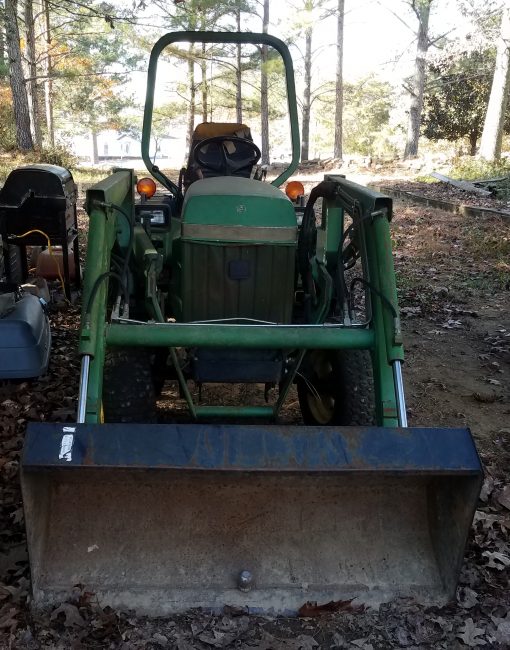 It's a green & yellow tractor.  It's a John Deere – with a mower behind it and a bucket on the front.  It's old, but it's a John Deere – you know, "Nothing Runs Like a Deere".
When I became a widow I have numerous offers to buy "my" tractor.  My sons (especially #1 son) said NO!  It's useful for lots of things, not the least is mowing the field and at least keeping trails open to the barn, etc.  So, here it sits.  #1 son uses it just about every time he visits and he's used it for lots of things, from just mowing, to moving a boat, power poles, large rocks, and….
I hadn't driven in in years, but I had old ramp parts that I needed moved out of the driveway before my family comes for Thanksgiving and it wasn't something I could do by hand.  Since all sons live far away, I decided to tackle it myself.
Of course, one of the giant tires on the tractor was flat – great!  So then I had to have 'tech support' from #1 son.  I had to hook up the "long" power line, drag out the little air compressor, virtually crawl under the tractor and pump up the tire.  Who knew they put the tire stem on the INSIDE of the wheel – making it VERY DIFFICULT to get to.  Why on earth did they do that?  Apparently just to make it more difficult for me to reach.
So, finally, got the tire pumped up.  Got the tractor started and drove it out from under the carport.  I did successfully get the ramp moved where I wanted it and the tractor back to it's home in the carport – but I'm here to tell you it was not an easy job for the old lady.  I'm fortunate to have a spiffy, much newer zero turn mower to mow my yard with – and getting this tractor to just "go" was a challenge.  Those petals are not easy to push 😳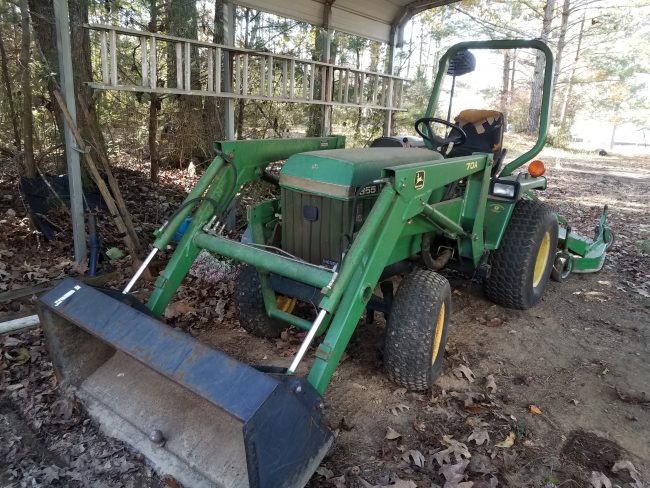 But, thankfully it all worked and I got the job done with the big green and yellow machine.  However, I don't think I'll start a new career driving a tractor.  What did I do the rest of the day – cross stitched and rested!