Welcome to this special edition of Where Bloggers Live. It's kind of like HGTV's "Celebrities at Home," but…Bloggers! Who doesn't like to peek behind the scenes and see inside people's homes and lives? Over the next few months, a group of seven bloggers will be sharing their workspaces, their homes, towns and more!  Since we truly live in a different world now – one most of us have never experienced – we're talking about our world as it is now and since we live around the country it will be interesting to see how this is affecting their lives.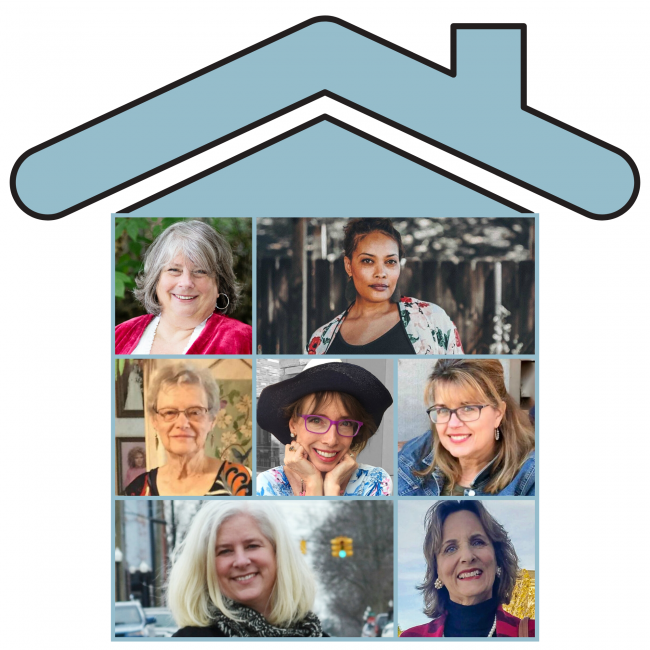 Our governor in Alabama finally issued a "Stay at Home" order on April 4 – till April 30.  While that isn't the same as a "Shelter in Place" that many states have, it's better than nothing.  IF people will just adhere to it.  We've had the 'suggestion' before, but it didn't seem to be very effective.  Grocery stores have limited supplies of many items and too many people have still been out and about.
I saw this online and thought it was such a great idea, and  for adults as well as school children.  I have my great-grandfather's memoirs and I treasure being able to sort of share in his world.  Think about your future generations.  I received a journal as a gift when I first began my breast cancer journey and I've been journaling ever since – but it was solely for me.  Now I have a different attitude towards it.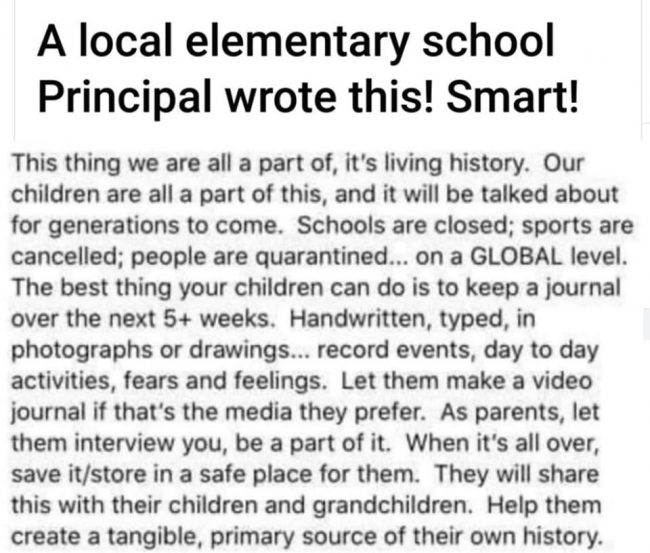 And now I'm truly one of the "elderly" (rolling my eyes), so I'm being extra careful.  My only excursion out has been to pick up a prescription that I was out of and pick up some cross stitch charts to work on.  I left the house on March 30 – drove to the pharmacy.  Then went to the cross stitch shop (that was closed) and picked up a good-sized quantity of charts.  The only person I encountered was the girl who brought the meds to the car.  When I got home I disinfected my car, the bottle and bag the meds were in and me!
I have been so blessed by my church family and some neighbors.   Many have called and texted checking on me.  I've had 'deliveries of milk and half & half (two main staples in my diet).  Both of those items seem to be almost as difficult to obtain as toilet paper, and I REALLY am not anxious to have to learn to drink my coffee black 😳
I even had a friend from church bring me flowers yesterday (to my porch).  Some lovely white Hydrangeas (which Emma Grace was really interested in), enough for two bouquets.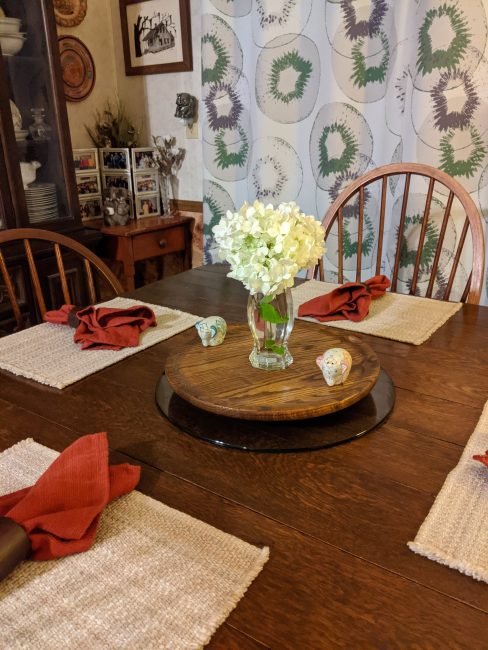 I've gotten out in the sunshine a couple of time lately.  We've had so much rain it was great seeing sun.  Koda enjoyed it too and he did pretty well on the long leash we used.
All of my family are in different states and most are able to work at home.  The others have essential jobs and must be "out in the world".  Do I worry about them?  I try not to: Det. 31:8 says "The Lord God will go before me, He will never leave me nor forsake me, I will not worry and I will not be afraid."
The chances are happening all around us.  Check out the others in the Where Bloggers Live group.
Bettye at Fashion Schlub
Daenel at Living Outside the Stacks
Iris at Iris Originals Ramblings
Jodie at Jodie's Touch of Style
Em at Dust and Doghair
Julia at When the Girls Rule
Leslie Roberts Clingan