…. if they came for Christmas this year!
Well here we are again – your Blogging world's "Celebrities at Home," but…Bloggers!  Who doesn't like to peek behind the scenes and see inside people's homes and lives?  There's a group of 6 of us who have been sharing our workspaces, homes, towns, etc. for almost a year now.  though because of COVID we don't expect to see guests this year at Christmas – you can still see where they might stay. 😰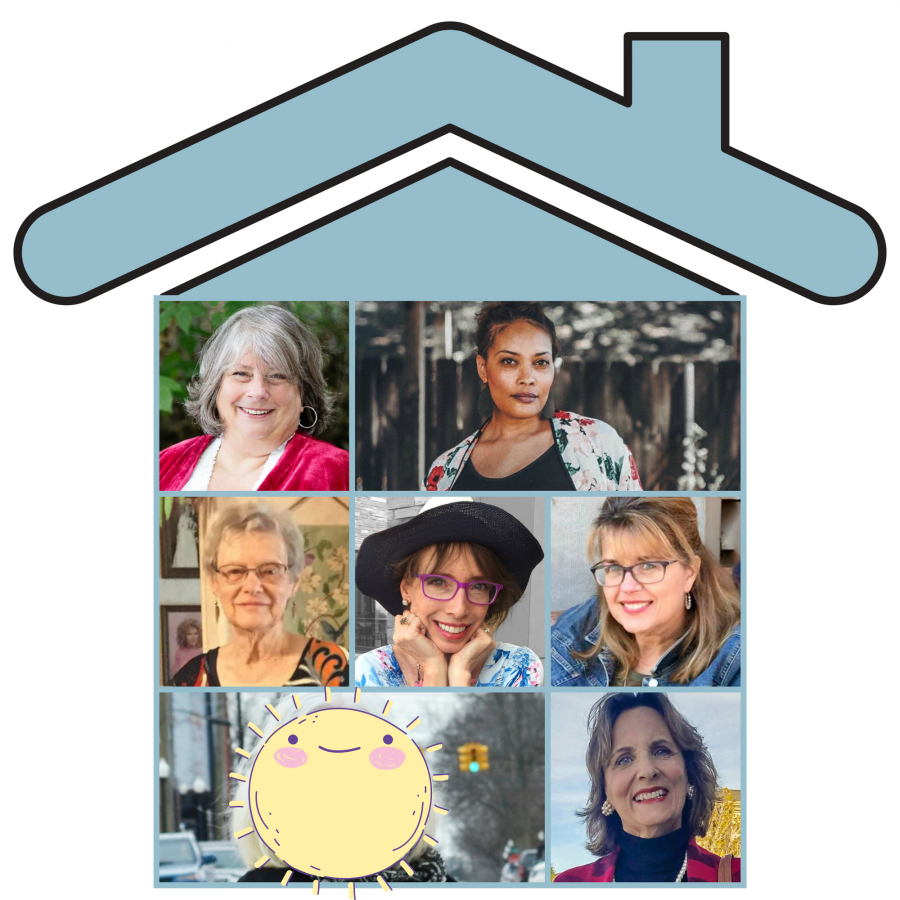 My main guest room is upstairs and I rarely go up there unless I'm about to have guests (or write a blog post about it 😉).
We added an addition to our home 20+ years ago and it has served well for kids and grandkids (it's purpose in life).  Each room in the addition (both upstairs and downstairs) are named – not by me but basically by #3 son.  Of course they are, doesn't everyone have their rooms named?   We had the addition built but did all the interior finishing ourselves and yes, the walls are paneled – and yes, that's because that's what "I" wanted (I know, not popular these days – but I'm not a very popular person).
Upstairs there's the:
"FROG Room" (family room over garage)
Guest room (I know – the dullest name)
Barbie room – originally housed my large collection of Barbies – then became youngest granddaughter's room when they lived with me for awhile.  I'm in the process of re-doing it to make it more comfortable for grown kids.
And  a bathroom
Downstairs in the we have the:
Garage (one side houses MY car and the other 'stuff')
Chuck's "workshop" which today houses tools and stuff he would never throw away that frequently comes in handy.
The "GRUB Room" (guest room under Barbies).  That room was originally Chuck's office and now is an additional guest room when bunches of family are here.
And, a half bath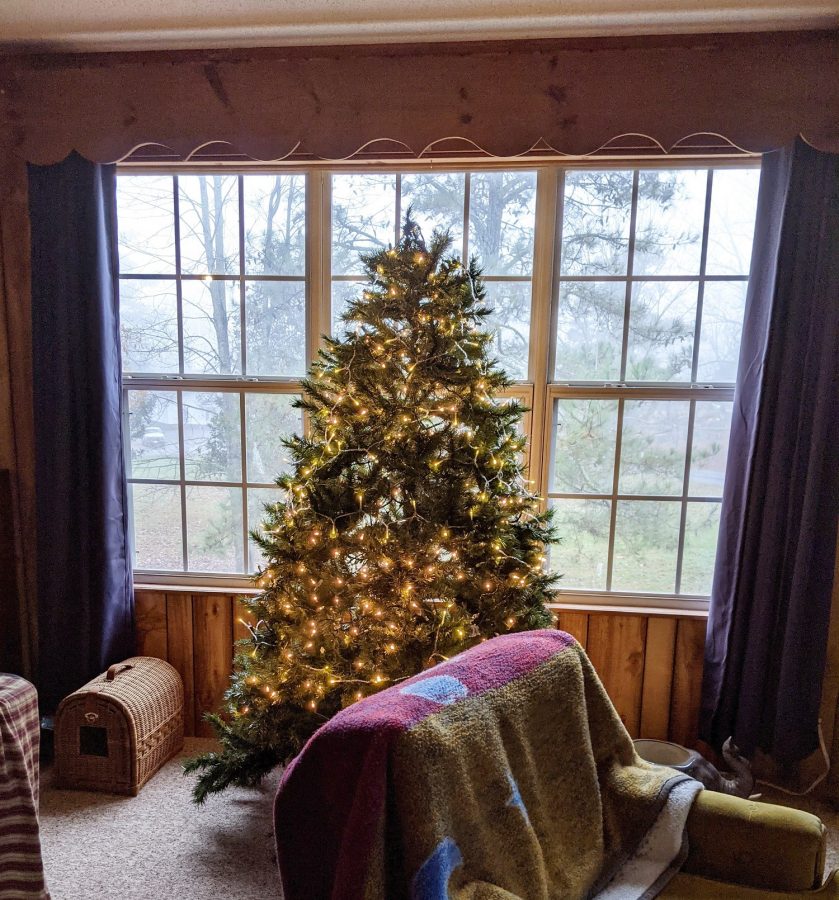 The top of the stairs empties into the GRUB room where where's a large Christmas tree in the front windows (please don't tell anyone that tree has been up for 3 years – it's just too much for me to handle taking it down).  It only contains lights and can be seen from the road near my house.  I did add additional LED lights this year and it shows well – from outside.  Of course I only turn on the lights at Christmastime.  Bettye, note the cute wicker cat carrier I use as a decoration.
Chuck made the cornice over the window – as he made the ones in the main part of the house (at my request).  They were my birthday present one year.  The room also contains a large TV (bought by #2 grandson), a large seating area and a pool table.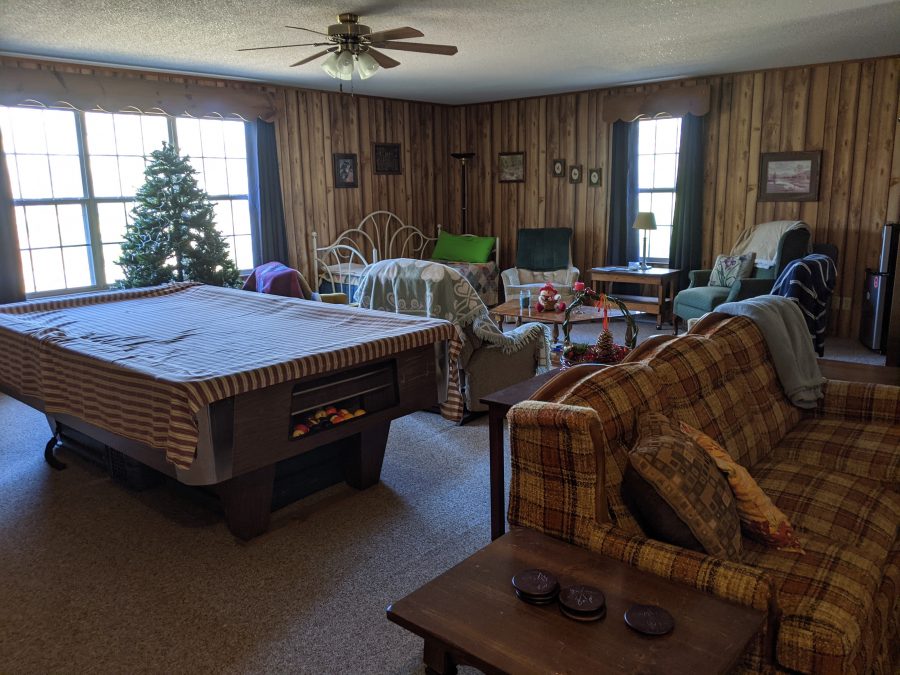 So, the pretend guests who will be here for Christmas will have access to a large family room that will hopefully give them something to do. (Works pretty good with grandkids).
So on into the guest room, which is pretty basic, but a good sized room.  It opens onto a deck that has almost never been used.  The bedroom suite is one we bought unfinished almost 40 years ago and "I" finished it.  The tops have a gazillion coats of polyurethane on them.  It was a LONG process.  The lamps are even older.
The Barbie room just next door is in transition right now so does not have a bed there. It was originally a great room for grandkids (hence the daybed with trundle that's now in the FROG room).  Then it was youngest granddaughter's room when they lived with me for awhile.  So now – I'm working on it!
For 'real' Christmas decorations it's back downstairs (and I'm not even finished there).  This is my new living room 'pencil' tree.  It fits where I can sit and see it and it's lightweight enough that even I can manage it.  I Love Christmas decorations!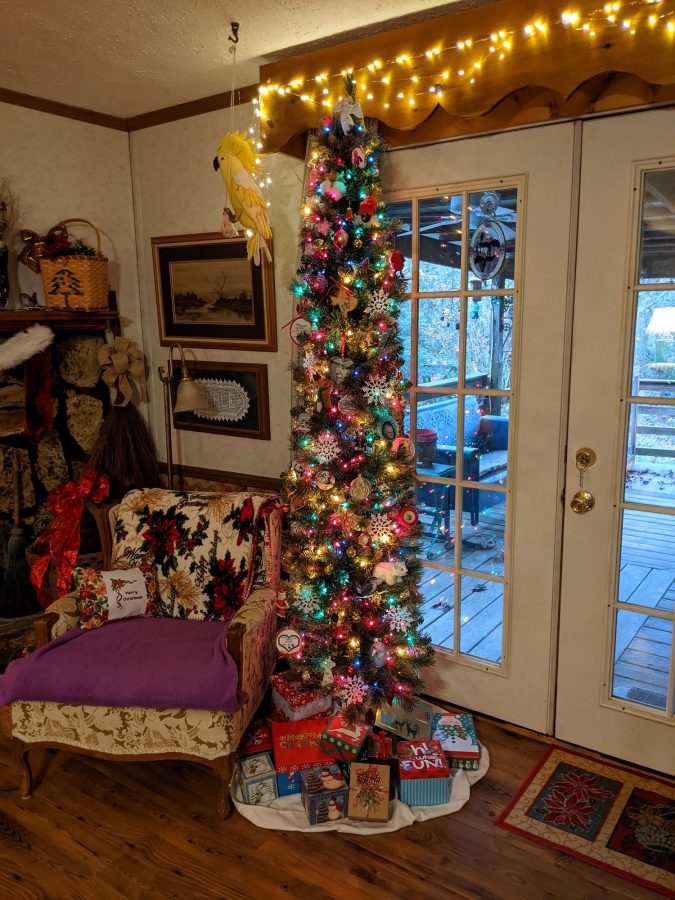 Be sure to check the links below to see how everyone else would be hosting guests.
Bettye at Fashion Schlub
Daenel at Living Outside the Stacks
Jodie at Jodie's Touch of Style
Em at Dust and Doghair
Leslie Roberts Clingan