I had two major blessings this week – in the midst of the small ones that always happen….
First on Monday I was in Huntsville about to leave Hobby Lobby and my car decided it would only go backwards – this is not a good thing. In the event you don't know – I'm definitely in the 'senior citizen bracket'. I live alone with no family even remotely close by and I was about 40 miles away from home. So, I faced a problem.
Did I remain calm and collected? No, I panicked.
The manager and several employees came out of Hobby Lobby and finally were able to push me back into the parking space so I wasn't blocking traffic.
I happened to be on the phone with my oldest son who lives 500 miles away when this happened and he was able to give me advice on who to call and helped calm me down.
While I do have road service with my insurance, I didn't really want to have a stranger tow me to an unknown garage. So, after several phone calls I was reminded that a very good friend's daughter's husband had a garage in north Huntsville.
My friend Del on the right and her daughter Tara.

One phone call to Tara and my problem was basically solved. She sent a wrecker who picked up my car – and me – and took us to the garage where her husband was able to get the part and get it fixed before the day was out. They had a nice garage, pleasant, air conditioned lobby with coffee, magazines and comfty seating – plus I was able to visit with her while I was there. Did I mention they had coffee?! 🙂
Pro Auto outside and inside waiting area… if you're in Huntsville and need car repair I highly recommend them.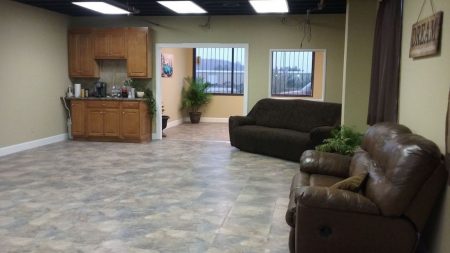 Blessing from this experience:
God had angels watching over me
I was able to get the car repaired for a very reasonable amount of $ and get back home the same day
Lessons learned (that hopefully I'll remember):
I do have friends that I can call if I'm in trouble.
Deuteronomy 31:8 "The Lord God will go before me, He will be with me, He will never leave me nor forsake me. I will not worry and I will not be afraid.
That's a scripture I've been working on remembering for a good while – and apparently I need to work on it a bit more. "In the face of adversity – My God is there and will take care of me!!!"
I'll post my second super blessing of this last week in my next post…. gives you something to look forward to, right? 🙂