Welcome to the Christmas edition of Where Bloggers Live. It's kind of like HGTV's "Celebrities at Home," but…Bloggers! Who doesn't like to peek behind the scenes and see inside people's homes? Over the next few months, a group of seven bloggers will be sharing their workspaces, their homes, towns and more!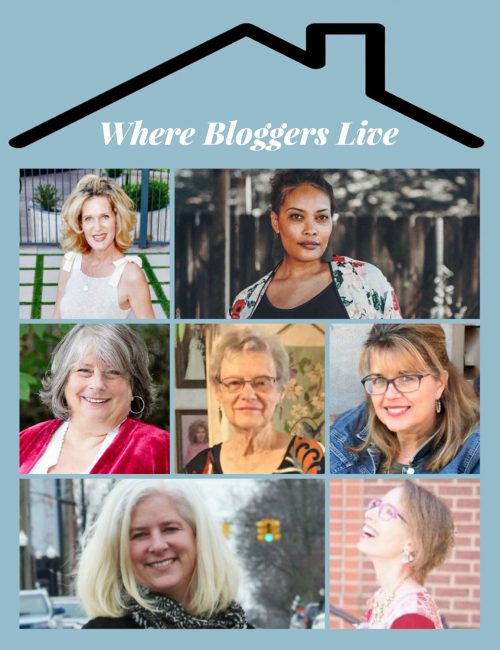 So, here we go at my house. I LOVE Christmas decorations, however, I don't have nearly as many up as I've had in past years.
The large tree in the window is in my F.R.O.G. room upstairs (#3 son christened it the F.R.O.G. room – Family Room Over Garage).  It only has lights on it.  It's been in that window for 2 years now (no, I mean it hasn't been taken down).  I don't really use that room very much now that I live alone.  I like having the tree there for Christmas, but it's to big and heavy for me to manage alone, so there it stays!  Though I don't keep the lights on year round 😉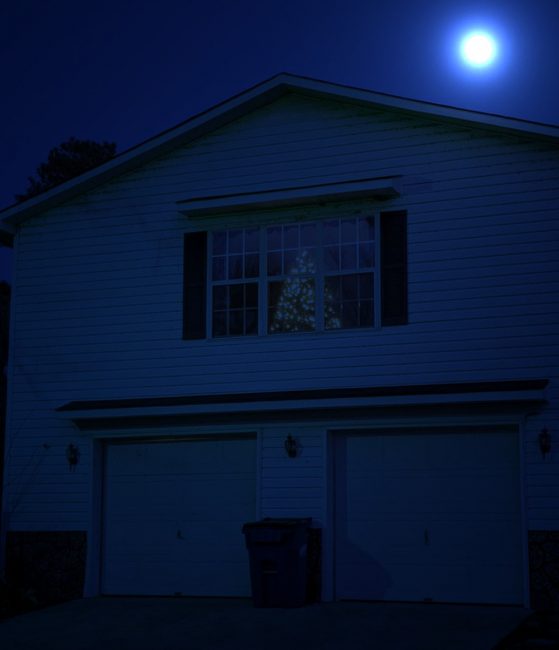 The little outside tree next to my front door is a yard sale find years ago for 50 cents – plus I added the lights and set it in a basket.  I enjoy it if nobody else does.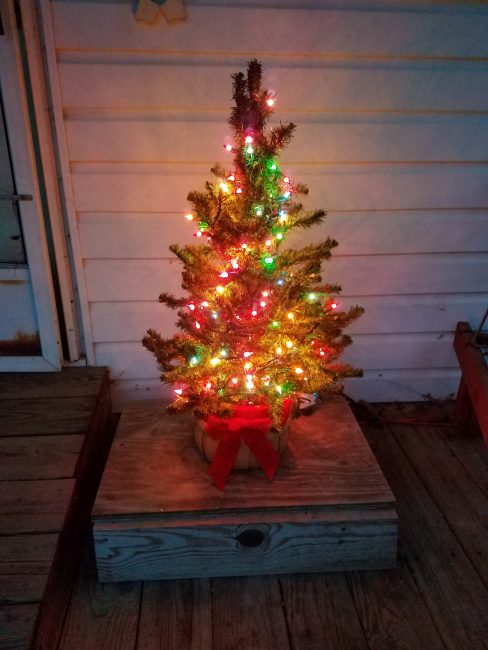 So you're in the front door and greeted by a cute little snowman , little table that's been in my family for many years – and if you look closely you can see a couple of elephants 😄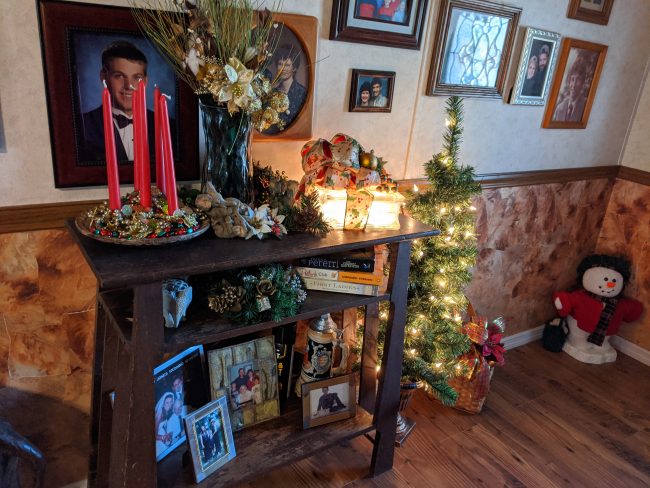 Here's my goofy reindeer and the view you see directly in from the front door. A friend gave him to us many years ago and he plays "Grandma Got Run Over by a Reindeer"  and is still one of my favorites.  He definitely comes out every year.
And speaking of elephants (you'll see them everywhere at my house), this little table guy sits at the end of the buffet which acts as a divider between the living and dining areas.  The love seat with it's back to the buffet is my normal sitting place.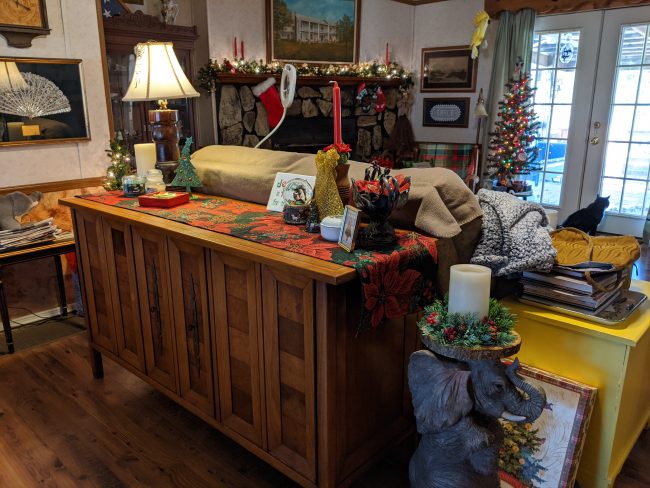 Only have a small nativity displayed this year – but it still has the same meaning – it sits on the buffet with one of my cross stitch chats.

Dining room area is on your left.  The table belonged to my great-great grandfather and survived a wagon trip during the Civil War, though a piece was lost off of one of the large round legs   It's been used by every generation since then but was in pretty bad shape when I got it.  Hubby worked on it for weeks with oak strips and brass screws literally putting it back together.  Of course you only see all that stuff if you look at the underneath or the leaves.  It's 54″ square which works great for me.   The four leaves make it 104″ long, the only way I'd ever seen it as a child.  Don't use those leaves very often but we sure used them all at Thanksgiving.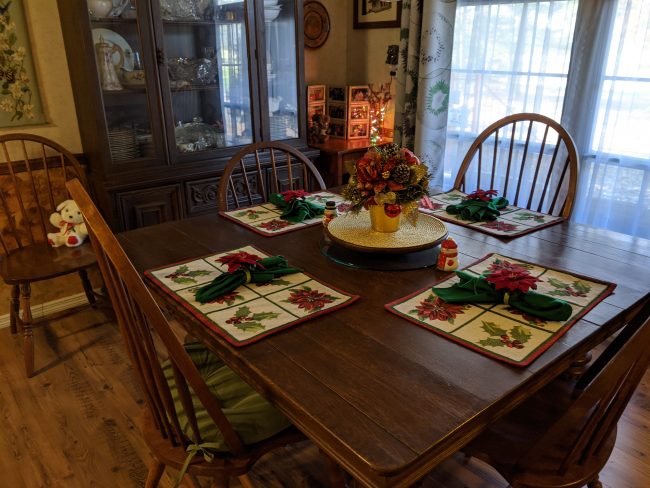 Mr. Snowman sits in a dining room chair in the corner.

Now we'll take a swing back around to the 'living room' portion where I spend most of my time when I'm home.
My love seat with several warm fuzzy blankets is just to the left of this photo, as you might tell from the 'stuff' I have on the dog bed table.  I do have a plethora of Christmas pillows – the one in this picture is a 'mola' (a reverse applique) done by the Kuna People  in Panama – another item with fond memories – I brought back several molas when we were in Panama many years ago.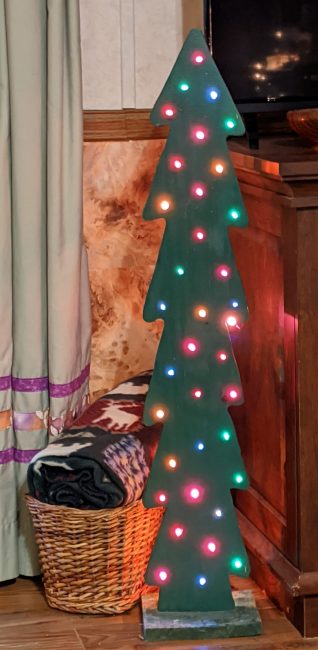 My husband made this little wooden tree after we made a trip to Branson and he saw one there.  It holds a special place in my heart.
I really love a big tall tree, but I've learned that as you get older you have to adapt to what you're physically able to do.  I do have a big tall tree FOR my living room, and a gazillion ornaments – most of which have sweet memories attached,  but I just can't manage that tree now.  So, here's my little tree, still with a few special ornaments and this picture is basically what I see when I'm siting on my love seat, working on my laptop, reading, or whatever.  (And yes, that's a yellow, stuffed, "Angelitos" cockatiel hanging over my tree – doesn't everyone have one?  You just missed getting to see the Macaw and the Toucan.  They all came from our stay in Panama.) 
Note: that is Emma Grace sleeping in the chair – one of her favorite spots – and she likes to curl up next to the cross stitch pillow that says "Don't get your tinsel in a tangle".

Just a few more and I'll let you go on about your day – this is a simple pressed glass vase filled with christmas lights – and my sweet little ceremic Christmas tree that I've had for eons – sitting in another antique from my childhood.  (Note:  elephant lamp and elephant sitting on the floor.)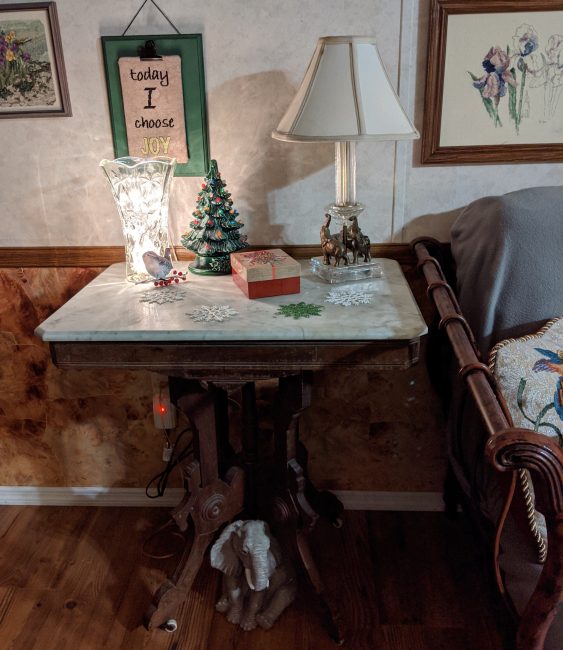 And, this tour wouldn't be complete without showing you my new "coffee station" in the kitchen.  The Keurig and coffee mugs are not new, but the tray, fancy flavoring and frother are my early Christmas gifts from #2 son and his wife.  Obviously I'll enjoy those all year.  (And you might notice a couple of elephants here too 😉).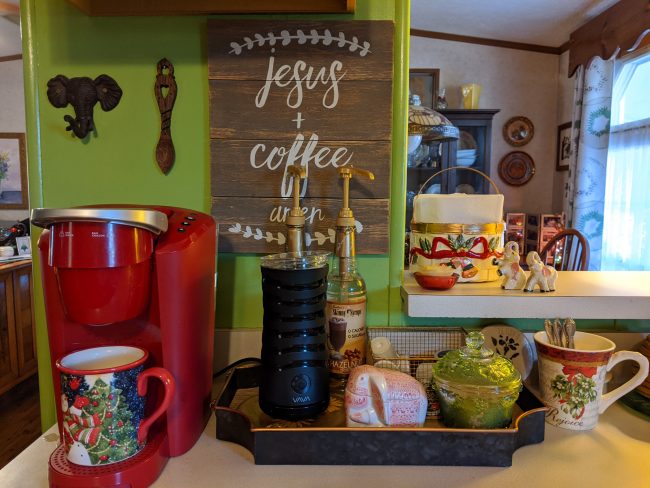 So, that's it for my house – slim pickins this year 🎄  Be sure to check all the links to enjoy a great Christmas tour!
Bettye at Fashion Schlub
Daenel at Living Outside the Stacks
Em at Dust and Doghair
Iris at Iris Originals Ramblings
Jodie at Jodie's Touch of Style
Julia at When the Girls Rule
Lisa at Midlife in Bloom