So many blessings have come my way during the coronavirus event.  We find ourselves relatively isolated and we truly are living in a different world than most of us have ever been in.
But – we are so blessed to have the technology that enables us to talk, visit virtually and just generally keep up with everyone while still being at home.  I'm old enough (yes I am seriously old) to remember bits of World War II when there was virtually no communication with loved ones who were in different countries fighting for the freedoms we enjoy today.  Letters were sometimes weeks or months old before they arrived.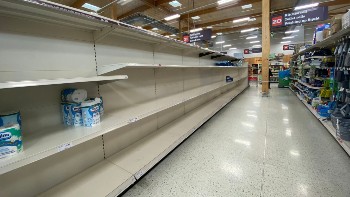 Everyone had 'ration cards' for buying food, and many things were not available (think toilet paper today).
I've been especially blessed by my church family, neighbors and friends.  I've had groceries brought to me and many have called or texted to check on me and offered help if I needed it.
Probably the thing I miss most is not going to church.  The music and message were always great and the fellowship outstanding.  I got a weekly dose of hugs.  I've 'trained' everyone – "hug me".   I'm a "hugger" kind of gal and I do really miss those hugs.
I have been SO blessed that my own local church recorded services and posted them on facebook.  AND, my #3 son's church in Iowa (where he's the pastor) posted their services live on facebook (and were there afterwards).  He tells me they will continue to do that and my church will continue to record and post the services online.  What a blessing it is to be able to see both my church and my son's church's services, and to continue to see them.
I miss seeing the gorgeous scenery when I drive into town.  I live in such a beautiful area and seriously try to not take it for granted, so this has been a good reminder.  I know, I could get in my car and just drive for a bit – but that would be way down on my list of things to do.
I do empathize with whose who have lost jobs and income, but I believe there are many blessings and lessons from the situation we find ourselves in.  Will we go back to "normal"?  What is normal anyway?  I think perhaps we will have a 'new normal' – at least for quite a while.
I have this lovely little devotional book "Jesus Calling" that has a short daily devotional that has seemed to be just what I needed to hear everyday.  I underlined a sentence on Mother's Day:  "Most of the situations that entangle your mind are not today's concerns; you have borrowed them from tomorrow."