I love to visit flea markets and antique stores.  It's always interesting in the antique stores to see things just like I grew up with (and probably threw away – or buried in "the hole") actually for sale.  No, I don't buy them, but I do enjoy looking and occasionally find something I can't live without.
"Pickers Choice" is a local craft/antique market with a gazillion vendors and lots of "stuff" where one can wander for a very long time. I'm not sure if it's a 'flea market' or antique store, or maybe both combined.  Was a furniture store back in the day and they've done an excellent job converting it to whatever it is now.
The little marble top table that I now have in my new guest room came from there and I love it!   (You can read about my new guest room here.)  It's the perfect size and looks great.  I called them after I was there and they were holding it for me.
I came home from work a day later and #1 son and DIL surprised me with the table.  What a lovely surprise gift and it cleaned up and works perfectly in the space I wanted it for.
So then… I needed a nice/cute lamp to sit on it.
Do I have a lot of lamps at my house?  (Yes) 
Do I have lamps I'm not using at my house? (Yes) 
Do I have a lamp I liked for that space ? (NO)
So a few days later #1 son and I stopped at Packard's Antiques in Huntsville.  Now this one is pretty much a real antique store and it's quite large.  This cute little lamp was priced really low and I thought it would work fine – got to the checkout and found it was 50% off.  Now, that's my kind of deal.  I just happened to have the lamp shade at home (imagine that) and it fits perfectly.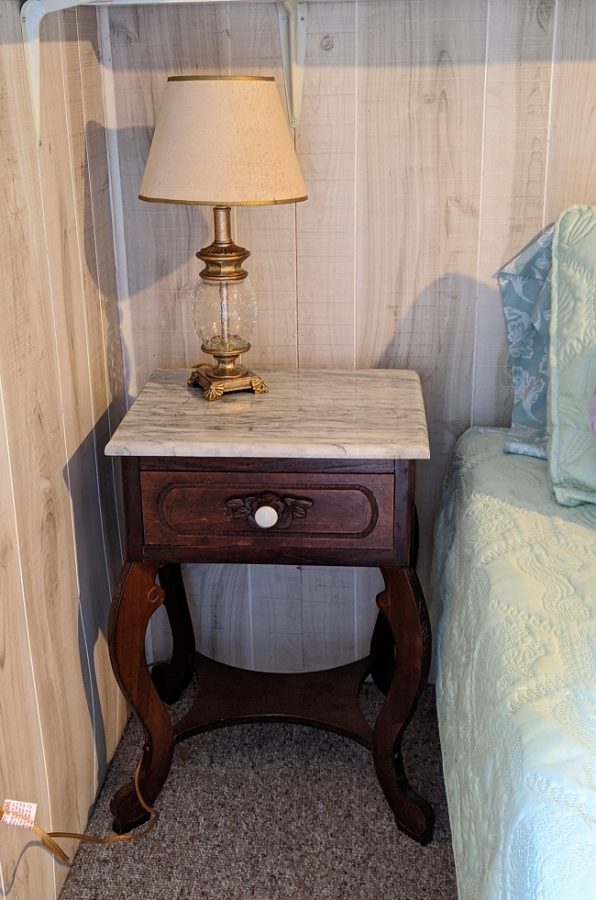 Yeah, I really needed another piece of furniture and another lamp…  but it sure is pretty and I LOVE the marble top.  I have to go upstairs occasionally just to look at it. 🙂
Don't have many 'real' antique stores in the town I live in, but Huntsville has quite a few.  Going to have to take a day and just go looking!!!