…. my great-grandfather.. one of the men who founded Helena, Montana.  There's a lot of information online and the details vary depending on what version you read, but I have a little "insider information".
I am blessed to have some well known and interesting ancestors – even some wealthy ones (not that any of the monetary wealth reached me 😁 – but that's okay, I'm blessed in so many other ways.)  So this post is about one of my great-grandfathers.  (And a little aside –  my #1 son looks SO MUCH like him – especially when he was about this age.)
He was quite a colorful character from what I've discovered about him.  Born here in north Alabama, he fell in love with a rich man's daughter but was poor and couldn't afford to marry her.  He went west to find gold.  Some of the Montana info lists him as from California – which is incorrect, but was the last place he had been before going to Montana.  He met up with 3 other men and they decided to join together in their prospecting.  One from Georgia, one from Iowa, one from England and my ancestor from Alabama.  They became known as the "4 Georgians" (the name because of the type of mining they did).
Anyway, to make a long story a bit shorter today.  They DID discover gold in July 1864 – A LOT – and named the discovery "Last Chance Gulch" since they'd about decided to give up if no gold was there.
They staked a claim and mined – and of course the area became a boom town quickly as word spread.   By fall, more than 100 cabins teetered on the hillsides on either side of Last Chance Gulch.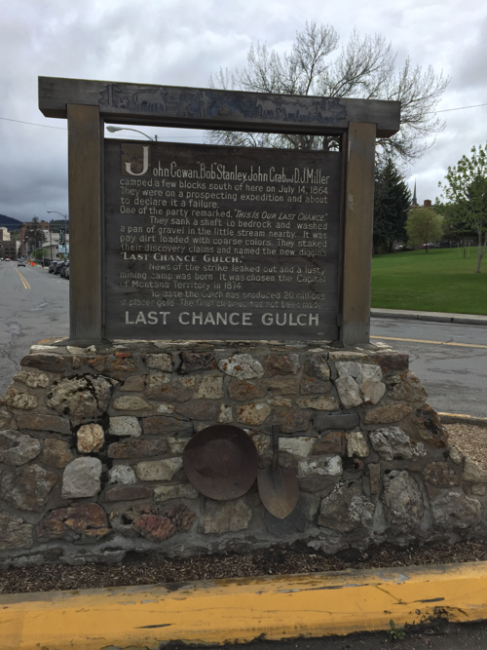 On October 30 the community named their new town Helena. Over the next four years, Last Chance Gulch produced $19 million worth of gold (approximately $221 million in today's dollars).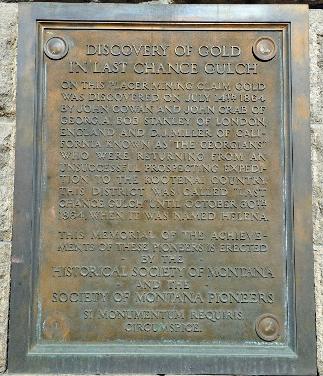 In 1867 the 4 friends sold their claim, took huge amounts of gold dust by wagon to Ft. Benton, then boarded a steam boat and eventually to the mint in Philadelphia.
P.S. He married the girl