Emma Grace is back!!!!
She was gone for 2 weeks and 4 days and but now is home safe & sound.  She's lost weight, her fur looks really scruffy and she's VERY clingy (not really like her).  She wants to be close to me all the time (not a bad thing – just different from her previous personality).  She's decided the arm of my love seat will do if she can't get in my lap.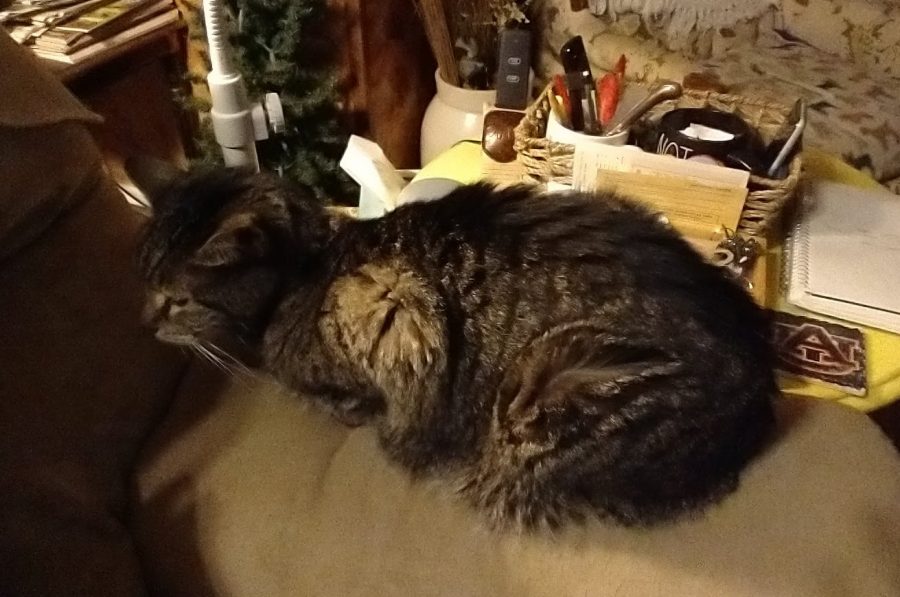 Took her to the vet and while she's lost weight and her fur looks ratty, that was one only thing the vet found.
The story is (kinda long and boring)…..
I have a large house – that should be a lot more organized and neat than it is (it once was).  There's the main house and the 2 story addition that houses the garage/storage room/shop/GRUB (Guest Room Under Barbies) and a half bath downstairs.  All of those areas except the GRUB room are a mess.  There's stuff stored from several generations and I lost control of it all a long time ago.  There's a door out of the laundry room that opens to a landing – stairs up go to FROG room, Tumble Inn, New Guest Room and a bathroom – stairs go down to garage, etc.
So, apparently Emma Grace snuck out at some time when the door was opened and she wound up in the downstairs area (that has 9 gazillion places she could hide).  Both the  garage door and shop doors were opened a number of times…. she could have easily gotten outside.
I lost track of how many times I went down and looked and looked and looked, and called and called and called – many times over the time she was gone.  Nothing – not a sound!
#1 son is staying with me while he renovates their house so it's livable for them to move into from St. Louis.  He found cat poop in the GRUB room – so we set out food and water (and one of my cameras) and sure enough Emma Grace arrived for dinner.
I went downstairs, determined I wasn't leaving until I found her and finally…. in a FAR corner of the shelves in the storage room. I sat down and talked sweetly and quietly she finally came out to me and has been stuck to me like glue ever since.
The vet said she probably ate mice and bugs (YUK – but yes, I knew there were mice there – it's impossible to keep them out).  AND by some miracle, the lid & seat had been left up on the commode in the bathroom so she was able to get water there.
She will gain weight back and her fur will smooth out.  She is definitely loved and I consider it a miracle that she survived and is back with me.  Praise God!!!!!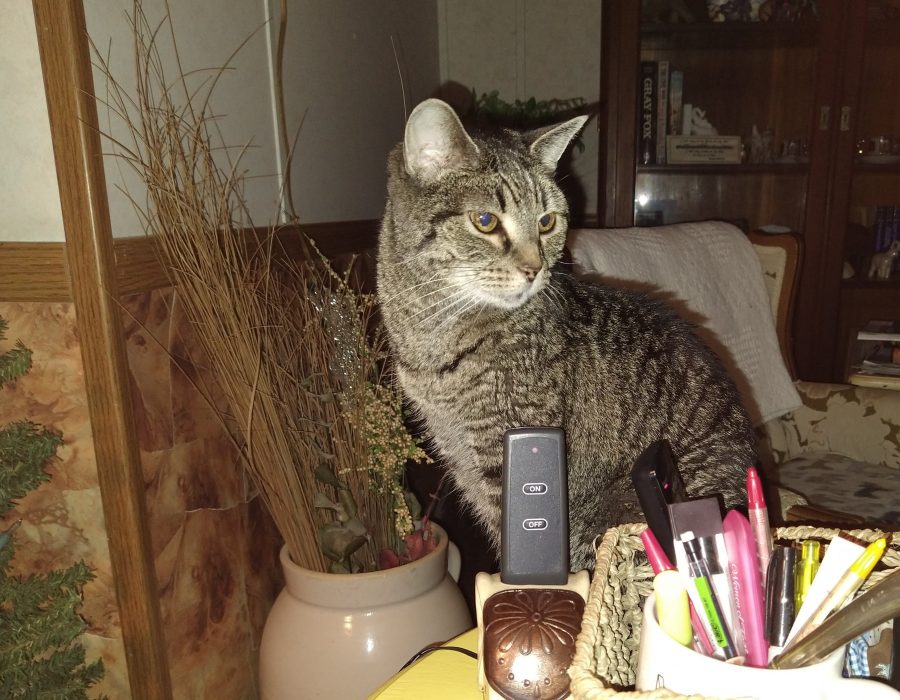 Thank you everyone who prayed and who sent me sweet notes.  The prayers and notes meant more than you can imagine.  I surely do have much to be thankful for!