Anyone who know me knows "I hate to cook"!  I mean seriously.  I "can" cook – I just don't like to.  I cooked for MANY years while raising kids and feeding s husband who loved to eat.  It wasn't always that great, but they always ate it.
Of course, there are some things I love to eat…
So I've said I need something  just like the "Jetsons" and their Foodarackacycle. (Food-a-Rac-a-Cycle that could pretty much spit out presumably delicious food with the few pushes of a button — whether it was bacon, beef stroganoff or whatever it was that you fancied.) At the touch of a button it makes and dispenses any meal a person wants.  It has a separate keyboard for programming meals.  Who wouldn't want that?
My #1DIL wouldn't be a fan.  She LOVES to cook – and of course she's VERY good at it.  #1 son isn't too bad either.  I think all my kids can cook and enjoy it (they obviously didn't get that gene from me.)
So, since #1 son & DIL live next door to me now, they have decided I need them to feed me.  Here's a good example of what my DIL sent up last night.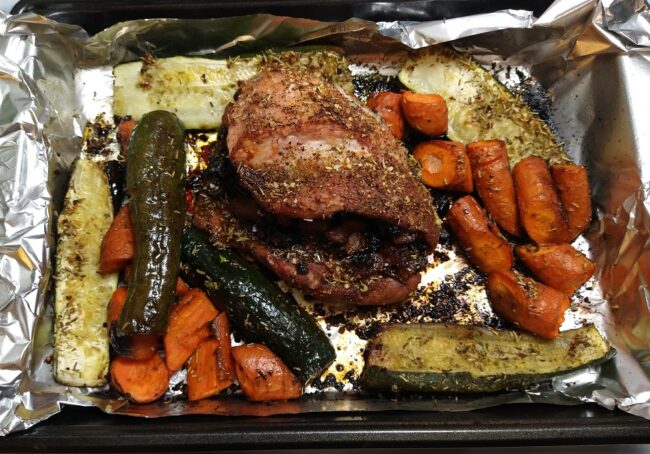 I don't normally take pictures of food – but this one was 'picture worthy'.  Some sort of pork roll, stuffed with a variety of berries, carrots & zucchini all with generous amounts of seasonings and spices.  Served with mashed potatoes.  It was DELICIOUS.
Oh, and then there's the chocolate and pecans (2 of my favorite things).  Couldn't resist a picture of this…  The top of this single layer chocolate was covered with liquid chocolate and topped with sugared, roasted pecans!  Now, if that's not heaven I don't know what is!!!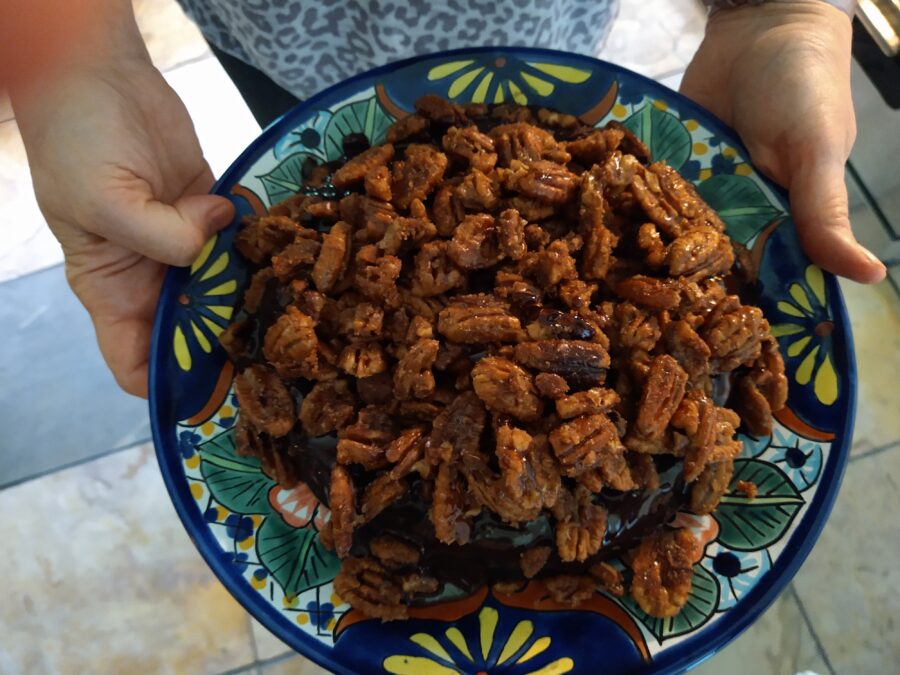 So, yes, I have a lot of ailments and have been complaining a lot (bad me), but I am truly blessed with family who cares for me.