The actual title is "how we blog, process, get inspired"!  This is one of the most challenging blogs I've attempted as part of my lovely group.
As you may know – "Where Bloggers Live" is a group of ladies from around the country who post about their homes (inside and out), towns, and generally their lives.  Be sure to check their links below to read about them.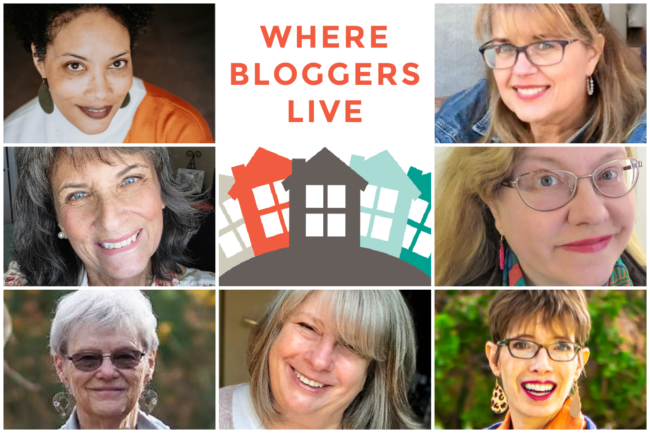 So how do we blog?? – looks pretty easy from the outside, or at least it did to me.  I tried a number of blogs before this one – though non quite as detailed.  But, I've not found it super easy to stick to any kind of schedule and the further I go, the more difficult it is to come up with an interesting topic.  Several of our group are fashion bloggers – so their main topic is pretty set (makes it sound easier).
But, I'm an "anything" blogger.  The title of my blog says it all – "ramblings".  I think I originally started it to spotlight my cross stitch, and maybe work on some genealogy – but I have definitely 'rambled' away from either of those.
So, it would seem that my blog journey was an easy one.  Just blog about whatever is going on in my life/the life of my fur kid, etc. etc.  Sounds easier than it is.  Probably because these days not much going on my life.
At any rate, sadly – I don't have any 'trade secret' to share with you.  I tend to just pick something that I'm thinking about, something that happens (not much happens around here), or something I see.
I'm anxious to read all my friends posts on this subject as I'm sure I'll gain some knowledge from them.  Bettye is our fearless leader so be sure to check hers and all the others in the group.
Bettye at Fashion Schlub
Daenel at Living Outside the Stacks
Em at Dust and Doghair
Iris at Iris Originals Ramblings
Jodie at Jodie's Touch of Style
Leslie at Once Upon a Time and Happily Ever After
Sally at Within a World of My Own