I LOVE my ironing board….
First of all, how many of you still iron clothes (or household things)?  I don't iron all the things I grew up ironing, but somethings just make it necessary.  However, if I'm sewing, the ironing board is an essential and is out/up and ready.  Those seams just have to be ironed.  And, an occasional blouse or pants look better after being ironed.
In our previous house, I had a small office and the ironing board was ALWAYS up and ready – it was large and took up a lot of space.  Well, actually this was an office/sewing/ironing room.  No pics – that was back in the day before we could just take pictures of everything.
Sorry, I got side-tracked.  On to my ironing board!  I originally had a room in this house I called the "Barbie room".  I have a very large collection of Barbies.  Chuck even built shelves all around the room to display them (they're all packed away now in storage).  This room also contained my sewing machine and the sewing table Chuck built for me.  It had a trundle bed as it was necessary to use as a guest room so the large ironing board was really in the way.
But, my wonderful, ever helpful husband decided to correct that problem.  I have no idea where he found it, but for my birthday one year I received a "wall ironing board".  I was SOOO happy.  The front being a mirror was both helpful and there wasn't a conspicuous ironing board in the room.
Well, many years ago, the Barbie room ceased being my sewing room when I moved my sewing stuff downstairs to what was also used as a guest room, but the mirror/ironing board remained.  Recently, I asked #1 son if it could be moved downstairs to the room that is currently my "sewing room, sort of guest room, storage room".   He being much like my husband said, "sure we can move it".  Now, he has NO time to be doing chores for me, but he never turns me down.  But, this job was put on hold.
In the spring this year #2 son came to visit – and together they moved the ironing board.  It doesn't look like it, but that thing weighs a ton, and was fastened to NEVER BE REMOVED.   But they managed, and I'm SO very pleased.  Here are a couple of pictures showing you how it works.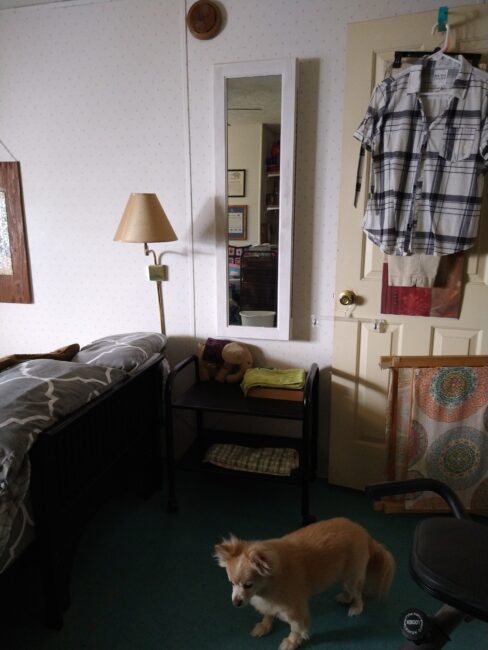 It serves nicely as a long mirror if the room is used for guests. And, doesn't look obtrusive.  Of course Koda had to get in the picture.  He wouldn't want to miss anything!
It works well in it's new location, and have I mentioned that I LOVE my ironing board?!  It's almost like getting it all over again!  Those sons are pretty handy!!