Who doesn't like to peek behind the scenes and see inside people's homes and lives? Over the last year (has it really been that long), a group of bloggers have been sharing their workspaces, their homes, towns and more!  So… Welcome to the latest edition of Where Bloggers Live. It's kind of like HGTV's "Celebrities at Home," but…Bloggers!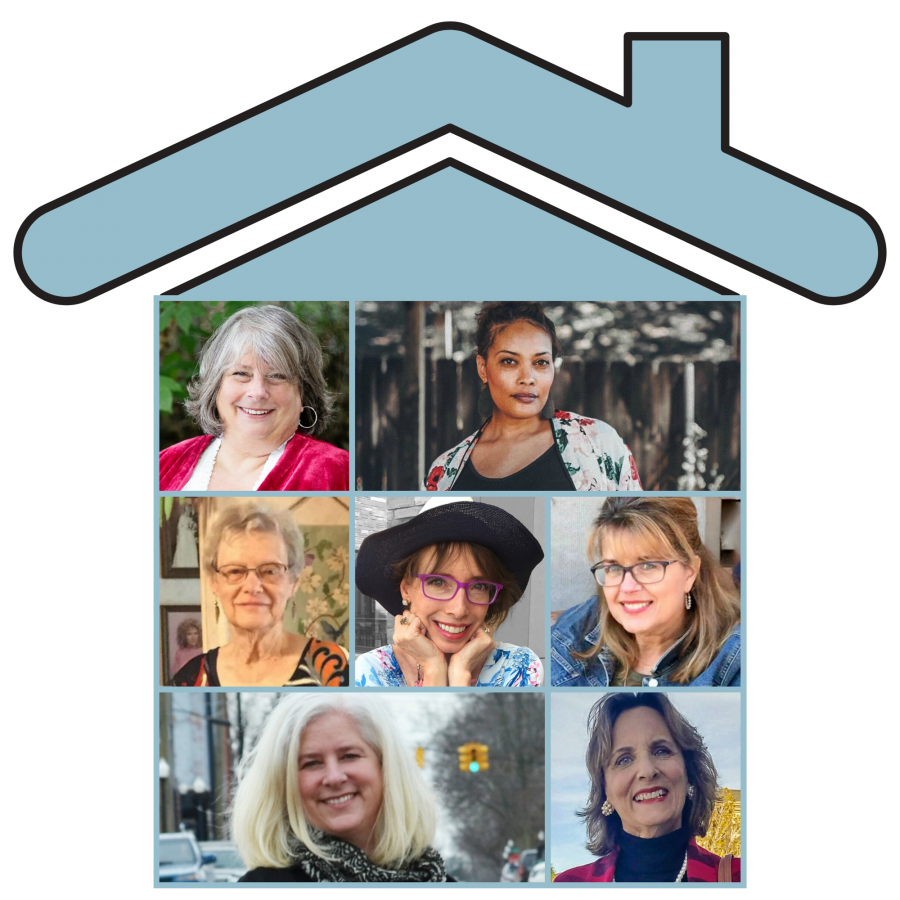 Where do I sleep?  Well, here it is.  I have a fairly large bedroom – more space to "fill up" and it seems the older I get, the more it fills up.
One of my favorite things is my little electric "wood stove".  My bedroom just doesn't get warm like the rest of the house – and besides I enjoy just sitting and looking at it.
I made the 'hearth' myself! 👏
I do have a lovely sitting area, and you "might" notice that I have to move an elephant out of either chair to sit down. 🐘😍
My bedroom opens off the living room and of course Koda follows me everywhere.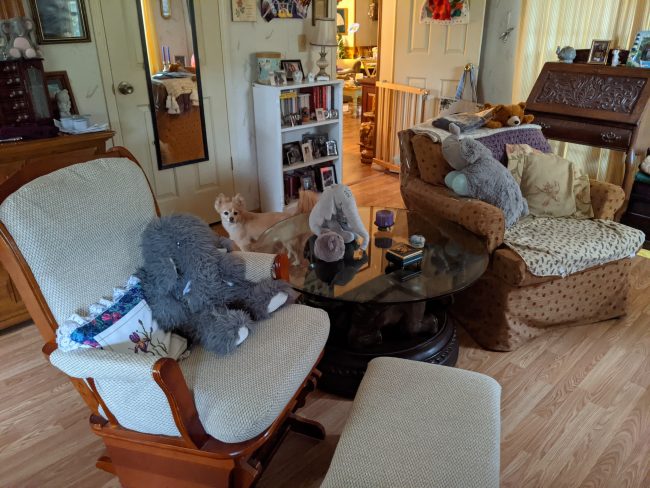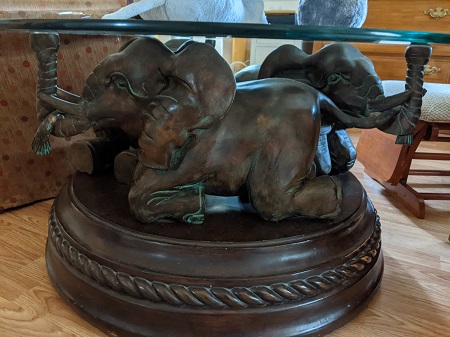 And, there's a LARGE glass topped elephant table between the chairs (a gift from a friend who didn't think I had enough elephants already ). 😁🐘
I love all the pictures I have in my bedroom.  Most of them are older ones (& all family) – the cute one on the stove is a grandson who's all grown up and working on his doctorate in college.
Found that little bookcase at an antique shop years ago.  God forbid I should have a vacant spot.  The Cross Stitch ear-ring holder on the right I made because I couldn't find anything I liked. Love being able to see all my cute long dangling ear-rings (includes gifts – and of course, there's an elephant pair).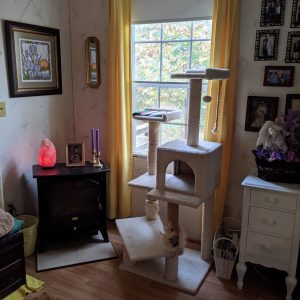 Of course the 'cat tower' has to go in front of the window.  And you'll notice my yellow curtains – another blog post.
The little 3 drawer chest is another antique store find a number of years ago.
Love to visit antique shops with my daughter, but obviously haven't been able to that in quite some time.
I have a sliding glass door onto the deck, but it hasn't been opened in years.  It's easier to put stuff in front of it and access the deck from the living room.  Antique secretary was my great-aunts.  It was in really bad shape when I got it and Chuck worked long and hard to get it usable again.  One of the legs was broken in two and he somehow put a "pin" in it.  I've been using it for 30+ years now.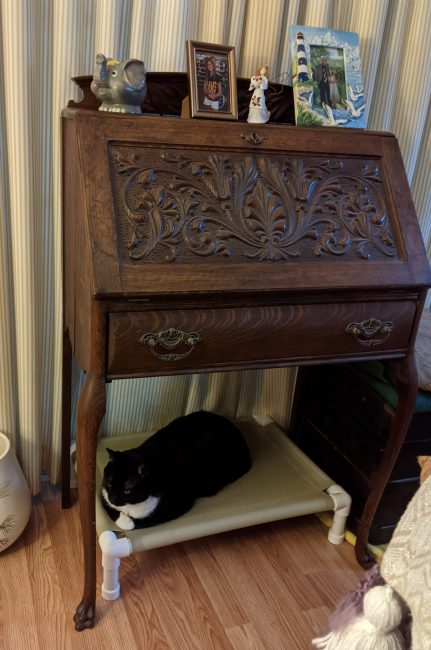 That's an off the floor "dog bed" I got for Koda.  He would never use it but Boots has adopted it for his own.
Let's see, am I missing anything??  Oh yeah – where I actually sleep –
If you've read my blog in the past, I did a post about my DIY headboard.  I still love it BTW.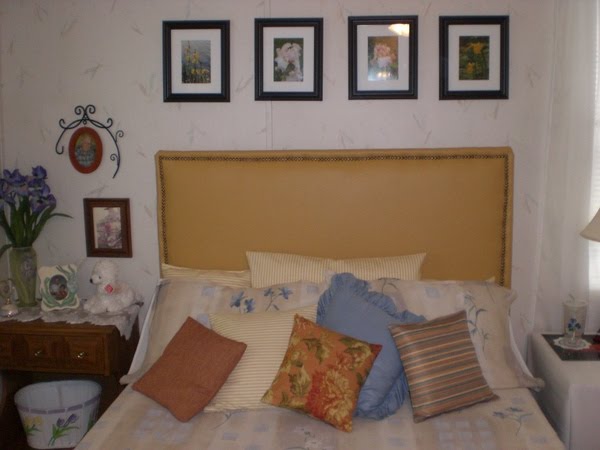 Blankets, comforters, quilts – all change as the seasons or my mood – but I do love my bed.  It's low to the floor, so easy to get in and out of.  Memory foam mattress that sleeps really well – and of course, I have three (yes 3) "bedfellows".  Emma Grace, Boots and Koda.  Sometimes there's little room for me!
Be sure to check the links below to enjoy a tour tour of their areas.
Bettye at Fashion Schlub
Daenel at Living Outside the Stacks
Iris at Iris Originals Ramblings
Jodie at Jodie's Touch of Style
Em at Dust and Doghair
Leslie Roberts Clingan